Pre-orders start Tuesday for Moto X, Moto Hint, Turbo Charger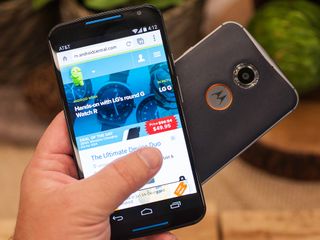 Motorola today announced that the Moto X, Moto Hint and the Turbo Charger for quick charging will go up for preorder this Tuesday, Sept. 16.
You'll be able to pre-order either the AT&T version of the Moto X, starting at $99 on contract, or the Moto X Pure Edition, a version of the device without any carrier-installed software. The Pure Edition will be available for $499. The "Pure Edition" also comes with an unlockable bootloader.
The Turbo Charger, which gets you an extra 8 hours of battery life with just 15 minutes of charging, runs $39.99. The Moto Hint Bluetooth earpiece runs $149.
In addition to the new devices, Motorola also announced that the Moto 360 will once again be available for purchase in the United States via their website. They do warn that supplies will be limited.
Will you be pre-ordering any of Motorola's new products on Tuesday? Let us know in the comments.
Source: Motorola
Get the Android Central Newsletter
Instant access to breaking news, the hottest reviews, great deals and helpful tips.
Unlocked, Moto maker... Awesome Motorola you rock. Can't wait for Tuesday. And with iPhone releasing on 19th, I don't see then coming to useless carrier stores until at least month end. Posted via the Android Central App

Any idea on the Verizon version? Posted via the Android Central App

Waiting on Verizon, as usual.

Right now we're waiting on Verizon...and Sprint...and AT&T...and T-Mobile...and Motorola. What's your point?

Waiting for cingular Posted via Nexus 7 2013 or Galaxy S5

Sprint LG G2 laughing at me for looking at the 2014 Moto X. G2 = SD800, 2Gb RAM, 5.2 inch 1080p IPS Display, 32Gb internal storage, 13 megapixels OIS rear and 2.1 megapixels front cameras, and a 3000Mah battery. Moto X 2014 = SD801, 2Gb RAM, 5.2 inch 1080p OLED Display, 16Gb or 32Gb internal storage, 13 megapixels rear and 2.0 megapixels front cameras, and a 2300Mah battery. Moto pretty much copied the device I chose over the 2013 Moto X. But I do want the "Turbo Charger".
The LG G2 does support Quick Charge 2.0, since last year. Posted via the Sprint LG G2 Android Central App

Oh yeah, people please don't think that I'm hating on the 2014 M(X). A 2300Mah battery is plenty when you invest in the Moto Turbo Charger. Did anyone catch the pun? Posted via the Sprint LG G2 Android Central App

Nope, you're not hating. Just stating the facts. Which is my issue with the X, other than the vanilla OS, the G2 is likely just as good of a phone. Posted via Android Central App

It looked like you never used the original Moto X so you have no idea the benefit of its features. You're just stating typical specs, which have very little to do with the actual experience.

Definitely understand what you mean about features but I have the notifications of the moto x on my g3 with the app dynamic notifications and it works great. With the Google now launcher I'm more than happy. Give me another $100 off and maybe I'd buy. I just love my knock knock, laser focus and ir blaster on my g3. Posted via the Android Central App

Yes, there are apps that have the same functions, however they are not baked into the software. I have used them on LCD screens but if you forget to look at a notification and continues to "breathe" battery takes a big hit, at least in my experiences. Posted via Android Central App

Someguy01234, I have used the Original Moto X and that's why I bought the G2. I was tired of the AMOLED display on my GSIII, I use ActiveDisplay for the notifications, and Proximity Actions enables me to wave my hand over the screen to wake my device to bring up notifications when none are present. Lastly "Okay Google" is an annoyance with the screen off. Posted via the Sprint LG G2 Android Central App

I missed the pun. Where is it?

mmm burgundy leather... also will this pure edition be customizable or just in 1 color?

They're still figuring out if they're going to put in all their usual bloatware apps and negotiating for an etched verizon logo on the screen.../-;

Haha true that.. Posted via the Android Central App

Nope Posted via the Android Central App

I think that turbo charger is the same as Docomo quick charge 2.0 technology if so then one of those. These work pretty well on the phones that support it. Posted via Android Central App

Does this work with g3 quick charge? Posted via the Android Central App

Yep, Pure Edition with a wood back, I'm in...

Kind of wish they had the motomaker site up and running in the US for the new version. Even though I never purchased a moto x last year (came very close) I had a lot of fun playing around with the customization options. I feel like this would help them increase interest for the phone. (and apparently it is already up and running in certain markets)

I wish we could customize it and save it to our cart for the pre order. I'm afraid it will take me an hour just to decide how I want it. Posted via the Android Central App

Where do you see that the moto maker is already up in certain markets? Would love to test it out if possible.

Yup! Snagging a pure edition with 32GB. Not into the leather and wood, though. Thinking dark gray with orange accents. So excited! Posted via the Android Central App

Sorry not interested. This years moto x screams average. Only if they kept the original form factor.. Posted via Android Central App

Only the camera is average. Rest of phone same specs as other flagship devices. Not sure what you mean. Posted via Android Central App

He's just a Samsung fanboy in general. Posted via the Nexus 5

Hopefully it does well enough that they bring out a "mini" version that's not to skimpy on the specs. That's what i'm hoping for at least.

I would preorder one but I have a oneplus one which only cost me $350 for 64gb Posted via Android Central App on 1+1

Sold my OPO for 410 to fund my moto x. I liked my OPO but the moto x is just more usable. Posted via Nexus 5

I'm about to do the same. It's huge/heavy and the touchscreen drives me nuts when it doesn't register touches properly. battery life is awesome though, so much better than my N5 it replaced.

I need to grab the 360 Posted via Android Central App

Loaded up a french proxy, went to the french site, but motomaker wasn't active for the the X.

I'm sticking with 1st gen 32GB Moto X. Why toss aside what works so well for me now? I am still blown away by what my walnut-back X can do & do very well. I'll grab a Moto 360 in dark stainless steel when it's available with metal bands. By then price may drop a bit too. Posted via Motorola Xoom

I'm planning on picking up my Moto 360 tomorrow when they become avail. I still love my original moto x that I've had for 6 months now, and I'm planning on keeping it another 6 months before I buy the new moto x. I'm still very happy with my OG moto x and how it performs. There is no other phone's I would consider buying. Posted via Android Central App on the Moto X

I'll be ordering a Pure edition. I do wish I could play around and customize ahead of time. Have it in my basket ready to go. Did they say what time? Posted via Android Central App

Nevermind. 12pm EST. Posted via Android Central App

Pure edition and turbo charger and probably moto care also! I guess the 32 GB version will be 550? Posted via Nexus 5

What? My order will probably also include the hint as well.

Yep! I kept the OG moto x longer than any device I owned in years! Only sold it to get ready for the 2014 version. Posted via Nexus 5

Same here! I sold my Moto X, used a crappy LG L90 as a backup, but I couldn't stand it so I bought a beat up old Moto X as a backup, hah.

Yes $50 for 32 GB and $25 extra for leather or wood backs. So I'm looking at around $620 after taxes. Posted via the Android Central App

I'm not sold on the leather. I need to put case on phone and that seems it would be a shame. Posted via Android Central App

Yeah I keep my phones always naked so I'm going for the leather option this time, since I went with wood last year.
For me I buy a phone for the overall design, software, hand feel etc, putting a case is no go for me for any phone I own. Posted via the Android Central App

I would love to but when I have my phone with me on the warehouse floor instead of at my desk then there is too much chance. Maybe, since I'll have the Motocare, I'll be a little more lenient. The ebony does look beautiful. Which wood back did you get? Posted via Android Central App

I had the bamboo and loved it :) Posted via the Android Central App

MOTO 360!!!! Still trying to hunt down that beast!!! Posted via Android Central App

Will the "pure editon" work with Verizon?

Not likely. It won't have the required bands.

nor the required excessive obnoxious bloatware and branding. Verizon is an evil, criminal enterprise.

"evil, criminal enterprise" aka successful American company.
Can't have one without the other

Gsm only , T-Mobile and AT&T. Posted via the Android Central App

Will pure edition be available for Verizon? Posted via Android Central App

Wonder if the unlocked version is capable of T-Mobile Band 12. I'd assume that's the one they would sell as unlocked. It's also Sprint compatible. I took my 360 back the day after I got it. It was just not very useful for $270 incl. tax. Posted via the Android Central App

Yes, it is band 12 compatible according to TMoNews: "One of those is the 2014 model Moto X. Motorola unveiled the device to press at an event yesterday, and its full spec list makes for exciting reading. Model XT1092 is compatible with all of T-Mobile's bands, including band 12." GSM/GPRS/EDGE (850, 900, 1800, 1900 MHz)
UMTS/HSPA+ (850, 900, 1700 (AWS), 1900, 2100 MHz)
CDMA (850/1900 MHz)
4G LTE (02, 04, 05, 12, 17, 25, 26, 41)

Any news about availability through Amazon? Posted via Android Central App

I really wanted to like second gen moto x especially after the excellent moto g which is by the way the best phone ever but that 2300 mAh battery is just ridiculous and is a no go for me. A whole day battery life was good 2 years ago and is not a feature Any more. So goodbye moto. Posted via Android Central App

So you get up in the morning and then charge the next day in the middle of the day? You do not plug in when you go to bed? Which phone do you have that lasts two days with moderate use? Posted via Android Central App

You will easily get through your day with end of the day or 40% you have to charge it over night anyway. I know lot of people will not agree with me ..but the same people will complain about how bulky the phone is and how uncomfortable it is to hold if they try to fit in a bigger battery. Motorola would have to sacrifice in hand feel of they try to put in bigger battery, which seems like still a plus for this device compared to other flag ships inspite of its 5.2 inch display .. It's a trade off they made .. It's the whole package that matters not just single spec.

+1 Posted via Android Central App

The HTC one m8 and the new Sony z3 for example Posted via Android Central App

I'll be at work so I gotta order this thing from my phone browser. Hope this goes well... Posted via Android Central App

That might be a no go. The 2013eould let you design from phone eventually but you would have to order from tablet or computer. Posted via Android Central App

LOL... Gotta love the marketing angle on the "pure" edition

Hold out and see what the upcoming Nexus "X" has to offer, if it the specs aren't competitive to the Moto X then pull the trigger on Moto Maker Posted via the Android Central App

I super love motorola :) Posted via Android Central App

I'd love to pre order, post order of order in any time setting. Unfortunately without a time machine if you live outside of the USA you can forget any kind of ordering :(

I'm going to get burned on here for this but, as much as I want the Moto x again this year, I went with the iphone 6 plus. I don't understand why Motorola can make a single phone with a good camera. I'll probably end up with one but this year I'm not buying at launch. I'll ether wait for Motorola to lower it's price again or buy on Swappa.

I'm still waiting to see what Nexus and Silver bring but the "Pure Edition" is the one I'll get if the X ends up being the phone for me!

Tempted. Very tempted. I want to put my money behind the Pure notion and make sure Motorola knows we love these de-bloated phones. But dammit, no wireless charging? Trying to decide if I prefer wireless charging or a nice leather back. So it's this, or wait for the Nexus 6/X... Decisions, decisions...

Hard decision for me. I will likely stay with the S5. Posted via Android Central App

Just bought my X in May. See you next year, 2015 X! Posted via Android Central App

I'm buying my moto 360 on Tuesday hopefully. I'll be getting online a couple minutes before 12 pm Eastern time to make sure I'm there right as the switch flips. Posted via Android Central App on the Moto X

For those complaining about the "flagship specs"... are you willing to pay over $600? If not you might want to quiet down.

I think this link is the new link to the Moto X 2014 https://www.androidcentral.com/e?link=https2F2Fcli... (This will not load yet) The reason being is that this is the link to showoff the phone: https://www.androidcentral.com/e?link=https2F2Fcli...

Last year during the Xmas sale they totally fucked this up. Hopefully this time around they hand out coupons again for you to take your time to design a phone.

I tried to order the turbo charger at 11:40 EST and already sold out!

So many smartphones to buy, Moto X(2014) iPhone 6+(would be my first iPhone) and Note 4( would be my first Samsung Device) Actually whole these years I've used Nokia, Sony Ericsson and from last three years HTC.. HTC is awesome. but this smartphone craze just wanting me give other a chance. I'm sure I won't like Touchwiz but of course I won't be use it as my daily driver but my wife would. so Moto X and iPhone would be the two I'd be switching between often. Damn I'm so excited also frustrated, its taking so long that can have hands on any of these