Pre-beta Z Launcher gets major speed bump with latest update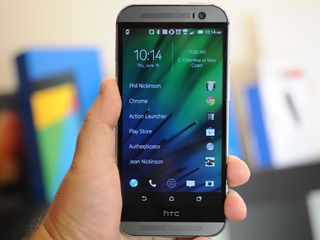 Z Launcher, which is a home screen alternative for Android-based devices, has announced that its just received its second major update. The launcher, currently in a limited pre-beta release, was created by the Nokia that wasn't sold off to Microsoft. With the new updates, you can see faster and more robust performance and some additional features.
Here are some of the features you can expect to see with the update:
Performance improvements
Design enhancements
New animations
Improved contacts search and listing in Z Launcher, more consistency in preserving your preferences across Z Launcher updates
Improved web search results
Improvements to "Call…" and "Text…" actions
Collapsing contacts so one person won't take up two spots on your Home screen (so you won't see "Call John" and "Text John" at the same time)
More reliable creation of "Call" and "Text" for the people you connect with the most
Reducing accidental app launch if you scribble too quickly
And many more bug fixes to improve the reliability of Z Launcher
Are you a Z Launcher pre-beta user? Let us know what you think of the experience after the update has been applied.
Source: Z Launcher
For being a beta this is a pretty slick product. I've gone back to the Google Now launcher a couple times but I keep coming back to Z Launcher. Hooray for updates!

This hasn't started supporting rooted devices though, has it?

you need to use xposed and two root blocking modules for it, than it works. but honestly its most confusing and not what i was hoping it would be.

It's still Alpha. Be a bit more patient, they're expanding their team ;)

i just downloaded the z launcher on my rooted lg g2 and it is working great. did not use root cloak, either.

I can download but can't open... LgG3 Posted via the Android Central App

I keep coming back to this launcher. It's very intuitive and I find myself clicking less for apps I use the most Posted via my awesome, longer lasting phone than yours aka droid MAXX

Those icons looks so tiny on high resolution screens Posted via Android Central App

Go to their website and leave your feedback. They are listening ;)

The "Nokia that wasn't sold off to Microsoft" IS NOKIA. What Microsoft bought (and fired) was ONE division of Nokia. It would be high time to stop talking about Nokia as if the company had disappeared or something. Nokia is still a company, Nokia is working on a bunch of stuff for Android (be patient ;)) and Nokia has nothing to do with Microsoft (as can be proven by the horrible customer service that Microsoft is giving to people who have Nokia branded phones). :::::::::::::::::::::::::: Now that my rant is over, I'm glad to see these speed bumps. Brace yourselves, it's only going to get better to the point you'll be wishing for Nokia to turn it into an Android skin for a 2016 Nokia phone ;)

Your words make me happy... Posted via Android Central App

This launcher won't even allow me to add app on my dock. -_-

Go back to your previous launcher, arrange the dock as you see fit, relaunch ZLauncher and your dock will reflect the new layout. I'm sure re-arranging within ZLauncher will come.
Android Central Newsletter
Get the best of Android Central in in your inbox, every day!
Thank you for signing up to Android Central. You will receive a verification email shortly.
There was a problem. Please refresh the page and try again.