The Aukey 30W USB-C Power Delivery 2-port wall charger drops to $15.39 on Amazon when you stack the discounts by clipping the on-page coupon and using the code ECL56KRA during checkout. The on-page coupon takes off 20% and the code takes off another 10%, so you end up saving quite a bit compared to its regular $22 price.
Stacked Discounts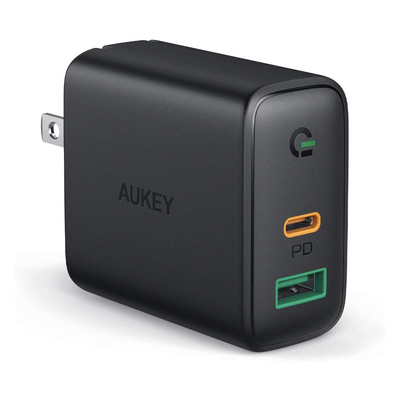 Has one USB-C port with Power Delivery and a USB-A port. The USB-C port provides 30W of output when used alone and 18W when used with the other port. Compact, lightweight, and foldable for travel.Comes with a 2-year warranty.
$15.39 $22.00 $7 off
This wall charger has two ports. One is USB-C and the other is USB-A. The USB-C port is capable of 30W Power Delivery output when used by itself, but you can use both ports to charge two devices at once. When you do that, the 30W is split between them so the USB-C is only capable of 18W. Either way, that's plenty of power and high-speed charging for all your mobile devices.
You'll be able to take this charger with you wherever you go, whether you need it for traveling or for in-between classes. The design is compact, slim, and lightweight. It even has a foldable plug so that won't get snagged on things inside your bag. Keep the charger with you anywhere you need it.
Aukey builds safeguards into the charger, too, to protect all your gear. Don't worry about things like over-heating, excessive current, or overcharging. The charger is backed up with a two-year warranty from Aukey. Users give it 4.6 stars out of 5 based on 111 reviews.
We may earn a commission for purchases using our links. Learn more.