Poll: Do you prefer headphones or earbuds?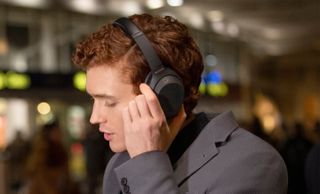 (Image credit: Sony)
There's a lot to consider when listening to music, from the streaming service to the actual headphones you're going to use. Both can affect your listening experience, but because there are many different types of headphones out there, each with its own benefits, so we want to know which style you prefer.
Some users prefer headphones or headsets, which remains a popular option for gamers. These can come in wired or wireless flavors, as well as in-ear or over-ear designs. With wired, you'll likely get the best listening experience, particularly with over-hear designs, which can provide a more immersive listening experience. With wireless, you'll still get a good listening experience, but even with many of the best wireless headphones, there will likely be some compression, and you'll have to consider battery life.
However, with the excellent Sony WH-1000XM4, you'll get both great audio, amazing battery life, and the option to connect a 3.5mm headphone jack. And right now, there are some great Black Friday Sony WH-1000XM4 deals going on right now, making these pricey headphones worth a look for the holidays.
Then there are earbuds, which are much more compact and less cumbersome than headphones. The audio experience won't match up, particularly with wireless earbuds. Still, they've improved a lot over the years on that front and with battery life, particularly when looking at the best wireless earbuds. The new Jabra Elite 7 Pro, for example, will get you up to eight hours of listening with ANC on, with a few more charges from the case.
Of course, you can always go with wired earbuds if you prefer the physical connection, although they could get in the way if you frequent the gym.
Comment below which style you prefer when jamming out to music and why.
Exceptional sound
(opens in new tab)
It doesn't get any better
Despite their forgettable name, the Sony WH-1000XM4 are far from forgettable. They feature a great design, fantastic audio, and a long-lasting battery for endless listening.
Get the Android Central Newsletter
Instant access to breaking news, the hottest reviews, great deals and helpful tips.
Derrek is a long-time Nokia and LG fanboy who loves astronomy, videography, and sci-fi movies. When he's not working, he's most likely working out or smoldering at the camera.
Bought Bose QC 2's a few years ago... Holding up just fine. The truth is I, and most everyone else, could not tell a difference between my Bose and anything newer. I've replaced the ear cups once. Buy quality once and enjoy. The featured Sony's are nice, but my Bose eliminate everything via noise cancelling I need for my two hours of commuting daily. I'll never, ever buy ear buds... Too much of a compromise. Noise cancelling is the most important feature to me... Sound is great.

I dont like ear buds of any kind. Uncomfortable. Headphones are ok but I much prefer the luxury of a good Bluetooth speaker. Of course if one is out in public the buds are the only practical choice so I avoid that scenario and only listen to stuff at home.

I used to use earbuds, but once I got fitted with hearing aids, that option went out the window. Now I use wireless headphones, or simply stream music and videos to my hearing aids which have Bluetooth capability

I have had the luxury to own and use all. My go to for everyday use airpods pro. Not the best sounding but ambiance noise is awesome and convenient. The airpods max sound phenomenal and the Sony wh-1000xm4 also sound phenomenal and noise cancelation is on point.

neckbands for calls and portability and for gaming and meetings from home headphones

Honestly, for pure practicality in terms of carrying around, space, size, I prefer the wireless earbuds. While the sound is not comparable yet to wireless headphones, it is good enough. Plus the IP rating, the dust and sweat resistance, Active Noise Cancellation for me are definite pluses. Wireless headphones tend to also be more expensive than the earbuds and to get more easily damaged than the earbuds. At the asking price, where you can get decent to good wireless earbuds for anywhere between $50-100 dollars (and of course even cheaper, more entry level ones), it is much easier and affordable to replace them if needed. At home though I use wireless headphones, no question. Much prefer them when watching movies, listening to music on my home entertainment system/streaming device.

Agreed. I carry the Pixel buds with me when I am out and about for portability.

Headphones. Pure and simple. Earbuds never sounded good to me. Tried a few to try to see if I could get used to the physical hurt they cause me, but the crappy sound quality just wasn't worth it. However. I don't even want noise-cancelling, and it's getting harder and harder to find regular ol' cans without it.

For convenience I much prefer wireless earbuds. Wired are good, use them as well. As we all become older our hearing wanes thus the important thing is being able to clearly hear the music and singers. With advancing age, differentiating musics nuance becomes considerably less important, we just want hearing the music and singer, maybe sing along remembering the memories it brings.

Depends on what I'm doing.
I originally started out using one of the early LG Tone earbud units, and used it for EVERYTHING.
But it eventually died, and my usage habits evolved.
If it's listening to music while actively moving around, earbuds.
If it's video content, earphones.

Love my Bose wireless headphones. Battery lasts for a while and great call quality too. I have the Google Pixel buds and they are good but not as comfortable for my ears and having a hard time keeping them in for long periods.

I prefer earbuds but I keep getting an allergic reaction (even with so-called "hypoallergenic" pads) so I have to use headphones or speakers.