Pokémon Go will let everyone catch 'em all in July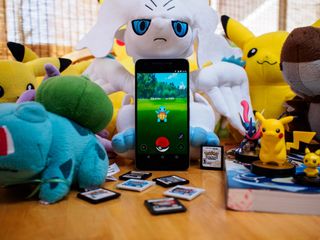 Pokémon Go, the upcoming augmented reality game for Android and iOS, will be coming in July. As revealed during Nintendo's E3 livestream, Pokémon Go Plus wearable device that allows you to play the game without taking out your phone will be available for $34.99.
With Pokémon Go, players, can "catch" virtual Pokémon while out in the real world. The little monsters can be found in areas associated with their type (water Pokémon can be found by bodies of water, for instance), and caught and added to the player's collection. The Pokémon Go Plus is an optional accessory that connects to your phone via Bluetooth and alerts you when game events are happening nearby, so you can still play without pulling out your phone.
Be sure to check out our thoughts on the beta to learn more about Pokémon Go.
Finally! I can't wait! I wwas hoping this would be out by summer so we could play in the nice weather! Ahhhh!

Guess you aren't from phoenix. I don't see myself doing much playing until October : /

I am from Michigan too do you know what day of July its coming out for Michigan ?

It's out! Get it from apk mirror :D I have charmander and vulpix.

What team? Gonna be red team in Chandler. Posted via the Android Central App and Nexus 6

I have no idea I really know nothing about the game yet but I'll be in the lake orion/Ann arbor/Troy area

Will Canada get this? Posted from my Moto X 2nd gen and my Nexus 9 both on Android Marshmallow

Bring it on! Hopefully EB Games here in Australia will stock the Pokemon Go Plus devices. Posted via my Nexus 5X or Pixel C

I have been waiting for this since a long time! Finally its here! T_T
Android Central Newsletter
Get the best of Android Central in in your inbox, every day!
Thank you for signing up to Android Central. You will receive a verification email shortly.
There was a problem. Please refresh the page and try again.