Pokémon Go Plus accessory now up for pre-order at Amazon for $35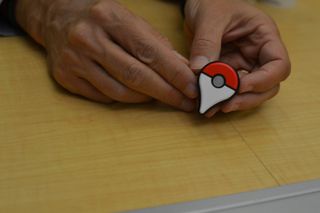 Pokémon Go is almost here, and the Pokémon Go Plus companion wearable is now up for pre-order on Amazon (opens in new tab) in advance. As previously revealed, the Pokémon Go Plus wearable runs $34.99, and while the release date on Amazon is set for December 31, the game and wearable are expected to become available sometime in July.
In Pokémon Go, players will be able to catch 'em all in the real world by slinging Pokéballs at virtual Pokémon as they explore their surroundings. Pokémon Go Plus is an optional accessory for the game that connects to your phone over Bluetooth, alerting you to nearby game events and interact with the game without pulling out your phone.
Interested? If so, you can hit up Amazon at the link below to pre-order your Pokémon Go Plus accessory. And while you wait on the game's release, be sure to check out our Pokémon Go beta impressions!
See at Amazon (opens in new tab)
Pretty cool. Although I wouldn't use it, an android wear app or even a pebble app to do the same would be nice. It's best to assume I'm being sarcastic. if I'm ever serious I'll type "/s" to make it clear.

For sure! Posted via note 4, +32 gig micro SD and 2× batteries...because I can.

Can't the phone alert you on Wear with its notification? And you pull out the phone if it's something important?

As of now, it has no notifications.

Awesome, but this thing better have integration with android wear as an option over buying the PG plus thing!! >:/ Posted via note 4, +32 gig micro SD and 2× batteries...because I can.

Well I can say this after testing for a month, it drains the battery damn quick. I have a nexus 6 and my battery doesn't drain easy. This bluetooth accessory for the game will probably help with that since you won't have to be on the phone. I also have a moto 360 (1st gen) but I would guess that using the watch would also drain the watches life immensely. For those big time players, this accessory would be perfect.

...fair point, sir. Fair point indeed. Posted via note 4, +32 gig micro SD and 2× batteries...because I can.

It's an Ingress style game. Those attack battery like nobody's business.

I have been playing Ingress since beta as well, and Ingress doesn't drain my battery like Pokemon Go. I'm sure as the app gets work done under the hood, it'll play much nicer with batteries.

Ingress has simple graphics, PG not so much. Blackberry Priv
Nvidia Shield "Portable"
Sony Xperia Z3 Tablet Compact

No longer available via that link :/

Do you think a pebble app could be made to have the same functionality? Posted via the Android Central App
Android Central Newsletter
Get the best of Android Central in in your inbox, every day!
Thank you for signing up to Android Central. You will receive a verification email shortly.
There was a problem. Please refresh the page and try again.