Plex just made the best video app for Google Daydream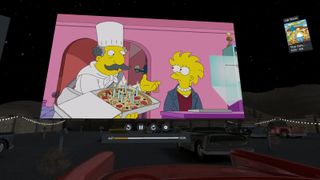 VR continues to grow in popularity but one thing that's still not as awesome as it can be is watching your own content. Plex is here to change that with Plex VR, available starting today for Google Daydream. The app is free to download, separate to the main Plex app but with almost all of the same great features available.
There are added perks for Plex Pass subscribers, but no one is excluded from this party. Well, unless you don't have a Daydream-compatible phone, that is.
Same great Plex, now in VR
If you're a Plex user, then the translation to VR feels pretty much as you'd expect it to. While the whole interface has been designed from scratch for the immersive experience, nothing is out of the ordinary. Menus still feel familiar, and you can still access all your content in a large grid right in front of your eyes.
The only content you can't enjoy initially in Plex VR is live TV, nor can you schedule DVR recordings. But, any content already on your server or stored locally on your device can be enjoyed in Plex VR.
That means you can watch your existing 2D video content, along with now support for both flat and 3D 360-degree video as well as VR180.
The menus are entirely separate from the viewing screen, so even if you're watching something, the menu will float in front of the video player rather than taking it over. When watching 2D video, the player can be resized and moved around to anywhere within your virtual environment. So if you're laying in bed, you just move it up to the ceiling.
Watch together or watch alone
One of the best features of Plex VR is Watch Together. You and up to three other people can sit and enjoy a video together in complete synchronization for both voice and video. There's a push to talk option so you're not letting any background noise ruin your buddy's enjoyment, and even if you don't own the media that someone else wants to watch, you're given temporary access to it.
You'll see a 3D avatar of each other person you're watching with, and if any of those people start browsing the library to find the next thing to watch, only they will see the menu. Everyone else has an unobstructed view of the video.
It's even possible to pick up the popcorn or coffee cups off the table in the apartment and throw them at your friends. As you know you will.
Watch together is one of the few parts of Plex VR that requires a Plex Pass subscription. However, anyone can try it out completely free for a week to see what it's like.
An immersive environment
Part of what makes Plex VR so exciting is the attention to detail. I had the chance to check out Plex VR in a demo and things you might consider frivolous really make a difference.
For example, when you hit play on a video, the blinds in your apartment come down and the 'room' becomes darker. When you pause or stop, the blinds go back up and the room gets brighter again. You're not limited to the apartment setting either, something Plex is quite keen on. To ensure the experience doesn't become stale and boring, there are different scenes, three of which are available at launch.
Besides the luxury apartment, there's also the void, a minimalist floor with a starry night sky free from distractions, and there's a drive-in theater complete with a vintage car with a working horn and tumbleweed you can grab. As with watch together, the drive-in is a Plex Pass perk but free for a week to everyone.
It's not just the visuals where the detail persists. Your friends will be able to see the content you're watching, even whereabouts you are in the playback. You can resize the video window for 2D content by simply scrolling up and down on the Daydream controller trackpad, and 3D and 360-degree content is labeled as such so it stands out in your library.
And I particularly like that instead of building a boring playlist, you can pull cards out of your Plex library and toss them on the sofa or the floor or the table to simply pick up and watch when your current video ends.
Available immediately
Plex VR is a separate app available from the Google Play Store for Daydream supported devices and it should be available at some point on January 24.
Get the Android Central Newsletter
Instant access to breaking news, the hottest reviews, great deals and helpful tips.