PlayStation VR's Cinematic Mode received an update and it's better than ever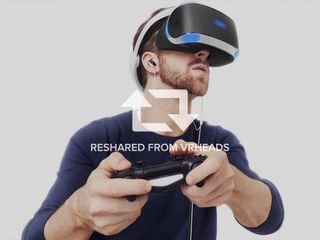 PlayStation patch 4.50 is here, and with it comes a bunch of significant changes to the PS4, as well as a few changes to PlayStation VR. Cinematic mode and the Social Screen received notable upgrades, and you can now also watch 3D Blu-Rays within your headset. Let's take a deeper look at exactly what the changes bring and what they mean for PSVR.
See at Amazon (opens in new tab)
Cinematic mode is significantly better
Watching movies and TV shows or playing non-VR games in a head-mounted display is one of the perks of owning a VR setup. You pop it on, pick a new title, and sit back in your own private theater. You can make the screen as big or as small as you want, and have the freedom to pause whenever you need more soda or popcorn is pretty great.
The PSVR already had the least amount of screen-door effect when compared with the Vive and the Rift, making it one of the better systems for watching movies. Now, with this update, further improvements have been made.
Any VR games played in PSVR that run at 60Hz are automatically upscaled to 120Hz to prevent motion sickness and headaches — it's sort of an unwritten VR rule that games should be no lower than 90Hz. In PSVR's Cinematic mode, when using the small or medium screens, you'll now get a 120Hz refresh rate, making the image smoother. This is especially important when watching, say, a three-hour movie like Avatar — a higher refresh rate usually means less chance of feeling queasy.
Beyond the refresh rate, cinematic mode seems to be much clearer and is much closer to the quality you'd find at an actual theater. There are no specifics at exactly what resolution you're seeing, but it's definitely an upgrade.
Don't forget, you can now also play your 3D Blu-Rays in PSVR, and users who have tried it are claiming it's an impressive experience.
The new Social Screen will make your friends (a bit) happier
This isn't as big of a deal as the improvement to Cinematic mode, but it is a welcome change. Previously, when you had the PSVR equipped and you exited a game for the main home screen, the resolution was downright awful on the Social Screen, Sony's fancy word for your regular TV.
Now, when browsing the home screen while in PSVR, the resolution is much better — not a big deal for the person in the headset, but a nice upgrade for the people sitting around watching the action unfold.
Did you notice the changes?
Did the upgrade to Cinematic Mode and the Social Screen go unnoticed until now? Are you going to try your 3D Blu-Rays now that support has been added?
For more information on what patch 4.50 holds, check out the entire changelog on the PlayStation Blog.
If this update is enough to change your mind about PlayStation VR, remember that it's never too late to get in on the action!
See at Amazon (opens in new tab)
Get the Android Central Newsletter
Instant access to breaking news, the hottest reviews, great deals and helpful tips.
Cale Hunt is a staff writer at Mobile Nations. He focuses mainly on PC, laptop, and accessory coverage, as well as the emerging world of VR. He is an avid PC gamer and multi-platform user, and spends most of his time either tinkering with or writing about tech.