Do you have a favorite seat you wish you could play video games from? Are you looking to use the keyboard and mouse on your console? More console games are adding that functionality these days, and it's a much more accurate way to play if you're trying to be the best. Roccat's Sova gaming lapboard with membrane keyboard makes it easier to play off a desktop, and today's it's on sale for $74.99 thanks to a 50% off on-page coupon. The lapboard regularly sells between $130 and $150, and it has never gone this low before.
If you would prefer the clickiness of a mechanical keyboard, Roccat has a gaming lapboard with one of those on sale today, too. The mechanical keyboard lapboard is $195 without the coupon and more regularly sells for around $180. Today you can get it for $97.50 with the 50% off coupon.
Game in a new way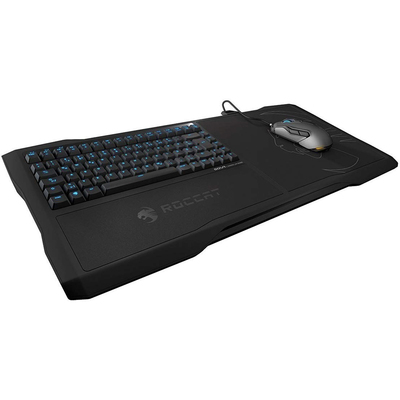 Has an integrated keyboard but includes USB ports for your own mouse and headset. Great for keyboard and mouse play through the console or for a more relaxed spot in your room. Plug-and-play with PC, Xbox, PlayStation, and more.
$74.99 $150.00 $75 off
The lapboard uses an integrated membrane keyboard, a solid top, and an ergonomically shaped bottom with padding on the underside and a wrist rest to create the perfect device for playing from the comfort of your couch or favorite chair. You can sit back and relax and play on PC or load up your favorite gaming console and gain an edge using a keyboard and mouse.
Except for the keyboard, the rest of the board is fully customizable. It has two integrated USB ports, which allow you to connect different accessories. Hook up your favorite gaming mouse and a headset so you can communicate with your team. You can even use them to charge your mobile devices if you want.
The LED lights can be personalized, too. The lapboard uses a plug-and-play style. You don't need to download any drivers or unique software to get it to work. That also means it's compatible with several different platforms, including your PC, the Xbox One, PlayStation 4, and other devices like streaming media players.
We may earn a commission for purchases using our links. Learn more.