The Google Pixel XL, two years later: Going down with a fight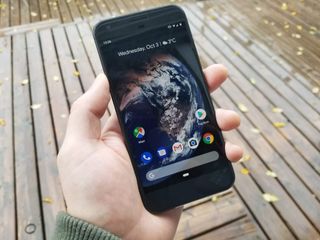 It's been two years since Google shifted away from the Nexus line, ushering in a new era of Android flagships with the Google Pixel and Pixel XL. With the latest iteration of the Pixel lineup soon to be revealed, let's take a look at the handset that set the course for Google's current hardware path.
I returned to using the Pixel XL as my daily driver on August 9, the day that Android Pie officially launched. Running on Android 9.0, I've fallen back in love with the OG Pixel XL in part because I just love the camera and physical design, but also because it continues to offer the streamlined Android experience I enjoy most.
Still going strong on Android Pie
Updating to a new version of Android is always exciting, but the 9.0 update felt like a big visual shift that gave the Pixel software a fresh coat of paint. From the rounded corners on nearly every menu to the colorful icons in the drop-down settings menu, those first few weeks running the Pixel XL on Android Pie made the phone feel brand new.
I'll admit that it took some time to get used to the new look and feel of everything when I first updated the XL. One of the biggest changes was how Google redesigned the three-button navigation system down to two — the back button and the pill-shaped Home button. Gesture controls are a feature that you need to go into settings to turn on, but once you do it completely changes the way you navigate through apps on your phone, and mostly for the better. Having to swipe up twice to access the app drawer was a big adjustment, and the swipe right gesture control for switching between recently used apps is pretty ingenious once you get the hang of it.
Given the amount of time I spend on my phone, rewiring my thumb's muscle memory for the gesture controls took some time, and for a while, it was genuinely frustrating. Once I got used to the new controls, however, it immediately becomes apparent how fluid and comfortable it can be, saving you a couple seconds every time you switch between which really adds up in the long run.
Beta testing the Digital Wellbeing feature
As a self-diagnosed screen addict, the Digital Wellbeing feature that Google unveiled at I/O 2018 was something I was eager to try and so it has been put to use on my Pixel XL.
I have a hard time putting my phone down at night when I should be sleeping, but I'd rather be watching YouTube or getting in one last round of Brawl Stars. I turned on the wind-down feature, which converts your phone to grayscale and turns off notifications during a set time (defaults to 11 pm to 7 am). I also used the app dashboard to set some timers on apps that are notorious for stealing my attention for hours at a time, and having those little notifications pop up telling me my daily allotted time with the app is coming to an end has proven to be a good tool for curbing my usage.
It's probably going to take many more months of testing to check whether the wind-down feature and app timers will have a dramatic effect on curbing my smartphone addiction — and there have already been a couple instances where I've continued to watch grayscale YouTube or gone into settings to turn off app timers.
Battery and Bluetooth are better with Pie
If there are two things that drive me crazy the most with smartphones its low-battery anxiety and issues using Bluetooth.
I can't say for certain whether my Pixel XL's battery life has improved or worsened since upgrading to 9.0, but the new update has vastly improved my ability to monitor my remaining battery life. The battery settings page now gives me a mostly accurate prediction of when my phone will run out of juice based on my average daily usage, which, for context, typically involves a ton of screen time, YouTube binging, Bluetooth pairing, and audio streaming.
Instead of trying to guess how long I'll get out of 30% battery remaining, my phone will now tell me when I should expect my phone to die, which is especially important when using a two-year-old device. You also got to love the Adaptive Battery feature, working in the background to optimize CPU and battery performance.
Bluetooth is another area that's been subtly improved. In an average day, there are 3 to 4 different Bluetooth speakers, receivers, or headphones that I'll regularly switch between — from the speaker in my shower to the FM transmitter in my car to my favorite pair of Bluetooth headphones to the speaker I use for pumping tunes at dodgeball. If I wasn't having trouble connecting to a particular device, I was tearing my hair out trying to switch from one device to another. Switching from a Samsung
Since updating to Android Pie, I've noticed that Bluetooth has vastly improved, to the point where I can turn it on and the phone will instantly pair to whichever active Bluetooth device is closest. Get in the car, turn on Bluetooth, and it connects to my car's Bluetooth dongle without having to fuss about in settings. These are the little improvements that are easy to overlook but actually make a huge difference in cutting out those little frustrating moments.
Official software support ends this month
Android Pie may be the end of the road for the OG Pixel XL — Google says guaranteed software support for the Pixel and Pixel XL ends October 2018, with guaranteed security updates ending October 2019.
It's a bit of a shame because the phone itself is still great to use late into 2018, and I reckon I'll still be using the Pixel XL into 2019. It still feels great in my hand, is still fully capable of running all the games and apps I enjoy, and has hardware features I appreciate like the well-placed fingerprint sensor, superb camera, and a freaking headphone jack that I still get good use out of.
Get the Android Central Newsletter
Instant access to breaking news, the hottest reviews, great deals and helpful tips.
Marc Lagace was an Apps and Games Editor at Android Central between 2016 and 2020. You can reach out to him on Twitter [@spacelagace.