The Google Pixel XL, two years later: Going down with a fight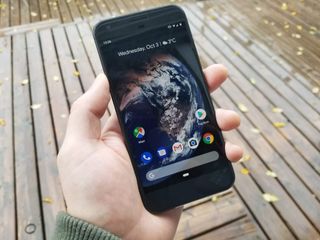 It's been two years since Google shifted away from the Nexus line, ushering in a new era of Android flagships with the Google Pixel and Pixel XL. With the latest iteration of the Pixel lineup soon to be revealed, let's take a look at the handset that set the course for Google's current hardware path.
I returned to using the Pixel XL as my daily driver on August 9, the day that Android Pie officially launched. Running on Android 9.0, I've fallen back in love with the OG Pixel XL in part because I just love the camera and physical design, but also because it continues to offer the streamlined Android experience I enjoy most.
Still going strong on Android Pie
Updating to a new version of Android is always exciting, but the 9.0 update felt like a big visual shift that gave the Pixel software a fresh coat of paint. From the rounded corners on nearly every menu to the colorful icons in the drop-down settings menu, those first few weeks running the Pixel XL on Android Pie made the phone feel brand new.
I'll admit that it took some time to get used to the new look and feel of everything when I first updated the XL. One of the biggest changes was how Google redesigned the three-button navigation system down to two — the back button and the pill-shaped Home button. Gesture controls are a feature that you need to go into settings to turn on, but once you do it completely changes the way you navigate through apps on your phone, and mostly for the better. Having to swipe up twice to access the app drawer was a big adjustment, and the swipe right gesture control for switching between recently used apps is pretty ingenious once you get the hang of it.
Given the amount of time I spend on my phone, rewiring my thumb's muscle memory for the gesture controls took some time, and for a while, it was genuinely frustrating. Once I got used to the new controls, however, it immediately becomes apparent how fluid and comfortable it can be, saving you a couple seconds every time you switch between which really adds up in the long run.
Beta testing the Digital Wellbeing feature
As a self-diagnosed screen addict, the Digital Wellbeing feature that Google unveiled at I/O 2018 was something I was eager to try and so it has been put to use on my Pixel XL.
I have a hard time putting my phone down at night when I should be sleeping, but I'd rather be watching YouTube or getting in one last round of Brawl Stars. I turned on the wind-down feature, which converts your phone to grayscale and turns off notifications during a set time (defaults to 11 pm to 7 am). I also used the app dashboard to set some timers on apps that are notorious for stealing my attention for hours at a time, and having those little notifications pop up telling me my daily allotted time with the app is coming to an end has proven to be a good tool for curbing my usage.
It's probably going to take many more months of testing to check whether the wind-down feature and app timers will have a dramatic effect on curbing my smartphone addiction — and there have already been a couple instances where I've continued to watch grayscale YouTube or gone into settings to turn off app timers.
Battery and Bluetooth are better with Pie
If there are two things that drive me crazy the most with smartphones its low-battery anxiety and issues using Bluetooth.
I can't say for certain whether my Pixel XL's battery life has improved or worsened since upgrading to 9.0, but the new update has vastly improved my ability to monitor my remaining battery life. The battery settings page now gives me a mostly accurate prediction of when my phone will run out of juice based on my average daily usage, which, for context, typically involves a ton of screen time, YouTube binging, Bluetooth pairing, and audio streaming.
Instead of trying to guess how long I'll get out of 30% battery remaining, my phone will now tell me when I should expect my phone to die, which is especially important when using a two-year-old device. You also got to love the Adaptive Battery feature, working in the background to optimize CPU and battery performance.
Bluetooth is another area that's been subtly improved. In an average day, there are 3 to 4 different Bluetooth speakers, receivers, or headphones that I'll regularly switch between — from the speaker in my shower to the FM transmitter in my car to my favorite pair of Bluetooth headphones to the speaker I use for pumping tunes at dodgeball. If I wasn't having trouble connecting to a particular device, I was tearing my hair out trying to switch from one device to another. Switching from a Samsung
Since updating to Android Pie, I've noticed that Bluetooth has vastly improved, to the point where I can turn it on and the phone will instantly pair to whichever active Bluetooth device is closest. Get in the car, turn on Bluetooth, and it connects to my car's Bluetooth dongle without having to fuss about in settings. These are the little improvements that are easy to overlook but actually make a huge difference in cutting out those little frustrating moments.
Official software support ends this month
Android Pie may be the end of the road for the OG Pixel XL — Google says guaranteed software support for the Pixel and Pixel XL ends October 2018, with guaranteed security updates ending October 2019.
It's a bit of a shame because the phone itself is still great to use late into 2018, and I reckon I'll still be using the Pixel XL into 2019. It still feels great in my hand, is still fully capable of running all the games and apps I enjoy, and has hardware features I appreciate like the well-placed fingerprint sensor, superb camera, and a freaking headphone jack that I still get good use out of.
Android Central Newsletter
Get instant access to breaking news, the hottest reviews, great deals and helpful tips
Marc Lagace was an Apps and Games Editor at Android Central between 2016 and 2020. You can reach out to him on Twitter [@spacelagace.
My Pixel XL has had horrible battery life for the past few months. I have no idea what app is draining it either. It's a shame because I love this phone. I even have a Zerolemon battery case on it.

Try the reliable factory reset. I usually do factory resets after major updates and battery life is always better.

So true. The same for all systems
From windows, iOS, Mac, and Android. After a update factory reset irons out bugs that account from installing the OS and writing the data as close to how it was. He could just need a new battery as well.

Ugh, I know, I just hate having to reinstall all my apps, and losing data. Something always seems to be missing haha. I'll try it this weekend. I'm just so resistant.

Can you not restore from back up to save all that hassle? I always do, makes factory reset so much less painful..

It is less painful with restore and app password saving but I wish it operated similarly to other cloud restores where everything is back in the same place and I'm not signed out of everything.

Spend a little money ($100) and get your battery replaced. I had mine replaced at ubreakifix with no problem.

I agree with the Factor Rest (FR), I also do this after every major update because I normally notice battery drain after the update. I have not done an FR since Oreo and was getting ready to but, this past week I have noticed an improvement in battery drain.

Initial PIE update murdered battery life. Much better now.

Mine is doing great also with Pie, so still loving it. Just hate that it looks so much like an iPhone and peeps always ask me if it is.

Sill loving my OG XL. However I'm not loving the battery life, but I attribute that to age. Just ordered a new battery from iFixit, and plan on changing it out next week.

I don't have the XL, however, my OG Pixel is doing just with Pie. I'll wait until the Pixel 4 next year 😁 to upgrade even though I love the way the Pixel 3 is looking 🤔

The Pixel isn't a terrible phone. But given the features they left out, it was priced too darn high. Price on the Pixel and Pixel 2 was laughable.

I bought a Pixel XL for my boyfriend knowing he'd fall in love with it, hoping he'd return the favor for me. He did. Best. Phone. And boyfriend. Ever! Now it's just waiting to decide on the new phone in the series. I haven't looked at the leaks for 3 yet and am sad to learn of the dates of support ending for OG, so I suppose it's in my best interest to start researching soon.

Mine is doing fine. I probably needed to do a factory reset for some battery improvement but I've been able to go without resetting for the last two years. It's still fluid and I never felt the need to upgrade even though it's always hard for me to not have the latest. Also the camera is still a beast!

My is doing great. Google had sent it to me as a free replacement for my Nexus 6P when the Nexus's battery started to fail. I love it. Speed is great and battery is better with Pie.

My really blue XL is still kicking like a champ. Battery life is about the same from 8.0 to 9.0. Gesture controls are still a pain in the neck 5 months later. Would love to go back to the 3 button controls but I know any Pixel from here on out won't have that option so I'm trying to get used to it. Overall it's still an amazing phone, and I love the color. Easily think it'll last me till the Pixel 4.

I've never cared for the new navigation gestures either. Check out "Custom Navigation Bar" by paphonb in the Play store. If you are not rooted, it will still work but you must do some simple adb commands (the app walks you through the process). It also lets you swap the "Back" and "Recents" buttons.

Pixel Master Race FTW!!!!!

Still digging the OG Pixel XL. Not about to purchase either of the 3rd gens. If the 4th gen XL has a notch, I'm probably going to dump Android entirely. Go back to a regular flip phone until the fad goes away at least.

I don't think smartphones are a fad lol, they have changed the way we live our lives on a daily basis. I couldn't survive with just a flip phone.

My OG pixel XL has been so cool ever since I bought it 2 years ago and with Android pie it has gotten even much better especially the battery has improved and bluetooth connectivity too. Just hoping that it could have received another major update otherwise waiting for pixel 4 . Cheers Google !

Google was kind enough to replace my defective Nexus 6P with a brand new Pixel XL September 2017 and it is my daily driver. It works great and the battery life is outstanding. Android 9 Pie might be the last OS upgrade for the Pixel XL, but there is little need for improvement for what I have now.

My Pixel XL was one of my favorites before and after Pie until it went black screen and now it will not cut on....

I thought we would get 3 years of OS update. Apple is winning in that category. In my mind I was waiting for the pixel 4 XL ... I got an OG pixel and wants to upgrade to a XL with no or minimal notch

I still use my Pixel XL, i get amazing battery life on my Pixel with Pie
Deliberating upgrading to the Pixel 3 because my fingerprint sensor is wonky - if I sweat at all it doesn't register - I have to wipe my fingers on my pants first to get it to work - not sure if that qualifies as broken or not. If it wasn't for the wonky fingerprint sensor though I definitely wouldn't bother upgrading.
I hate the notch

It has always been like this for me. I'm guessing it's not supposed to do that

Good to know it's not just me :)

I guess our fingerprints might be just broken somehow 😂
I'm having the same issues with both my OG Pixel and my boyfriend's iPhone (it unlocks like once for 20 tries) but he has no problem unlocking my or his phone.

This phone was fantastic until Google killed the Bluetooth on the phone and it has been unusable for over 1 year now! And they have done nothing to address the issues and stopped responding to the complaints in the forums. None of the tech writers have picked up the article and we are getting no assistance. Makes me question if I should even buy another Google phone.

Possibly because it is not widespread? I have not had the issues you speak of.

Anyone know if they are bringing the messaging widgit back?

I wouldn't say I agree with the horizontal Recents being "easy to switch between apps". In Oreo, I've never needed to scroll at all to access any 1 of my 5 last used apps compared to now where I can only see one app at a time. Not to mention just going into multi-window mode requires 4-5 steps instead of 1-2. Horizontal alignment of any kind on a vertical device is just poor design and bad use of space. Imagine scrolling Android Central horizontally instead of vertically.

I've been using my OG Pixel for 1.5 years now and it's never been so smooth.
The navigation gestures were reeally annoying while it was still in beta and now it still gets confused sometimes but whenever I try to switch back I can clearly see how much it's faster and just feels better.
I've also noticed that battery life is really inconsistent. It lasts up to 20-23h when I'm doing my usual tasks but then drips down to 9-12h whenever I surprise it with totally different workflow.
There's also the adaptive brightness future which works really good most of the time but when it starts to get confused it's really annoying and I have to adjust it a several times before it gets back to normal.
I guess AI on phones might work just perfectly when you're using your phone the certain way but it can also get things bad if there's something it still doesn't know about you.
Hope future updates will make it more flexible 😅

Personally I think I would have preferred staying on Oreo. Pie introduced some nice visual effect changes, but the alterations to the way recent apps functions, as well as goofiness introduced by volume handling changes (and these seem to continue to change from month to month), are both very frustrating.

...... and how many were sold ?. The "enlightened ones"will talk of speedy updates and security patches. They should post links of studies showing that owners of such phone have been less affected by cybercrime than people with phones on older Android versions. Give us some actual trustworthy evidence.

I don't need numbers to justify faster updates

lol wat? This is about how one phone has aged over two years, not how slow Android updates leave phones vulnerable to malware.

One scratch small but visible at an angle reason unknown very careful user Black Pixel 2 XL 64gb got 4 cases cause dropped once got minute dent on body after Pie transition from one app to other is slow not looking forward to 3 XL hate horrible Notch

My Pixel XL is still going strong. The battery life has definitely taken a hit, with an average of 4 hours 3 minutes of SoT. Other than that, however, it is still running very fast. I am going to upgrade to the Pixel 3 XL once it's released, so I'm glad my phone has aged this well. Been a superb device over the last 22 months.

Software support ending already ! holy crap ! Google should be supporting software on their phones for at least five years like apple does, then the value of these phones won't drop like the Titanic one year later. Sad really since iPhone owners had the luxury of their 6S phones getting performance upgrades 4 years later with new iOS12, go figure. Since google is in control of their own software that should not be a problem it's more of a reason why People leave Android.

"Since google is in control of their own software that should not be a problem it's more of a reason why People leave Android." i get that you are just trolling, but Google having control over one aspect of the software on a phone doesn't mean it is possible for them to support a phone for as long as Apple does. Hopefully Project Trebel will help with this but you should try to understand how these things work before trolling. Bad form.

I will be upgrading to the pixel 3 (non xl) This year to replace my pixel xl. I will miss its headphone jack even though probably one of the worst I have used on a phone it is still better than not having one. Its wedged shape which eliminated the camera bump. battery life for me has been below par recently; not lasting up to a day with moderate usage. It has definitely slowed down since I got it but I can't be bothered with a factory reset especially since I am about to replace it.

Two years later I'm still impressed, especially having come from a Samsung Galaxy where software updates were non-existent at the time. I remember when I ordered the phone, it took 2 months to get it, even though I was in on the pre-order. Seeing the software progress on this phone makes me feel the future of Pixel devices is going to be really neat to see unfold. I'm a power user, excessive social media, outlook, gmail, etc. and I feel the battery life isn't as bad as others are experiencing. My usage tells me that the phone has held up great, outside of a few drops. I've always used a Spigen full front screen protector, a dbrand skin, and the Spigen case matched to fit the screen protector. I've switched out the on-screen buttons to use the gesture control and I have grown to really prefer it. The core group of apps I'm using seem to perform well with the exception of Snapchat and some Instagram issues, but would expect those to be app development problems due to the many versions of Android they are developing for, not a Pixel hardware problem. I'm still amazed at the camera quality and get comments on the appearance of them constantly. "What phone is that", "wow those are amazing" "look at the detail captured in that" are some comments I still receive (Mostly from my iOS counterparts). I think Google put the right effort into software development and this device has held up great all things considered. Missing this phone will be an understatement, but I'm ready to put my pre-order in tomorrow for the Pixel 3 XL to move into the 2019 field. The conclusion? I could and totally would consider using this phone into 2019 and beyond, and I'm guessing Google has some software tricks up it's sleeve that will justify the "end of software support" this month, but create value for those willing to spend the money on the 3rd Generation. The decision now is: do I sell this when I upgrade, or keep it as a nostalgia item like people did with the OG iPhone. Keep well everyone.

Last thought - I have had countless people come up to me and ask what I think of the Pixel line. My response has always been positive.

I like it so much, and hate the design of the 3 XL so much, that I will probably hold onto it for another year. I want to get a new battery put in and have a new charging port installed (hot dog down a hallway right now) but other than that I have little reason to give this phone up. Maybe by next year Google will have their notch game under control, or I might just finally make the switch to iPhone. If I have to have a notch why not get the best designed phone with a notch?

Love my Pixel 2 Xl. Had an issue with the fast charging thing and Google replaced the handset with little fuss only for the replacement to loose the Power Button in two days! Now expecting another replacement handset and look forward to keep using it until it dies. For a Windows Phone lover, this is definitely the next best thing!
Android Central Newsletter
Get instant access to breaking news, the hottest reviews, great deals and helpful tips
Thank you for signing up to Android Central. You will receive a verification email shortly.
There was a problem. Please refresh the page and try again.