Google's Digital Wellbeing initiative: Everything you need to know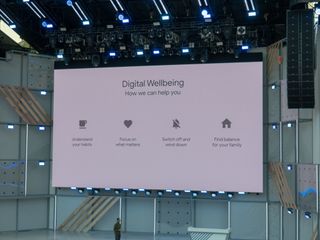 At Google I/O 2018, Google announced Digital Wellbeing. It's a brand new approach to OS and app development that'll equip users with tools to help them find a better balance between their digital and real worlds.
Is it a new app? Is it Android Pie's killer feature? Will it make you feel better and solve world peace all at the same time? We answer all those questions and more for you right here.
August 9, 2018 — Digital Wellbeing beta is now available for Android Pie users!
With the arrival of Android Pie, Digital Wellbeing is also being rolled out in a more official capacity. The features weren't 100% ready for the launch of the newest version of Android, but Google has allowed folks to sign up for a beta test. That signup process was cumbersome and lengthy as it involved submitting information and waiting to be accepted.
But that's no longer a worry as Google has released the beta app for all to download at Google Play. To be clear, the Digital Wellbeing app is only available for phones with Android Pie. That essentially limits it to owners of Pixel and Essential phones as of this writing. Be sure to download it and give it a go if you haven't already. As for the rest of you, read below to see how you can start to incorporate Digital Wellbeing into your life no matter which version of Android you're on!
Need help using it? We've got you covered with a quick tutorial on how to get the most out of Digital Wellbeing.
How to use Android Pie's Digital Wellbeing tools
What's Digital Wellbeing?
Digital Wellbeing is Google's initiative to help you understand your tech usage and help take back control of your life if that's something you feel you need. It's a combination of many things, including data and insight, tools, apps, content, and more, all of which are designed to help you put the living part of life back into perspective.
It's not just one app or one feature. It's an entire idea. It's a lifestyle change. It's identifying and accepting the problem that mobile technology can and does command a ton of our attention in ways that can be unhealthy. Digital Wellbeing, then, is just one part of a bigger home remedy to help treat that root issue.
Why is Google doing this?
The harsh effects of too much internet and smartphone usage have long been talked about, with smartphones commanding more and more of our attention as the years roll on. Recent studies show an uptick in smartphone usage correlating with increased mental health issues in teens, such as depression.
This phenomenon is believed to be driven primarily by the prominence of social media, with folks spending less time living their own lives to try and check in with everyone else's. It's what's generally referred to as "FOMO," or the "fear of missing out."
It's that feeling you get when you see everyone's at a party having a good time while you're at home studying, or when your relatives send a "Wish You Were Here!" postcard from their dreamy vacation destination. FOMO typically manifests as anxiety those affected, a common ailment that can open the way to clinical depression and other mental health issues.
The effects of FOMO are a real concern in today's society, and smartphones and social media seemingly amplify those effects thanks to our ability to stay connected all day and digest the happenings of our favorite people, things, and media with the tap of a button.
And that's what the Digital Wellbeing initiative aims to address. Google believes that technology should only be used to help improve your life, and not be the absolute center of it. Whether you agree is up to you to decide.
To their credit, Google's homework suggests over 70% of smartphone users are looking for help in this area. Even if they're off by half that mark, it's enough to warrant an entire shift in the way they approach smartphone and app development.
Of course, Android being the world's dominant mobile OS means much of their work in this area will become tangible through updates to the system software and their various apps. Here's how Android will change in that regard.
How will Android help me?
While you're obviously in control of your feelings, emotions, and life, Google wants to spread awareness about the issue at least, and for those who decide they want or need a little help disconnecting, they will build apps, services, and features to make it easier. Here's how Android is changing to help you.
Dashboard keeps you informed
It begins with the app dashboard, a new feature baked into Android Pie.
The dashboard gives you an overview of your daily digital activity. It includes the overall time you spend using your phone, the time you spent within reach individual app, and how many notifications you get from those apps.
You can view all of this data by various time periods, so you'll get a good breakdown whether you're just interested in one particular hour or an entire week.
At its highest level, the dashboard is merely here to inform you of your habits, but if you want to take action, then it makes it easy to find the features that'll help you curb your usage.
Your digital nanny keeps you in check
So, you've taken the data from the dashboard and found that you spend way too much time on Facebook during work. What now?
This is where what we like to call your "app nanny" steps in. This feature allows you to set time limits or restrict usage of apps to specific times of the day on a per-app basis to keep yourself in check. When you hit your limit, the app icon is greyed out and inaccessible.
Do Not Disturb mode evolved
Another useful feature new to Android 9 is even more aggressive notification control. You can now completely hide all notifications when you enter Do Not Disturb mode.
There's also a brand new Wind Down mode. It lets you automatically turn on a blue light or grayscale filter. The former is designed to reduce eyestrain to help you get to sleep at night, while Google's thinking with the grayscale is that you won't feel so compelled to use your phone if it doesn't have those things called "colors" which stimulate our brains.
It will be possible to turn your phone onto its face and have it automatically enter Do Not Disturb mode. It's not that it's incredibly difficult to do it already — in fact, you could even have it activated automatically once the clock strikes your preferred hour — but having a simple and intuitive gesture like this will make it easy to enable Do Not Disturb on the fly.
Android Oreo's notification features are still here
All of the above is in addition to notification channels, the granular notification controls that came as part of the Android 8.0 Oreo update. You can easily disable notifications for an entire app, but this feature allows you to specify which category of notifications you want to receive in any given app, so you can choose to be notified of nothing but direct messages on Twitter if you so wish.
What's more is that you can also set the priority of those notifications which will let you specify how much of an alert you'll get when there's something new. It could be limited to something as simple as a card in your notifications shade for less pertinent things, while more critical notifications can come in with sound and vibration.
What's changing with YouTube?
YouTube was Google's first example of apps which can tap into the data and controls offered by the dashboard. As with overall app usage, YouTube can show you exactly how long you've been watching a video.
The app also allows you to set a reminder to take a break after you've watched a certain amount of video, and you can even get your subscription notifications delivered to you as a scheduled periodic digest, so you're not constantly being badgered to watch the latest content from your favorite creators.
How to turn on YouTube's reminders to stop watching videos
What other tools will Google offer for this purpose?
The truth is that Google has been ebbing toward this play for quite some time, with many of their apps already exhibiting traits of Digital Wellbeing. For instance, Gmail and Inbox already have things like bundled notifications, priority inboxes, and smart replies. Google Photos' AI-driven library management already helps keep your photo albums organized. Android already lets you snooze your notifications to handle them at a later time.
That's not to mention the benefits of using Android Auto while driving or using the Google Assistant to automate your life using your voice. All of that stuff is still here, and they're likely to be refined over time as the bigger picture of this thing comes into focus.
It's all about family, too
Google's macro vision for Digital Wellbeing is to help you find balance in your life and your family, so family controls will be an even more significant part of what they do. Family Link is the central point of that realm. It gives parents the ability to monitor and manage their kids' devices, whether that's seeing which apps they've downloaded and how long they use those apps.
Parents will continue to get controls to manage screen time, set bedtime schedules, remotely lock devices, and approve or deny app downloads and purchases. In the future, they'll also get recommendations on education contents to keep their kids learning.
And then there's still the child-friendly YouTube Kids, Google WiFi's higher level network management (just in case they've gone and found some way to circumvent that Family Link stuff), and digital edutainment content Google will continue to push.
Will Digital Wellbeing improve my life?
That's up to you. Google is merely providing the data and tools. Ultimately, you make your own decisions about what is and isn't important to you, and about how you use the products you own and services to which you're subscribed.
There's no pressure to change the way you go about your days. No one is forcing you to give up your morning meal of cereal and Facebook. If you love keeping up with friends and family on social media all day and it makes you happy, that's OK. All of these features are there if you need them and completely out of the way if you don't.
Will Apple do the same thing?
They sure will. Apple announced new digital wellness features for iOS 12 at the Worldwide Developers Conference in June 2018. Like Google, the company is giving the users tools to understand how they use their phone, as well as features to help them take back a little control.
The Do Not Disturb feature on iPhone and iPad devices with iOS 12 will follow Android's in that it'll look to hide notifications during times you specify. It'll go a step further by also hiding those notifications when you first wake up and instead "easing" you into your day by showing you little by little.
An element of AI-driven suggestions for notification controls will arrive, too. Siri can suggest apps whose notifications you may safely turn off based on how often you use them. And if you'd rather not completely shut them off, it can instead opt to deliver them quietly. This is akin to the notification channels feature in Android that lets you rank notification types by priority and set different alert types based on your preferences. iOS 12 will also finally bring in grouped notifications. Before, notifications belonging to the same app still came in as their own individual card, something that can quickly get out of hand and overwhelm you.
And like Android, iOS is giving users an overview of how they use their phones called Screen Time. It'll include how much time they use each app, with the high-level view being sorted by app category. It'll even show how much higher or lower you are compared to the average user. Alarmed at what you find? App Limits can force your hand by ensuring you can't use apps at specific intervals or time periods.
Parents will also get more control over their kids' devices, with them gaining the ability to monitor their usage and set time constraints. You can even completely block your kids from using the phone at night, so they'll have no choice but to go to bed (or find some other devious activities to get into when they should be sleeping).
As you can see, Apple took some cues from Google and Android in pushing the importance of digital wellbeing, and they've even gone a bit further in some areas that we wished Google had thought of. We're not going to get into the game of whether it's copying. No matter whose features came first, we should be glad that they're feeding off each other to make these devices more sane for all of us. Even if their motivations may not be totally pure and their intentions not clearly realized, this is a good thing for everyone.
When is Digital Wellbeing available?
Would you believe us if we told you that Digital Wellbeing is available right now? Android Oreo has notification channels and snoozing. Gmail and Inbox have snooze and smart reply features, as well as priority inbox and notification bundling. There's a Do Not Disturb feature on most phones today.
Even tighter notification control in YouTube can already be accomplished by managing individual alerts for each channel you subscribe to, and the changes announced at Google I/O will are already live in the YouTube app.
Long story short, Digital Wellbeing is already pretty much in full effect if you want it to be. The lone prerequisite here is that you have to want to disconnect. You could do that with actions as simple as clearing out your notifications tray. I can't tell you how many times I avoided an anxiety-inducing trip down the digital rabbit hole by declaring that the 30 or so notifications living in my status bar at any given time are not that important.
To that end, Digital Wellbeing is less of a feature and more of an ideology, and it truly begins with you. Google will most certainly continue updating and building apps with these core principles in mind, with the company looking to employ unique approaches to the concept appropriate for each respective service.
And they'll encourage third-party developers to do the same thing. There will be APIs for tapping into all this new data so developers can equip you with the information and means to block out all the extra noise these apps can create. There's no telling how long it will be before your favorite apps follow suit, or whether they'll do so at all. But history tells us developers will eventually take their cues from Google, so be sure to submit your feature requests and feedback to them if this is important to you.
That being said, there are some cool new features specific to Android Pie, as it serves as the spiritual launching pad for everything, with the new OS update tying it all together through the dashboard and further development of these wellness features. The ultimate goal here is to make these tools easier to find, use, and understand, and your decisions will be backed by real insight and metrics on how you use your device.
You can try a preview version of Android 9 on compatible devices right now, and you'll find much of these Digital Wellbeing features on display there. If you have a Pixel device, the Pie update is already available — don't delay taking control of your digital life right now!
Updated August 2018: You can now download the Digital Wellbeing beta if you're an Android Pie user.
Get the Android Central Newsletter
Instant access to breaking news, the hottest reviews, great deals and helpful tips.