Google acknowledges Pixel 6 network bug following December update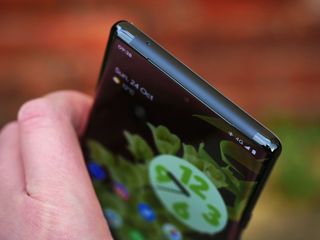 (Image credit: Alex Dobie / Android Central)
Update, Dec 17 (12:15 p.m. ET): Google says it's investigating
What you need to know
Pixel 6 owners recently received the December update with plenty of bug fixes.
Since the update, many Pixel 6 owners have been suffering from poor cell signal.
For now, users may want to wait on installing the update.
The December update recently rolled out to the Pixel 6, and while it included a ton of bug fixes, it apparently introduced a new one, with many users complaining of poor signal.
Complaints have been found across Reddit and even on the Google Issue Tracker, with many users stating that signal has been poor and even nonexistent in areas where there were previously no issues.
Obviously, this creates a big problem because it makes essential functions like calling and texting incredibly difficult and can also affect battery life is the phone is constantly trying to find a better signal. As a result, some users are also complaining about increased battery drain.
Most reports appear to come from Europe, and users thought it could result from receiving the wrong update for their phone. However, many have confirmed that they're on the correct update, and the problem appears to affect Pixel 6 owners in Europe that received the .A4 or .A1 updates. These versions were pushed out to select European countries, Canada, and Taiwan.
Android Central has reached out to Google about the problem and will update you when a statement is issued.
Of the many bug fixes that the December update introduced, one of the pixes included "General improvements for network connection stability & performance." However, it seems to have achieved the opposite effect for many users. And while the modem in the Tensor chip isn't as robust as Qualcomm's modems found in many of the best Android phones, it shouldn't be this bad.
That said, there are still plenty of Pixel 6s that have yet to receive the December update, including many of our units, so you may want to hold off on the update until the issue is addressed.
Update, Dec 17 (12:15 p.m. ET) ― Google says it's not the wrong build
Google has provided a statement on the issue affecting many that have installed the December update. In a statement to 9to5Google, a company spokesperson assures that it is actively investigating the matter. However, the spokesperson notes that the problem is not the result of an incorrect build, as many have speculated.
The company will provide an update when it learns more.
Android Central Newsletter
Get instant access to breaking news, the hottest reviews, great deals and helpful tips
Derrek is a long-time Nokia and LG fanboy who loves astronomy, videography, and sci-fi movies. When he's not working, he's most likely working out or smoldering at the camera.
Thanks for letting us know. And here I was yesterday hitting and hitting the update button just to get the December update downloaded. Good thing it never went through lol.

It seems to mainly affect only certain regions, but yeah it's not a great problem to have

Full bars on both SIMs here in Toronto. Canada. I've been on the phone all morning long.

What network are you on? I've been having dropped calls and poorer signal on the Telus network in the GTA ever since the December update. It was flawless on the November update and on my other devices so it's definitely not the network.

Odd, I'm on Public Mobile (TELUS) but in the suburbs. Could be condition specific rather than network specific. Normally I get awesome signal but after the December update, the signal became a lot worse. Looking at the LTE Discovery app, normally it'd lock on to LTE Band 2 or 7, with the December update, now it keeps jumping between 2, 4, 12 or 13, cycling the bands trying to find a signal.

Telus customers get better access to their network than Public Mobile customers. That's how they differentiate their services between their two market segments.

Hi, what version did you receive? Thanks

Build number SQ1D.211205.016.A1

Montreal Canada on Fizz - happened today i had a call and after a minute it just went silent and eventually call got dropped, no signal on phone for like a minute, signal came back after and had 2 short calls since then that seemed to work fine... hopefully this won't be a big issue or an update will be out soon because i need to be able to make phonecalls...

no issues here on my end here in Canada

I must admit I'm still holding off on installing Android 12 on my Pixel 5 given how many issues were reported. It seems to have been a bit of a Windows Vista-esque release so far...

I dowloaded the December update into my Pixel 6 and my Pixel 6 Pro. Both phones refused to take a charge overnight, something has gone horribly wrong. I contacted Google and have heard nothing. Took the phones out of grayscale and after bedtime mode they seemed OK. Something needs to changed Google!!!

I contacted Google (pixel 6 pro) bc I could not receive texts. Literally 8 days later they responded and were zero help!

Oh, this problem is real. I've been hit with it. Always had reliable cell signal at home, immediately after this update completed, I saw No Service on my screen. I've seen hundreds of similar issues reported all over the world. You can see some of the frustration on IssueTracker. https://issuetracker.google.com/issues/210484323
Many Reddit users reporting the same thing. I contacted Google support and they made me jump through all the usual hoops, spent over an hour on the phone with my service provider (Rogers), went to authorized repair centre (they said it's probably the update). Back to Google support, but they aren't replying to my emails now and I don't want to try and start another Chat session with them. I REALLY hope they get a quick fix for this issue, my phone is almost useless now as I use it at home for at least 80% of my calls. And I can't use WiFi calling with my provider here, but even if I did, the connectivity issues don't stop here. Other areas of town where I used to get good reception are now extremely weak or non-existent.

I haven't gotten the update yet : 6 pro Verizon USA. This phone sucks tho. I miss my Pixel 2. :( I can't even receive text messages! Verizon says call Google, Google hangs up on me! Chat features? Broken. I literally just got 50 texts just now while writing this from the past 24 hours.

6:00 pm Wednesday, 12/15, and still no December update on my Pixel 6. (Unlocked on Fi, San Francisco.) "Up to date with 11/5 update". Maybe that's a good thing, but I was hoping for a fingerprint reader that works.

Perhaps I've been patient with the fp reader, but I know it had (has?) issues. For the first few weeks I was used to placing my finger and when it lit up I adjusted (slid) the position of my finger to be more centered inside the lit circle knowing it would be more likely to succeed. With the update I don't do that anymore.

Glad I went with the 5a 5G.
The "A" series are more refined than the standard series.

Definitely a thing with mine. UK unlocked Pixel 6. I have two SIMs (one 'real' one eSIM) on different networks (O2 / Vodafone) and both almost unusable since the update. Both networks offer Wifi-Calling but that is not (with the current issue) completely reliable as an alternative.

I have yet to see the update.

Seems like Google is burying this problem before christmas.
https://www.reddit.com/r/GooglePixel/comments/rhgm8f/google_has_removed_... There are MANY of us. I'm using an unlocked usa phone on tmo. I dropped network once or twice a week and it drove me nuts. I installed the December update with promised fixes (was running Nov). Now my phone drops signal twice a day! I went to update the group and saw it's been removed. Google has not had honest communcation and transparency with this. It's my first Pixel phone and right now it's shaping up to be my last. I'm pretty upset with how they have handled issues and bugs.

Sideloaded OTA yesterday. Zero problems. I travel 110 miles daily for work. Multiple cell towers and WiFi. Not one connection problem... Actually better then before. Pixel 6 Pro unlocked running on crap t & t.

I sideloaded SQ1D.211205.017 (for US use) on my Pixel 6 Pro and cell signal has improved, including in connection with my T-Mobile cellspotB.

My 6 Pro seems to be working correctly. Bell in the Ottawa, Ontario area.

I had poor LTE signal on Vodafone UK even before the update,spoiling what was otherwise a great phone. My usually great signal at home was always full bars yet Pixel 6 Pro was never more than 2 often being only 1 bar

It's 4:30 PM Thursday and I haven't received the update. (6 Pro, Verizon, USA) I'm kinda glad I haven't, with everything I've heard. I'm so frustrated waiting, hoping all the bugs will be fixed. This is my first Pixel. I'm beggining to think I should've held off for the Samsung S22 Ultra. I have to restart my phone several times a day to fix various bugs. (The ones that can be fixed with a restart.) I think Google tried to make The Pixel 6 series more like an iPhone and less like a Samsung. Unfortunately, they got the bad parts of both & the good of neither. I'll reserve final judgement for after the update, and, apparently, fix of the update. Right now the best I can rate Pixel is a "meh".

My pixel 6 has been affected by the December 2021 update. Giffgaff/02 in the UK. Pre update great phone. Post update the network doesn't connect at all inside any more. Outside it connects only briefly. Then drops. Toggling airplane mode on and off restores connection but it will be lost within less than a minute. The update has made the phone unusable so I really hope Google fix this fast as lots of people buying Google 6s in Europe will now have no reliable phone network over xmas....

What a joke... Early adopters of Google hardware getting burned again... Must be the fancy new chip powering Pixel 6's that AC and everyone else promoted so strongly.

Back to my s10plus until this is resolved.

Yeah it's just now starting to drop signal for me here in Syracuse NY.

I got this phone because it's supposed to be the best android experience, the camera, and play MOBA games. Oh boy... I should have gotten a Samsung or something else. I mean, Google owns Android and Pixel! Why are they effing this up?? It's definitely not the best android experience and certainly not the best for MOBA games - it's the absolute worst! Can't playy games now because of this issue

We have to remember that Google is not a "Consumer" company, they are an information retrieval and distribution company. Everything with them is a beta product, and we are all beta testers in Google's world. I suspect folks are going to have to wait until well into January for a fix for this. The only way this will be sped up is if Google's data collection is inhibited enough by the devices losing connectivity to impact their bottom line. I do have to say that their consumer reputation will take a further hit as they are heavily promoting these pixels with TV ads, and when people buy them and get them and have problems, it's not going to be pretty.

ROTFLMAO!!!!!!!!!!
My biggest question is this: How can so many so-called tech writers keep spewing the crap that the Pixel 6's are the best phones of 2021? Sounds like they're getting their information from Fox News and the Trumpians!

Am I the only one on the December update (Pixel 6 Pro on Verizon in NYC area) having no issues? The FEW bugs I noticed, mainly the screen not lighting back up when removing from my pocket to hit the fingerprint sensor, appear to have been fixed. Signal appears to be just fine (pretty much the same as before), and the fingerprint sensor has even improved over the mid-November update. I don't know, maybe I'm just one of the lucky ones.

My signal reception is actually better. Before the update I had 1 bar of 5G in my house. Now after the Dec update I have 4 bars of 5G UC.

I waited months for the Pixel 6 Pro but returned it as it was much slower at 5G than the Pixel 5. (120 Mbit down vs ~300, 1.2Mbit up vs 23). Bell in the western GTA This was after the December baseband update - it was even worse before. I guess the fact that Samsung doesn't even use their own modem in the north American market tells us something...

It's frustrating how Google managers tend to make big mistakes or bad compromises when dealing with big hardware manufactures.
Android Central Newsletter
Get instant access to breaking news, the hottest reviews, great deals and helpful tips
Thank you for signing up to Android Central. You will receive a verification email shortly.
There was a problem. Please refresh the page and try again.