Google Pixel 2 on AT&T gains HD Voice with Oreo 8.1 update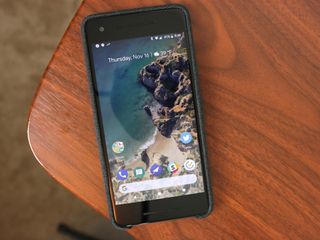 Android 8.1 Oreo started rolling out to Pixel and Nexus devices earlier this week, and especially for devices that aren't the Pixel 2, there's a lot of new stuff to check out. However, if you're using a Pixel 2 or Pixel 2 XL on AT&T, there's a new feature included just for you with the latest update.
When updating your Pixel 2 to 8.1 Oreo, you'll see that it includes HD Voice Calling for AT&T users, in addition to everything else 8.1 has to offer.
Once you've downloaded and installed the new software, you can turn on HD Voice Calling by going to Settings → Network & Internet → Advanced Calling. Once Advanced Calling is enabled, HD Voice will be used for both parties of the call (assuming they're using compatible hardware) in areas where the service is supported.
Android 8.1 Oreo started arriving on Pixel 2 and Pixel 2 XLs on AT&T on December 7, and other devices like the 2016 Pixel, Nexus 6P, and others should start seeing it soon.
Joe Maring was a Senior Editor for Android Central between 2017 and 2021. You can reach him on Twitter at @JoeMaring1.
Yeah I emailed the CEO about this a few weeks ago. Looks like they are coming around.

I have a Pixel 2 XL on AT&T that is running 8.1.0 and when I go to Settings → Network & Internet, Advanced Calling is not an option. Don't know if I am doing something wrong, is anyone else having this problem?

i think you have to call ATT and get it provisioned, and you also have to enable it in the dialer settings. you ALSO have to have a SIM that works with it... i forgot what the number is on the sim but i think there's a thread in XDA

There's no dialer setting a for this. It has to be the Enhanced LTE under Settings > Network>Mobile Network>Advance.

I thought that might be the case but I could have sworn that option was there before the 8.1.0 update. Thank you everyone for you help though, I am going to check the different solutions that everyone came up with.

Settings → Network & Internet → Mobile network → Advanced

One other caveat that should be mentioned is that the account for the phone and its IMEI needs to be provisioned for HD Voice, if it is not, this still will not work. Its is also worth noting you may also have an incompatible SIM card, though that is unlikely. https://www.androidcentral.com/e?link=https2F2Fcli... You can call AT&T to rectify that however.

now just gimme dat wifi calling. that's what i really give a damn about

I called about this a while back. Call tech and say your calls are dropping calls in home and main coverage area for you. That got it changed for me. Now I'm going to call about HD voice PS... I'm using a Pixel XL from Google store.

@stanleywinthrop its AT&Ts version of VoLTE

What about supporting WiFi Calling and RCS on non-AT&T phones? Ridiculous that I had to buy an AT&T branded Galaxy S8 to get all these features.

Isn't AT&T's advanced messaging the same thing?

Have a pixel 2 XL. No advanced calling option here. However can confirm HD voice seems to work based on 2 phone calls I had today.

I am in the same boat. ATT Pixel 2xl. Do NOT see a HD setting within Settings-Network-Advance. How can I tell if HD voice is working?
Android Central Newsletter
Get the best of Android Central in in your inbox, every day!
Thank you for signing up to Android Central. You will receive a verification email shortly.
There was a problem. Please refresh the page and try again.