Pioneer's AppRadio adds 16 more Android devices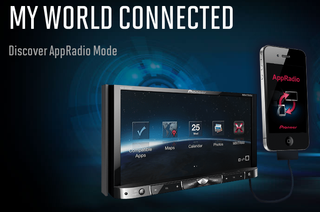 AppRadio Mode, a feature of recent Pioneer in-dash car receivers, is expanding its official compatibility list: 16 more Android devices now function with the companion app to allow the use of dozens of popular apps directly from the in-dash receiver screen. This brings the total number of compatible Android devices to over 40. In-car app compatibility just keeps getting better.
Compatible Pioneer models include AppRadio 3 and AppRadio 2 smartphone receivers, a DVD receiver, and select navigation receivers. A connection kit is required for AppRadio, which is sold separately. Some Samsung phones require an additional connection kit on top of the standard one, including the Galaxy Note II, Galaxy S3, and Galaxy S4.
The AppRadio app can be found through the Play Store link above, while the full press release and a list of the latest smartphones and their AppRadio-compatible OS versions can be found after the break.
PIONEER CONFIRMS 16 ADDITIONAL ANDROID SMARTPHONE MODELS COMPATIBLE WITH APPRADIO MODE PRODUCTS
Pioneer Electronics (USA) Inc. continues to enhance the in-vehicle smartphone experience by announcing that 16 more Android-based smartphones are compatible with AppRadio Mode in-dash receivers, including highly popular models from Samsung, HTC, Motorola and Sony. Compatibility with current and newly added Android smartphone devices enables the use and enjoyment of dozens of today's most popular apps directly from the screen of AppRadio Mode products, including AppRadio 3 (SPH-DA210 and SPH-DA110) and AppRadio 2 smartphone receivers, AVH-X8500BHS DVD receiver, and AVIC-X950BH and AVIC-Z150BH navigation receivers.
Connecting the newly compatible smartphones requires Pioneer's CD-AH200C Android Connection Kit (sold separately). The original Samsung Connector (EPL-FU10BEBSTD) is also required for the Samsung Galaxy Note II, Galaxy S3 and Galaxy S4 in addition to the Android Connection Kit.
Below are the latest compatible smartphones, with green indicating the newly announced device models and black showing previously confirmed models that are now compatible with the updated Android operating systems. More than 40 Android devices are compatible with AppRadio Mode receivers. For more information and a complete list of compatible smartphone models, please visit pioneerelectronics.com/android.
Nope. I don't think SlimPort is supported.

I have it working with the nexus 4 you just need to swap out the android adapter with a slimport adapter.

I realize this is old, but you said you got a nexus 4 to work with mirrorlink? Which adapter did you use? My headunit has mirrorlink and I would like to use it. Please do send a link!

The only problem, and the sole reason that I didn't buy one, with the AppRadio is that it only has two sets of pre-amp outs. Most decent head units have three (front speakers, rear speakers, and sub woofer). If it would have had those, I would have bought one in a heartbeat. Cool unit otherwise.

Honestly, these things kinda suck. No GPS, and Google Maps doesn't work, so you have to use a crappier maps app. Overall integration sucks. No dual-mode to output different video to rear monitors. I own a non-appradio pioneer navigation model, and it is much better. I can play my music through bluetooth, put videos on an sd card to play them (or use DVDs), and use built-in maps on the deck.

No one uses the original Appradio features now that the ARLiberator app has come out. It basically mirrors your phone to the Appradio and you use the radio as you would your phone, as well as the Appradios own GPS. I've been using ARLiberator with the Appradio 2 for a year now and love it!

While ARLiberator is great, it only works on rooted phones, and it doesn't play nice quite yet with the AppRadio 3. Also it doesn't solve the no video out problem.

Use appradio unchained. It works great on appradio 3 plus it's better and it's free. And why on earth would somebody have an unrooted phone?

its too bad the pioneer radios sound like absolute shit!!! its great that they're the only main brand spear-heading the smartphone integration, but their electronics are so damn cheap!!!

I think I would still rather have a unit that supports Mirrorlink.

The AppRadio 3 does support MirrorLink...

Picked one up yesterday.....hopefully people in my life will give me half a day of interuptedness to install! Posted via Android Central App

For the people that say they sound like crap, you must not have installed it correctly. They sound great!!!

I had Samsung galaxy 3s before now i have Samsung galaxy s5 and I am having trouble connecting to pioneer 8500 with Samsung adaptor. Is there a solution for that? The screen is flickering and the screen not staying on like it was. Could it be because it is not supporting the power.

I am having the same problem with my s5. I had the s4 and it worked fine now I have the s5 and the screen is flickering. Did you happen to find out the problem?

I went from an iphone 5c to a note 3. Got it connected but the screen on the radio is flickering continuously. Anylne know whats causing this?

Does lg g4 not work with the pioneer da 120?
Android Central Newsletter
Thank you for signing up to Android Central. You will receive a verification email shortly.
There was a problem. Please refresh the page and try again.