Pick up an LG G6 from AT&T for just $360 when you finance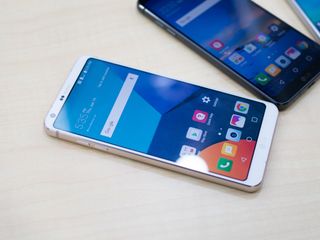 We don't often see ridiculously strong deals on brand new phones, but AT&T is working up a really enticing one for those who want the latest from LG. AT&T customers (new and existing) can pick up an LG G6 for just $360, or half its retail price, if they choose to finance the phone using an AT&T Next plan of 24 or 30 monthly installments. So that breaks down to just $12 per month on the 30 month plan, or $15 per month on the 24 month plan. A great deal in either case.
AT&T is also running the same type of deal for the LG V20, but the price for the older — and arguably not as interesting — device is actually higher than the LG G6. You'll pay $415 for the big slab of metal, which of course is half its usual price of $830. That breaks down to about $13.83 per month on a 30 month financing plan, or $17.29 per month over 24 months.
As is always the case, there's a little bit of fine print (see the screenshot embedded here). First, you'll have to pay the sales tax, where applicable, for the full retail price up front. Then, these deals are always contingent on you continuing to pay off the full amount of the phone, as the discount comes each month after you've paid your monthly installment — i.e. you pay the full monthly amount, then get refunded half of it the next month. It's kludgy, but hey you're saving $360 to $415 here.
So you'll have to stick with AT&T for the duration of the deal in order to see the discount, but many people were going to do that anyway. And with a half-off deal on one of the hottest devices out there, we're willing to jump through a few hoops.
Thanks for the heads up, FokisMoney!
Andrew was an Executive Editor, U.S. at Android Central between 2012 and 2020.
Damn, that is really good

Your move T-Mobile. Having cracked my V10's screen I need a new phone.

Iam on T-Mobile as well. For that price I'd play

If Tmo matches that ill return the S8+ I bought yesterday.

Sprint had it 50% and now ATT. I was waiting for T-Mobile to do the same but I don't know how much longer I can wait. Currently they offer a free G Pad which I don't need.

These phones can be bought new on swappa for $500. Slap a GoPhone sim in and it's a better deal.

I checked just now and it doesn't show the discounted price.

https://www.androidcentral.com/e?link=https%3A%2F%2Fwww.kqzyfj.com%2Fcli... I think you have to go into the store or maybe call to sign up and buy through their Next program.

I'm in the next program, been apart of it since 2014. It's possible it's in store only.

Ya the online store is acting weird for me. Shows up for the V20 but not the G6 at the time of writing ... but the terms clearly state the G6 is included — but it also doesn't say anywhere that it's in-store only.

I see, thanks a lot for the reply. I checked using the my at&t app

That's a great deal. I wonder if you could just sign up for a 24 month plan and pay it completely off if you want.....then put it on swappa for 500 haha. Nevermind. I see its a monthly credit. :(

You can't with this type of deal. You get "refunded" half of the monthly payments each month. So if you cancel your account right away, you'll be in the hook for the original full amount ($720) minus MAYBE 1/2 of 1 months payment.

Nope. You are still financing the full price of the phonr and getting a bill credit for half the monthly payment each month you pay. If you leave the remaining full balance is due. If you just want to pay off the phone you pay the remaining amount on the full balance. They are just tricking you into a two year contract, essentially.

C'mon Verizon, copy this deal please🤑

AGAIN I SAY, instead of offering free google home and free LG Pad ..... GIVE US THE PHONE FOR $350.00 T-MOBILE..... NOT MY HUMBLE OPINION, THIS IS ALOT OF OTHERS.... excuse me sorry, just had to get that off my .....

Pretty sure that LG is ponying up for the Google Home, not T-Mo.

I was debating between an S8 and G6 on Friday, ultimately going with Samsung. Its a spectacular phone, but I wonder what kind of experience the G6 offers at about 1/2 the price?

A better one than the s8.

I was thinking the same thing. I ended up going with the Galaxy S8+ for the bigger screen.

Not enough for me to not switch to the S8+. The camera is not good on the G6 in low light or even less than bright light to be honest. So much blur. And the LCD is not even close to bright enough for me in direct sun. And I really disliked only 32gb internal.

So yeah, I returned my S8 and picked up a G6. This deal is too nice not to. I spent the weekend with the S8 and liked alot of things about it. Coming from a S7 edge, I wasn't completely excited about getting more curved glass. While it was fantastic quality, I worried about drops and a cracked screen. Retina scan was cool and camera was stellar, however I felt Bixby just got in the way especially with a 3rd button on the left side. I enjoy Samsung devices, but I felt like seeing what the G6 has to offer. So far I'm very pleased. Feels great, super smooth, excellent battery. Glad I switched.

At that price it's a no brainier. I have a G6 as well as my newly acquired S8+ and they are both excellent phones with both having some pros over the other.

Does it say when this goes live?

Damn, I should have waited a few weeks!

Damn, I might just pick one up at that price!

The problem for me would be that if I want a different phone this fall, I'll only have a few months paid in, so i would still owe a good chunk. Unless I could figure out a way to get the credit to keep rolling.

That's an awesome price. I wish these phone companies didn't do the monthly credit crap though.

Man the LG bottom falls out so fast.

Yep, they'll be $400 on swappa soon.

That is a crazy good deal. If only it were on T-Mobile I would have scooped that up in a second.

Just bought one for me and my wife in store. Rep knew everything about the deal, said I was the first to ask about it today. Awesome deal, thanks AC!

One of the best phone of 2017...must buy if u looking at G6

I've been contemplating upgrading from my current Galaxy S7 to either an LG G6 or a Galaxy S8. Seems like some higher power is guiding me to the LG light... :)

How much if I just want to buy one outright to use on Cricket?

Some people are reporting $500 on Swappa. This deal is only if you stay on this phone for the full 2 year Next plan.

There might be more fine print to watch out for - on the Family shared plan I get $25 per line credit for bringing my own device. It might disappear if I finance device through AT&T. YMMV.

I would seriously consider this, but I will not buy a carrier branded phone. Also, the US versions, for my taste, are not as well spec'd as the Asian variants. I would much rather have 64GB of storage and the better audio than 32 GB and wireless charging. Its either Iphone, Pixel or an unlocked phone.

Bah! If this deal existed 2 weeks ago I would have taken it instead of picking up the Moto G5 Plus. Ahh well, I'm still very happy with the Moto and Best Buy matched the Amazon ad-only price of $240 for 4GB/64GB so not bad :)

Bought mine couple of weeks ago (at a Corp store), will see if they're willing to apply it to my account since I'm within the 30 day window still.

Are you guys sure about this? It's not showing up on the website.
Android Central Newsletter
Get the best of Android Central in in your inbox, every day!
Thank you for signing up to Android Central. You will receive a verification email shortly.
There was a problem. Please refresh the page and try again.