My Galaxy Z Fold 4 nightmare and why I'm skipping the Galaxy Z Fold 5
A cautionary tale of getting foldable phones repaired.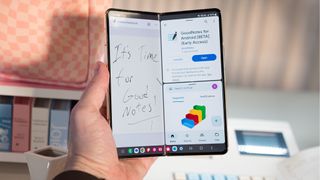 (Image credit: Nicholas Sutrich / Android Central)
While much of my focus here at Android Central is on Chromebooks and tablets, I've been an avid foldable phone user. Ever since I was able to get my hands on the Galaxy Z Fold 2, I've upgraded on a yearly basis.
And unlike others, I hadn't run into any of the problems that you see on the r/GalaxyFold subreddit. That is, until about a month ago when my Galaxy Z Fold 4's main screen just stopped working.
What happened to my Fold 4?
As soon as last year's Galaxy Unpacked event concluded, I (virtually) ran over to Samsung's website and got my preorder in for the Galaxy Z Fold 4. Knowing that there's always a chance that something could happen, I also signed up for Samsung Care Plus, thinking that it would save my bacon in the event that disaster struck.
Since receiving it, the Galaxy Z Fold 4 has either been my primary or secondary phone for the better part of the last year. That's even with either receiving or picking up other phones like the Pixel 7 Pro, iPhone 14 Pro Max, and Galaxy S23 Ultra. There's just something about the versatility that the Fold 4 offers that is simply unmatched, so I never left it behind, even if there wasn't a SIM card in it.
One morning, I was enjoying some breakfast and unfolded the phone to look something up, got what I was looking for, then closed it and put it on my desk. About 30 minutes later, I went to use it again, and the inner screen was just completely black.
In the time that I used it, put it down, and picked it back up, it just rested on my desk. So it's not like the phone fell onto my carpet or was knocked into anything. It was just... there.
What's weird is that when I went to pick up the phone, the cover screen turned on, just like it always does. But after I found that the inner screen was black, I closed the phone and the cover screen wouldn't turn on.
It wasn't until I plugged into the charger for a bit that the cover screen came to life, letting me know that the battery was dead. Thinking that the inner screen problems were just a random "glitch" or something, I excitedly powered the Fold 4 back on, unfolded it, and saw the black screen of death again.
Adding even more mystery to the saga is the fact that there are times when I go to open the phone, and I can feel a vibration. This is presumably the "your fingerprint isn't recognized" vibration that happens when trying to unlock the phone with anything other than a registered fingerprint. It happened all the time since the scanner is embedded into the power button, which is really the only reason why I was able to put two and two together.
So at least the phone is still functional.
Booking a repair
There are two ways that you can try and get your phone fixed through Samsung. The first of which is through the company's one-year warranty, which would result in you having to send the phone out, hoping that it gets there and that it can be repaired. The other is to go through uBreakiFix, as this is touted as being a "Samsung Authorized Repair Provider." It's also the same company that Google has partnered with for repairs on Pixel devices, including the new Pixel Fold.
Naturally, I went with the second option, thinking I could just make an appointment, head to one of the two uBreakiFix locations near me, and have my Fold back in working order. I don't feel exactly comfortable with shipping my phone out as there are plenty of horror stories about phones never getting received.
Before I was even able to make my appointment, I quickly figured out that the online process for making claims or appointments through Samsung is enough to make me want to give up. If you head over to the Samsung Care Plus landing page, there's nothing on the page telling you where to go if you want to file a claim.
Instead, you're met with buttons telling you to "Buy Now" or "Compare Samsung Care Plus Products." It's not until you get to the very bottom of the page that you see a "Learn more" button for "24/7 Expert support or start a claim."
But here's the thing, Samsung doesn't actually take care of these claims itself, and instead partners with a company called "Servify." So you're taken to another website that thankfully has the "File a Claim" buttons that I was looking for.
Once I reached this point, it was only a few minutes of entering different pieces of information, such as my phone type, what was wrong with it, and actually setting up the appointment. I received my confirmation email and breathed a sigh of relief after being frustrated.
Getting the runaround for weeks
The next day, I went to uBreakiFix at my scheduled appointment time, and after a few minutes, I was left shaking my head. For one, almost none of the information that I entered into the Servify website to book my appointment was in the uBreakiFix system.
All they knew was that I had an appointment, along with my name and an apparent "Reference ID" number. There was nothing in the system about what phone I had, let alone what the problem was. I even demonstrated the problem with my Fold 4, and they determined that I was going to need both the main and cover screens replaced.
Then, they went to look and see if the parts were available. A few minutes later, they came back out just to verify the color of my Fold 4. Little did I know that ordering the Graygreen Z Fold 4 would end up causing such a headache. As you might suspect, they were all out of stock, but the order would be put in so that the parts could arrive within a couple of days.
Those couple of days went by, and I still hadn't heard anything. So I called up the location, gave a different associate my name, and was promptly told that they didn't know what I was talking about, and after checking with someone else, no new parts had arrived for my phone.
I decided to wait a couple of more days before driving back down, hoping to get an answer as to what was going on in person. Apparently, all of the Graygreen Z Fold 4 parts are on backorder, but the associate was going to call another manager to try and see if another location had the parts and could bring them down.
To my absolute surprise (not really), another week went by, and I heard nothing.
Enough is enough, or so I thought
After calling again and getting nowhere with the uBreakiFix location, I decided that enough was enough. After finishing work for the day, I called Samsung Support and managed to finally get away from the robotic phone systems to speak to a real person.
I explained what was going on while also telling them that I subscribe to Samsung Care Plus in the hopes that this would speed up the process. Nope. I was transferred to "technical support," where they asked me to check for an update (already had), force restart the phone, and then see if it was happening again.
They then asked me what was happening just for their records, and then transferred me to what I assumed was Samsung Care Plus. The great thing about some customer service systems is when you get blind-transferred to another department and have to go through the whole rigamarole again. The Samsung Customer Service representative had no idea what was going on, and after speaking with them for about 15 minutes, I was informed that I was speaking with Samsung's Warranty Claims department.
About 45 minutes into the call, I finally started getting some potential solutions to my problem. The first of which was to simply send my phone in for repair, the second was to try different Samsung Authorized Repair locations, and the third was to send my Fold 4 in and get $500 off a new Galaxy S23 Ultra.
While it was definitely a nice gesture, I already have a Galaxy S23 Ultra, so I went with option #2, asking for the Samsung representative to let me know of the different locations nearby. A few minutes later, I had a text message with three different locations; the one that I have been going to, another uBreakiFix, and a Best Buy.
The next day, I made the 45-minute trip to the other uBreakiFix location and had a completely different experience. There were two representatives working, both of which listened intently to what happened while also trying to figure out a solution. One of the employees even went so far as to call someone else to see if any location in the area had the Graygreen Z Fold 4 parts that I needed.
Unfortunately, I was again met with disappointment. But this time, I was informed that none of the uBreakiFix locations have the necessary parts. To add insult to injury, this is because the Graygreen parts are on backorder, and there's no way of telling whether they will ever come back in stock.
They had the necessary replacement parts for the Black and Beige, but not the Graygreen. And because this was a warranty claim, even if it were to be through Samsung Care Plus, the only way that I could get my phone repaired would be to pay out of pocket. How much would this cost, you ask? Almost $600. Out of pocket, regardless of whether I have Care Plus or not.
My next move was to head to the Best Buy location provided by Samsung, hoping that maybe this would be the winner. Nope. After waiting in line for 10 minutes and trying to explain what was happening, I was abruptly cut off and told, "we don't do anything with Samsung." Needless to say, I was furious and spent some time walking around just cool off.
What's the moral of the story
Foldable phones are the most exciting thing going on in the world of smartphones, and I've loved being able to have a phone that folds in half. Maybe I've just tempted fate too many times since originally picking up the Galaxy Z Fold 2, and my run of good luck just ran out.
But this is less of a story about the fragility of screens that fold and more about the sham that is the "repair process." Samsung and Google can tell everyone that you can just walk in and get same-day repairs on your phones. But if you're like me and picked a "special" color because black and white phones are boring, then you're simply SoL.
Since receiving my Fold 4, I've come out of pocket for almost $2,000 between the phone and the monthly Samsung Care Plus insurance plan. And instead of being able to have my phone fixed, it's still sitting here broken and unusable. All the while, I just wanted to get it fixed so that I could trade it in for a Galaxy Z Fold 5.
If Samsung and Google really, and I mean actually, cared, they would be better and do a better job at serving their customers. But the reality is that these are just profit machines, and uBreakiFix's parent company, Asurion, has its own never-ending series of horror stories about "repairing" phones over the years.
Is there a conclusion?
For the sake of trying to get my Fold 4 fixed, I tried once more to see if the parts ever came in and was told no. So I've officially given up and will be calling Samsung again to try and get my phone repaired in some form or fashion.
This likely means sending it out to the repair center, hoping that it arrives safely. Then waiting with bated breath for the repair to be successfully completed and for my phone to be returned to my possession.
To be continued...
Get the Android Central Newsletter
Instant access to breaking news, the hottest reviews, great deals and helpful tips.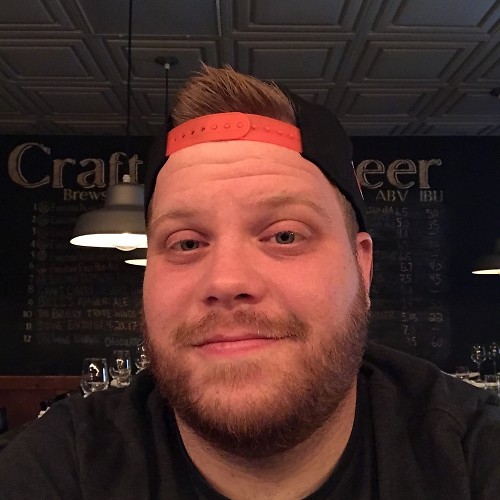 Senior Editor - Chromebooks, tablets, and wearables
Andrew Myrick is a Senior Editor at Android Central. He enjoys everything to do with technology, including tablets, smartphones, and everything in between. Perhaps his favorite past-time is collecting different headphones, even if they all end up in the same drawer.