Pebble introduces the Pebble Time Round, coming in November for $249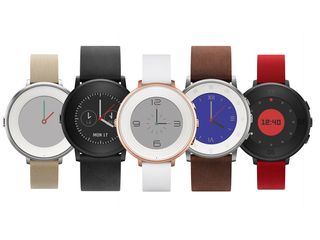 Pebble is adding a new smartwatch to its lineup, the Pebble Time Round. As you might guess from the name, this new watch features a circular face and body, with the same color e-paper display of the Pebble Time and Time Steel.
The Pebble Time Round is just 7.5mm thick, making it thinner than previous Pebble models, and indeed, most other smartwatches. The watch supports two band sizes, 14mm and 20mm, and comes in Black and Silver, though the 14mm version is also available in Rose Gold. It also features a quick charging capability, which allows it to get a full charge in just 15 minutes.
Pebble Time Round will be avaialble for reservation soon at Pebble's website, along with Best Buy, Amazon, and Target for $249. It will ship to customers in November.
Pebble Time Steel Kickstarter backers are being offered a discount and trial plan for the Round. If you selected the Time Steel through Kickstarter, you can go ahead and reserve the Time Round now, and get a $50 discount when it ships. You'll be able to try the Round for 30 days alongside your Pebble Time Steel, and if you want to return either of the watches, your Pebble Time Round order will be refunded. If you want to keep both, you'll only be charged the discoutned price for the Pebble Time Round.
Reserve a Pebble Time Round from Pebble for $249 (opens in new tab)
Gorgeous! Posted via the Android Central App

i was hoping it was an update for the older models. looks ok i guess.

Older models? You mean the watch that came out like three months ago? Posted via the Android Central App

I'm pretty sure he means the OG Pebble. The one's from 2013.

The two models that came out over two years ago. One might call them the... older models. Posted via the Android Central App

It looks bad ass, but I'm not sure I can get over the bezels though. Still a beautiful watch though. Posted via your mom.

This well definitely give that new Samsung watch a run for its money! I don't know which one I want now. Posted via the Android Central App

No it won't. The only people that care about this are Pebble fans. Samsung has better chances of having world crowds. One thing I like about pebble though is that they are tough competitors still ticking in a more crowded category. They by fat ate one of the best smartwatch company keeping things simple and pleasing their fan base. Posted via the Android Central App

I'm no "fan" of any inanimate object (and anyone who is needs to consider his/her life concepts). I am interested to see if it stands up feature for feature with the Gear S2, Moto 360 2 and the others. Looking forward to a smart watch.

Pebble will do good because it's software is good. It's design to be a simple smartwatch. It will compete good. When AW was released everyone thought it was the end if Pebble which is quite the opposite. AW is not the end all of SWs, thank goodness. Competition is good. Posted via the Android Central App

How's the air up there on your horse? Posted via the Android Central App

Why do pebbles always have such a big bezel? Posted via the Android Central App

Dat E-paper screen doe. Posted via the Android Central App

For the love of Christ, stop with the "Dat doe" crap.

Chill, dude Sony Xperia Z2
Nvidia Sheild
Xperia Z3 Tablet Compact

Also, they are going for thin so all the stuff has to go somewhere I guess. I'm just surprised there's no round steel - seems like a no brainer *waits 2 months till a bunch of people buy these*

This bezel is huge :/ Nice design though.

People actually buy these? It's so limited compared to android wear and watchos. I think Apple is the only one selling smartwatches.

Sometime limited is nice. I go back and forth between my OG Pebble steel and my Moto 360 because sometimes I just want simple. Posted via the Android Central App

Same here! Its unobtrusively useful! I'm a Classic man

+1 The OG pebble is plastic and waterproof, making it better to use in more active outdoor trips/multiday road trips without needing to recharge the battery every might like the Moto 360 Posted via the Android Central App

I love my Pebble Time. It does everything I need a smartwatch to do (i.e. show me notifications, compass, step counter, games), is waterproof, and lasts a full week before I have to charge it. Oh, and it takes maybe 15-30 minutes to fully charge. Plus it's ridiculously easy to program for, I've already designed my own personal watch face for it and am in the middle of working on an app.

Obviously? Love my Time Steel, I can replay to messages via voice, get news feeds, and see it in direct sunlight. Does everything I need and then a bit more. Posted via the Android Central App

What I like about my pebble time is that I don't have to worry about when it will run out of battery, or worry about pretty much anything about it. I can just use it. Posted via the Android Central App

I've had a OG Pebble then a OG Moto 360, and am now thinking of going back to Pebble. Android Wear does do more, but after wearing these two for YEARS, frankly the notifications are the only thing I rely on day-in, day-out. Pebble is just as good as Moto 360 for that, actually better because you can feel the vibration better and it notifies you even when your phone is muted (incredibly stupid choice for Android Wear).

I don't like Android Wear because I think it's outright stupid/ridiculous that one would have to charge a watch daily, or even every 2 days. Their battery life is pathetic. I charge my Pebble Steel (Time Steel is in the mail as we speak) every 5 days or so.
Plus, y'know, an always on screen. The Pebbles are more like watches than Android Wear will EVER be. Sony Xperia Z2
Nvidia Sheild
Xperia Z3 Tablet Compact

Because putting a watch on a cradle at night, when you aren't using it, is such a chore right? Maybe you use the watch while you sleepwalk? In any event, enjoy wearing a Toys-R-Us gadget on your wrist while us grown ups wear actual time pieces.

You don't write like an adult. Posted via Android Central App

It's not about difficulty or anything like that, it's about the watch-ness (proper English right there) of the thing. An always on screen means you just need to glance at your wrist and don't even shake it or w/e to see the time. As for the over night thing, I wear my watch 24/7 and it's simply more convenient to view the time at night when it's on my wrist. Every 5 days or so I charge it for a couple of hours while I read a book or catch up on my studies or something and that's the only time I go without my watch. Plus, any light at night can keep me awake and I'm pretty sure (correct me if I'm wrong) that the Android Wear displays stay on, even dimly, when they're on charge (the Moto 360 does that, right?). Sony Xperia Z2
Nvidia Sheild
Xperia Z3 Tablet Compact

It's just as much a time piece as that $20 plastic not-so-fantastic you got from Walmart or wherever you shop over there. In fact, it's better than a traditional watch. Don't get me wrong, it's nice to have a "real watch" every now and then, but all they do is tell the time. Sure, that's all some people want out of a watch, but it doesn't make them better than smart watches. People can blab on about craftsmanship and all that crap, but in the end, at its core, a watch is there to tell the time. My Pebble can tell the time very well, so I would argue it's just as good at being a watch (or better) than a Rolex. Sony Xperia Z2
Nvidia Sheild
Xperia Z3 Tablet Compact

I hope that in a future iterations, the outer ring becomes a solar panel like Citizen Eco Drive watches.

This watch is garbage do you guys notice there's only a hsnd full of you people to make comments lol

Your English is the only thing that is garbage here. Posted via Galaxy S6

lol Sony Xperia Z2
Nvidia Sheild
Xperia Z3 Tablet Compact

Lel you mad because you'll never afford one? Get over it Posted via the Android Central App

Going through 4 iterations of their original watch and still producing interest hardly qualifies them as being garbage. Pebble has done a great job staying relevant. That said, this is ugly to me. Posted via the Android Central App

I am soo ungrading from my steel to this Posted via the Android Central App

The tough part to get over is when the guy out and out lies saying "it's the first smartwatch to have the classic watch look". Really? Not only far from that but with the big ass bezel there is nothing classic looking about it. And two sizes? No two different strap sizes, yes.

Because its Pebble the bezel is acceptable? But Huawei and LG gets shits. Posted via the Android Central App

I still haven't received my golden pebble time steel because it is in high demand. I can only imagine the wait time to receive one of these. Posted via the Android Central App

The bezel... :( Posted via the Android Central App

Not sure why Pebble prices themselves so high. Seems like they would try to undercut the market

As expensive as SWs are they are undercutting. Posted via the Android Central App

249 is not undercutting much S-Pen goes *** click ***

What current *edit* new* release of watches is under $300? Posted via the Android Central App

Zenwatch 2 Posted via the Android Central App

That's not saying much though. It's not even an improvement over the first gen. It also dropped the heart rate monitor. Same processor. But regardless you are right. This you would think would sell better but Pebble has a very loyal fan base. Posted via the Android Central App

It's definitely cute. I would have to play with one in person to decide if I'd choose it over the Gear S2.

I like this but the strong selling points for pebble is week long battery life and good water resistance. I have be pebble steel and it's great. They took a step back IMO with two day battery and being just "splash proof" with this. Posted via the Android Central App

Two other strong selling points: Always-on display and Visibility in bright sunlight.

Holy Bezel Batman! Posted via the Android Central App

I don't really get the bezel argument - just look at TAG Heuer watches or even some Rolex watches - they've got pretty big bezels. If you don't like bezels then fine, but it is hardly unheard of in the watch industry.
Personally I'm not that keen on this new Pebble line though, they seem a bit delicate looking for me - I still think the original Steel is the best looking. All of this is a matter of taste,of course.
What cannot be disputed, though, is the decision to sacrifice battery life for thinness. 2 days sucks. That in itself would rule these out for me even if they had a drop dead gorgeous design.

Agreed. Watches are designed around bezel. Its different in design is what make watches watches. I just feel most people hung up on bezel never owned watches and want to follow thin bezel designs like phones. However, the bezel on the ZenWatch 2 is awful. That's the only one and the original LG Watch I hate. Probably because of the thick black of them. The round watches are designed to the screen and look way more presentable. Posted via the Android Central App

Should have been the original Pebble time. Posted via the Android Central App

I actually like this a lot. Because it's so much thinner, I think the Pebble Round might look great on my wrist. And two-day battery life sucks compared to Pebble's usual week, but getting a day's worth of use from 15 minutes of charging would work for me.

I just saw the two day battery life. I bet 95% of purchasers will think it still has the week long battery, just to be disappointed.

With their upcoming smartstraps I am sure they will extend the battery. They said they were working on it before and the pins look the same.

They are going to put batteries in the bands? I don't see that you very well.

Imagine charging your watch once a month, or even 2 months! I'm getting excited already :D Sony Xperia Z2
Nvidia Sheild
Xperia Z3 Tablet Compact

I like the way it looks and it would definitely fit perfectly on my skinny wrist, but I can't go from 7+ days down (on my original Pebble) to 2 days. If I have to charge it that frequently and at this price, I would rather buy Moto 360 or some other Android wear watch or Samsung. VZW Moto X 2014/2013 DE

I don't like it :| This is the one time when Pebble and their bezels have actually turned me off completely. I'll stick with my Time Steel (when it arrives) I think.. Sony Xperia Z2
Nvidia Sheild
Xperia Z3 Tablet Compact

Needs to have a gold version with the black bezel.

I don't mind the shape, but giving up the multi-day battery means it's useless to me. I am the definition of a heavy user - I work 18 hour shifts on an ambulance, and my dispatches (as well as the trucks near me) set off the Pebble for me. I then use it with Nav Me to get there. What they think is a 2 day battery life will probably not get me through a shift with any reserve at all.

+ 1 Posted via the Android Central App

I wonder how the moving second hand will affect its battery life.

The Pebble watch's main strengths are:
* longer battery life (now only 2-3 days)
* water-proofness (now only splash proof)
* visibility in bright sunlight
* always-on display
The only AW watch with all of these characteristics is the Sony SmartWatch 3 (SW3). However its always-on mode is only a monochrome amber-on-navy that does not compare well to the Pebble's eInk display and QA questions have been raised about the reliability of its IP68 rating.
But in one respect the SW3 towers over the Pebble: the SW3 has more than 4 times the screen resolution of the Pebble Time. That is more than 4 times the pixels (and I'm guessing even more than that compared to the Pebble Time Round which has sloughed off the corners of the square display) and hence more than 4 times the information that can be displayed on the watchface. It is curious that no one ever mentions the Pebble's awful screen resolution or its pixelated displays.

I'm paying attention now. Posted via the Android Central App

I am going to be very interested in V2 of this model. but my 360 V2 is being built now, so this is a no go for me this year.

Hey Pebble guys !
Do you read sometimes comments on Google Play ? - People out there are furies and frustrated because of lack of your response ! - They call your new product a junk . Guess why ?
Android Central Newsletter
Get the best of Android Central in in your inbox, every day!
Thank you for signing up to Android Central. You will receive a verification email shortly.
There was a problem. Please refresh the page and try again.