Panasonic announces Android-powered home phone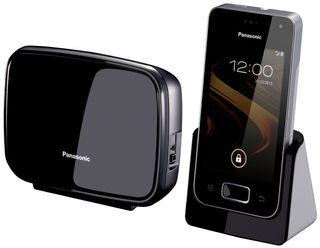 Panasonic may have withdrawn from the European smartphone market more than half a year ago, but it's back today with a different kind of Android device — a "smart" home phone using Google's mobile OS. The Panasonic KX-PRX120 incorporates a base station and handset based on the DECT wireless standard. It's running Android 4.0 Ice Cream Sandwich on a 3.5-inch HVGA (480x320) display, though the spec sheet doesn't specify a processor type or RAM amount.
Besides the ability to make calls (obviously), you're looking at a device with Wifi, Bluetooth and GPS capability, an 0.3-megapixel front-facing camera for video calls, microSD expandability and a 1450mAh battery. There's also a 40-minute answer machine.
We've seen Android DECT phones before, most notably Archos' abysmal 35 Smart Home Phone, but Panasonic's offering seems a little more fleshed out, not to mention better looking. Google Play certification and the use of a capacitive, not resistive touchscreen give Panasonic the edge over the year-old Archos device.
We're still unsure as to whether the right place for Android is on a landline phone. On the other hand, if the OS can find a home on ovens and cameras, we're willing to give Panasonic the benefit of the doubt. Full spec sheet's after the break.
Panasonic KX-PRX120 specifications
Sophisticated Design
3.5-inch TFT Colour LCD (HVGA)
Stylish Compact Design
Smartphone Functionality
Android Operation System 4.0
Google Play Support
Wi-Fi / Bluetooth Connection
0.3M Front Camera for Video Call
Rich Functionality
3.5 inch TFT colour LCD (HVGA) with capacitive multi touch screen
Wi-Fi, Bluetooth, GPS
0.3M pixel Front Camera
1450mAh Li-ion Battery
microSD / microSDHC Card Slot on Handset
micro USB Charging Port
Incoming/Outgoing Call Barring to help minimise unwanted or nuisance calls
Answering Machine (For KX-PRX120, 40min)
Key Finder accessory (Optional)
Advanced Alarm-clock
Up to 6 handsets (Optional handset or GAP supported DECT handset) can be registered
Android Central Newsletter
Get instant access to breaking news, the hottest reviews, great deals and helpful tips
Alex was with Android Central for over a decade, producing written and video content for the site, and served as global Executive Editor from 2016 to 2022.
If it had an IR blaster and full functionality as a universal remote along with the Wifi and android. With Chromecast this could be a really useful item. We would then have a remote control phone with internet connectivity and applications. for those that have Verizon FIOS this could be useful now with their fios remote that works through the wifi... The real question is what is the price going to be?

Yes what's the price? Posted via Android Central App

I already have this. My unused Motorola CLIQ XT from T-Mobile with Groove IP, attached to my Google Voice number. Don't be sheep people. If you have an old unused device capable of receiving a Wi-Fi signal and you have Wi-Fi at your house don't buy this. Posted via my themed "WHITE DRAGON" LiquidSmooth Sprint GSIII.

Couldn't be more than $100 since it is essentially an Options One/V Posted via Android Central App

Optimus* Posted via Android Central App

archos made an android powered home phone a long time ago this is just a copy http://www.archos.com/products/home/archos_35_shp/index.html?country=us&...

Wow. Didn't even read the article huh? "We've seen Android DECT phones before, most notably Archos' abysmal 35 Smart Home Phone, " Right below that line the author lists the differences in the Panasonic (capacitive screen, etc).
Plus Panasonic have a lot of experience in the landline market which hopefully means they will bring their market knowledge to the table and deliver a decent product.

Take that one more step and have it connect to your cell phone so that you can receive you calls, texts, etc on the home phone. Imagine, get home from work, plug your cell into a charger, and connect to this phone.

Or just use Google voice where you can even transfer your phone calls from between phones in the middle of a call by hitting "*" Posted via Android Central App

"Incoming/Outgoing Call Barring to help minimise unwanted or nuisance calls" This is the only feature I currently find missing from my cordless land line.

Most existing Panasonic cordless phone systems already have this. I know mine does.

I wish it had a larger screen and an Ir blaster. Put this in the hands of my grandmother and she would love it for email browsing etc. Not a bad idea really Posted via Android Central App

Why would they put GPS in a home phone? I'm pretty sure I can figure out where I am when I'm using a home phone. Is it some kind of requirement for certain apps so they have to put in in there or something?

It is part of the NSA requirements. How else can they know which room you are calling from?

It so apps like Maps can get your location automatically.

This is a good idea. Especially is Google is keeping Voice around. For me, this is something I am really going to look into. I have very terrible reception at my house, so I usually use my laptop or other devices for texting my friends. But I have to make calls from a different House line. If this is indeed a Landline, but Google Certified, then I can now connect my Google Voice number to it and make and receive Texts and Calls at home, then when I leave, I silence and lock the home phone and I'll get them on my cell again. Does anyone know what it will cost, or when it will be released?

I like the idea of an Android device that is always at home. This can be used as a separate remote (in combination with my Logitech Harmony Smart) and to control the lights (in combination with my HomeWizard).
With more and more home electronics adding apps for remote controlling having a device in house that you don't take with you when leaving the house is useful. A bit disappointing that it is running on 4.0 (replaced by the first iteration of Jelly Bean over a year ago).
This is a phone that could benefit from enabling the multi-user functionality in Android (a guest account that can make calls, use the remote apps and private accounts for e-mail and social media).

My first thought is to set these up in my DSL-only cabin and use Skype. Of course price will be the big factor.

When will I have a Smart Toilet, so that my bowel movements can be monitored.

They probably already have something like that in China, or Japan, and they are just waiting for Americans and Europeans to be "ready" for it.

Done! http://www.huffingtonpost.com/2012/12/18/satis-bluetooth-toilet-japan-li...

Oh great now I can have a laggy house phone.. No thanks.

My guess is it will run Android, so shouldn't be a problem.

Aren't we already at the point where we can use a bluetooth enabled cordless phone to talk on our cell phone's network via bluetooth at home? Other than all the android applications and features, for purposes of only connecting to your cell phone's network on a cordless phone, what are the inherent advantages of a product like this? Does the bluetooth connectivity with the current batch of cordless phones and cell phones not work very well? Would the Android powered phone have more seamless integration or better voice quality or something like that? Thanks.

Yes but I like having a dedicated "home" phone. I have a wife and two teenagers who are all technical babies and while we all have our own phones we get a lot of calls through the home phone and I don't want to deal with Bluetooth issues. I also like the idea of using this as the home Chromecast device/remote/smartglass/ etc etc. Sure I can use my phone for all that - and I probably will but it's nice to have a backup for when my phone is missing, dead, or otherwise out of reach. Plus I don't let my teens have smartphones (because porn) so they'd have something in the house to use besides a flip phone. I don't know... sounds pretty compelling to me. I like it.

Just setting aside all the android functionality and features, (which are great and valuable), how is this "dedicated home phone" system any different than using a Bluetooth enabled cordless? Wouldn't you have to mess with Bluetooth with both systems anyways, as well as have a traditional landline with both? Or am I missing something obvious? Is it Bluetooth integration will be easier with this? Posted via Android Central App

Well, there are still plenty of us who get no cell reception where we live. So no, we all AREN'T "already at the point". Not to say I have any personal interest in this device, but I find the common attitude that cellular coverage is universal and 100%, and that data caps don't exist, to be rather arrogant and infuriating.

Did not mean to suggest that. I guess I'm coming at this from the wrong angle. I guess this is just a landline phone with android features that gives it some smartphone or tablet functionality. I'm with you, I don't have much personal interest in a device like that. The only interest I had was if this device's pairing with a smartphone was somehow superior to that of a bluetooth enabled cordless phone in the event that you did have cell coverage.

I'd like it if this was the other way around: A way for my android phone to route calls through the landline. For when I want to take advantage of the landline's sometimes better call quality or its better long-distance package. Or as a way for me to add "handsets" to my existing installation, just by re-purposing my old android phones.

Why on earth are companies still releasing devices running Ice Cream Sandwich? It's out of date before it's even on the market!

I am not sure about the idea. Landlines are old technology and a better solution would be a router that can convert smartphones into IP handsets for landline calls. Many years ago, Ericsson developed a product called Home Base Station that worked as a landline to GSM router meaning that a landline call was converted into a cellular call since the HBS acted as a pico cell. I just don't think that landline phones has that much of a future that there is too many reasons to make them Android powered. A better solution is to bridge the smartphone to landline gap. The only countries where a product like this can survive is where the mobile penetration is low and landlines are much cheaper than cellular service. In more developed markets like Sweden where it is cheaper to use cellular service than landlines, the Panasonic Android cordless phone has no market. It will be interesting to see how it will be received. A landline to IP router would be more in connection with the times, though.

Exactly. I was talking on my circles phone the other day and thought, "You know what I'm missing? Digital compression artifacts and intermittent service." Land lines may be old tech but they are superior for making actual phone calls.

Make that "...cordless phone...".

That is very unfortunate, I ditched my land line (in Sweden) back in 2004 and went cellular and has never experienced bad sound quality or problems to make calls (especially not from my home). Here in the US, there is a landline in the apartment but I still prefer the sound quality I have on my Xperia Z. It would be interesting if you could write down what landline phone you are using. I know that some models (BeoCom 6000 for example) provides excellent sound quality but otherwise, my experience is in favor of a high quality smartphone. The only times I have experienced bad sound from the cellular has been when I talk to people using old phones in places with bad coverage. I can't agree that landlines are better than mobile phones for making calls. The only catch is that a decent mobile phone with good cellular radio, antenna and adequate coverage is needed. The only reason that landlines are too common in the US are that the price for cellular service is still higher (than for a landline). In Sweden, you can have cellular service for $5 per month and got lower minute rate than the landline (landline is approximately $25-35 per month). Something is wrong when you can have landline service for $19.95 and a basic cellular contract plan with a smartphone is $100 per month (prepaid unlimited talk and text $30-50 per month). It is time to ditch the landlines and move on - both to IP based solutions and cellular. Since I ceased using landlines in 2004, I have never looked back or met any reason to return. Especially not when there is IP telephony for cheap home phone service.

Having a landline is nice. Granted my "landline" is actually VOIP through Vonage but it's the "home phone" aspect of it that's nice. It's the number that we give to the bill collectors and other "phone spam" companies. It's the phone that only rings at the house and those calls never bother us when we aren't at the house. It's traditional and sometimes that's nice to have because it's simple and always available for everyone.

Do people still have landlines? Posted via Android Central App

My thoughts exactly! In ditched mine in 2004. My 21 year old daughter has never had one, neither does my 19 year old son. My Mom & Dad ditched theirs in 2010. I am trying to recall if I know anyone with a land line under 70 years old..... Posted via the totally awesome Android Central App

Does an a VOIP line that uses regular phones count? If so, nice to meet you.

I ditched my landline in 1998.

I like having a land line. It almost never goes out (but power and cable do). I always keep a corded phone in addition to any cordless phones. Easy to have multiple people talking to family far away, something hard to do on cell phones. I always know where to find it. If someone is at my house alone without a cell phone (they still exist), there is still a phone available. At this point it still doesn't make sense financially to replace a landline with long distance and 4 tracfones phones with full cell phones at much as I would like to. Although I may give in and go a VOIP route just because of the cost savings of bundles with tv/internet.

This would be cool except that it would negate one major benefit of current cordless phone technology: battery life. I can leave my phone off the base for a week and still rely on it to answer calls. I doubt this device could match that.

If anyone can pull it off, it's Panasonic. They make great wireless phones. Posted via Android Central App

The phone itself is probably a well made product. But if I am at home, what good are the other features? Consoles, TV, PC, smartphones (cellular) and tablets are already there to grant me other tasks than calling. That is if you still have a landline. Plus, hello OS fragmentation, how often will you change that phone? Posted via Android Central App

At least they put the capacitives on the right sides. Hopefully they get back in the smartphone game, the Eluga wasn't that bad, it just wasn't the cutting edge they thought it was at the time.
Android Central Newsletter
Get instant access to breaking news, the hottest reviews, great deals and helpful tips
Thank you for signing up to Android Central. You will receive a verification email shortly.
There was a problem. Please refresh the page and try again.