Archos 35 Smart Home Phone review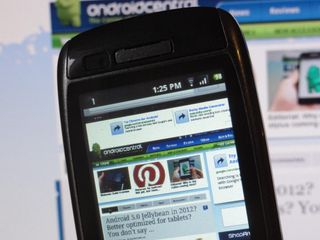 If there's one area of communications that remains firmly rooted in the 20th century, it's the humble home phone. Dumb, unloved and tethered to a wall, these devices have been left behind, as cellphone technology continues to soar further into the stratosphere. With Android expanding its reach to ever more product classes, it was only a matter of time before someone attempted to bring the home phone up to date by introducing it to the leading smartphone operating system. And that's precisely the idea behind the Archos 35 Smart Home Phone.
However, questions remain as to whether a smartphone OS belongs on such a device. Smartphones are personal, portable gadgets, neither of which applies to the typical home phone. And we have some concerns about the hardware too, particularly the nasty resistive touchscreen that's been used.
Read on to find out our full thoughts, as we dive further into the Archos 35 Smart Home Phone.
Pros
Good call quality, DECT functionality works well. Offers a decent, if basic Android experience.
Cons
Abysmal resistive touchscreen, cheap build quality, awkward button placement and a couple of software bugs. No Android Market support.
The Bottom Line
We're still not convinced that a home phone is the right place for a smartphone OS and matching hardware, and if we are to be persuaded, the Archos 35 Smart Home Phone isn't the device to do it.
Swipe to scroll horizontally
Video Walkthrough
YouTube link for mobile viewing
The Specs
Hardware
The Archos Smart Home Phone is a two-piece kit. In the box you'll find the base station, which is a small black box around the size of an Apple TV. This hooks into a power outlet and your land line, and communicates wirelessly with the phone itself, which can be based anywhere you have power. For added convenience, the charging dock supplied with the phone works over USB, meaning you can charge it using a spare USB port if you're running low on wall sockets. As it's based on the DECT standard, you can run up to five handsets off one base station, if you're so inclined.
The industrial design of the base station and stand is relatively plain, if inoffensive -- shiny black plastic all around. When it comes to the phone itself, though, we're afraid the build quality is less than top-notch. Though extremely lightweight at just 90 grams, it's furnished in grey plastic with a metallic effect, and looks and feels like a cheap product. The experience isn't helped by some awkward button placement the inclusion of an unforgivably horrid resistive touchscreen.
The screen itself runs at 272x480 resolution, which is just shy of HVGA, due to its narrower aspect ratio. It doesn't look horrible -- and it's by no means as bad as some QVGA screens we've seen -- but it's decidedly low-end, and even an budget smartphone will give you a better multimedia experience. Beneath the screen are six resistive buttons -- the standard four Android buttons, plus two volume buttons. We can't quite figure out why the volume keys were placed there. Most smartphones are designed with volume rockers on the side for a simple reason -- it allows you to adjust the volume mid-call without taking the handset away from your face. Front-facing volume buttons mean you're potentially left fumbling around in the middle of a conversation. And the fact that they're directly below the main Android buttons means you'll accidentally hit them more often than you'd like.
Like most Android phones, the Archos 35 is unlocked using a power button, which in this case is located along the top-right edge of the phone. And on the bottom-left edge is an external microSD card, which is spring-loaded, allowing easy access to expandable storage. To the side of the earpiece there's a basic VGA camera for video calling, and to the rear you'll find the giant external speaker. It's larger than what you'd find on a smartphone, but then you'd expect that on a home phone, which has to ring loud enough to be heard in another room.
Speaking of audio quality, voice calls are loud and clear on the device, though with increased distance between the handset and the base station, we did notice a tiny bit of audible buzzing, likely due to background interference.
Internally, the Smart Home Phone is powered by basic smartphone components. There's a 1GHz single-core OMAP chip, along with 256MB of RAM. We'd probably call that unacceptable on a cellphone, but for a phone that's not going to be used for serious multitasking, it should be more than sufficient. And there's an ample 8GB of built-in storage space, too.
What is entirely unacceptable though, is that resistive touch panel. It's just bad. Really, really bad. Any performance delivered by the 1GHz CPU is immediately lost due to the inclusion of a cheap, tacky, imprecise and unresponsive touchscreen. To scroll in any direction, you have to exert enough force to distort the LCD. Web browsing is a non-starter, menu navigation is a chore, and typing takes twice as long as it would on even the cheapest Android smartphones. The effortless speed with which you can fly through a modern (capacitive) touchscreen device is completely absent here. The entire user experience is let down by this one component, and you'll curse it with every second of use.
Software
The Archos Smart Home Phone delivers a basic Android experience, albeit without the Android Market or any of Google's own applications. The phone runs (more or less) vanilla Android 2.2.1. So it's Froyo, which is prehistoric by smartphone standards, but does a reasonably good job when paired with the Smart Home Phone's basic hardware. It's definitely a "no frills" experience, though, and the bundled apps provide a bare minimum of functionality. It's basic, and for the most part it works, but it's probably not user-friendly enough to appeal to Android newcomers. HTC Sense this is not.
Included on the handset are all the basic open-source Android apps -- the browser, calculator, calendar, email client, gallery and so on. Archos has done a decent job of plugging in some extra features with a file browser, system monitor and a remote control app, which allows you to connect to other Archos gadgets on the same Wifi network. There's also an on-board manual accessible in the launcher, which is a nice touch.
With Android Market unavailable (without sideloading or other hackery, at least), new apps have to be obtained through Archos' AppsLib store. The range of apps is nowhere near as diverse as it is on Google's marketplace, but there's a reasonable selection, including Skype (which rather bizarrely was not bundled on the handset).
Here's the problem, though -- all this software has to be operated through that pesky resistive touchscreen. And while the basic applications on offer perform well enough on the 1GHz CPU, they feel much, much slower because of the unresponsive touch interface. Native apps which were designed with capacitive multi-touch in mind are left looking out of place and awkward on a resistive panel. Hardware and software are interdependent on any device, and in the case of the Smart Home Phone, the hardware side lets it down badly.
Battery Life
Battery life expectations are different for smartphones and home phones, as the latter rarely spends entire days away from its cradle. However, if you do forget to replace it in its charging dock for any great length of time, you can expect the battery to deplete alarmingly quickly. We left it idling overnight a couple of times, only to find it dead in the morning. Fortunately, we found it held up better during actual phone calls and moderate browsing and multimedia use.
Camera
As we mentitned earlier, the Smart Home Phone's camera is a basic VGA sensor, which performs about as well as you'd expect. It's good enough for video chat on the a low resolution screen, but don't expect to look your best if the person you're chatting to is using a larger-screened device.
During our time using the camera, we noticed that after using it in one app, it wouldn't activate when we tried it in another. Rebooting the device always fixed the problem whenever it occurred, but if you're big on video calling, this could be a significant annoyance.
Wrap-up
So where does this leave us? We're still not convinced that a home phone is the right place for a smartphone OS and matching hardware, and if we are to be persuaded, the Archos 35 Smart Home Phone isn't the device to do it. Aside from the issues surrounding the personal nature of smartphones, the hardware on offer is simply too underwhelming. All Archos' efforts to make smartphone tech more accessible are undone by the use of a touchscreen that's utterly toxic to the user experience. Tasks that are easy on a capacitive screen become tedious and frustrating on Archos' resistive panel.
The idea may well be a good one, but even so, the execution is decidedly half-baked. Considering the £130 asking price, we'd expect a better design, fleshed-out software and a capacitive touchscreen. Budget smartphones can deliver all these things at that price point (hey there, HTC Wildfire S), but the Archos 35 falls short. Ultimately, this is a product we can't recommend.
Get the Android Central Newsletter
Instant access to breaking news, the hottest reviews, great deals and helpful tips.
Alex was with Android Central for over a decade, producing written and video content for the site, and served as global Executive Editor from 2016 to 2022.