HTC Wildfire S mini-review (Vodafone network)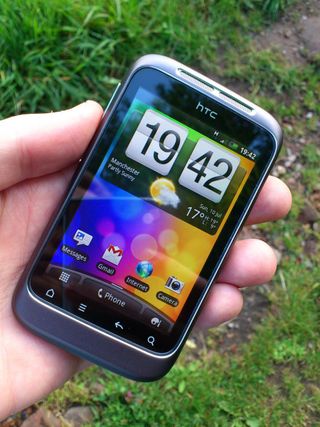 One fortunate side-effect of all the craziness going on at the expensive end of the smartphone spectrum is that more-affordable devices are starting to become faster and better. Last year's HTC Wildfire underwhelmed us a little, with its sub-par QVGA screen and relatively meager 384MB of RAM. But earlier this year HTC refreshed many of its mid-range products, and it's arguably the Wildfire that's received the biggest boost. The new HTC Wildfire S has a sharper, brighter screen, a faster CPU and more RAM than the original. And like the rest of HTC's "S" series, it ships with Android 2.3 Gingerbread.
The Wildfire S remains a budget handset, though, selling for £180 on Pay As You Go from Vodafone UK, as well as being offered for free on contract. Read on to find out what kind of smartphone experience HTC has managed to cram into its tiniest Android handset to date.
Hardware
Even on a budget handset like the Wildfire S, HTC has cut no corners as far as build quality is concerned. Though the Wildfire S lacks a unibody chassis like many HTC handsets, it still looks good and feels solid in the hand. Physically, it's probably best described as a miniature Desire S, as it shares that phone's trademark wide earpiece and raised "chin" near its four capacitive buttons. With its back cover in place, there's almost no plastic to be seen anywhere on the Wildfire S -- the front is brushed aluminum and the back has a rubber-textured coating. This results in a phone which, though inexpensive, has a premium look and feel.
Physical buttons and ports are located in the usual places for a HTC device -- charger and volume rocker are on the left side, while the power button and headphone jack live along the top. On the rear of the phone there's a 5-megapixel camera that's only slightly raised from the chassis, and HTC has included an LED flash too, which is a welcome addition on a budget handset. Behind the back cover, everything is arranged as usual, with the SIM card slot hidden away behind the battery. And just like the original Wildfire, the microSD card slot is accessible without removing the battery. Speaking of SD cards, our Wildfire S (a boxed, sealed retail unit from Vodafone) shipped with a 2GB card.
The Wildfire S sports a 3.2-inch LCD display running at 320x480 (HVGA), a massive step up from the meager QVGA screen of the original Wildfire. The added pixel density is arguably the most significant improvement from the Wildfire S's predecessor. The lower resolution of the original's display was a major hindrance, and we're glad to see it addressed in the Wildfire S. HTC hasn't specified whether the Wildfire S uses a Super LCD panel, but we found the display on our review unit to be more than adequately bright and vivid, with no noticeable ghosting. Viewing angles, too, were good, with only minimal distortion becoming apparent when looking at the display from extremely wide angles.
Things are a little less impressive on the inside -- the Wildfire S is powered by a 600MHz Qualcomm MSM7227 CPU, which is paired with 512MB of RAM and another 512MB of internal storage. So not the fastest, but by no means slow, and having a smaller screen makes up for that. As we'll see later in the review, the Wildfire S actually performs surprisingly well considering its humble hardware. It's also nice to see the Wildfire's memory bumped up to 512MB, though undoubtedly the relatively small amount of storage space for apps will disappoint some. Another disappointment is the lack of HSUPA support, which hamstrings the handset's 3G upload speeds, limiting them to 384kbps. However, considering the Wildfire S's low price, we're willing to let this pass. In our opinion, the phone makes up for this missing functionality by putting in a great showing in other areas.
Software
The Wildfire S runs Android 2.3.3 alongside version 2.1 of HTC's Sense UI. The lack of Sense 3.0 on a phone like this shouldn't surprise anyone, but it's great to see a budget device launching with Gingerbread.
Sense 2.1 on the Wildfire S is much the same as on any other device. There's a similar collection of widgets to customize your seven home screens, including the iconic giant clock, and various social widgets that interface with Facebook and Twitter. And despite the Wildfire S's entry-level CPU, the software remained mostly quick and responsive throughout our testing. The 600MHz chip, though not the fastest, coped well with the combination of Gingerbread and HTC Sense. Sense remains one of our favorite software packages for Android, and on the Wildfire S it's just as polished as it's ever been.
Much of the HTC Sense 2.1 experience has already been covered in more detail in previous reviews like our Desire S write-up, but here are a few highlights to look out for on the Wildfire S --
Unified contacts system - Combines social networking information with Google Contacts and other sources to bring all your contacts to your phone.
Friend Stream - Social network aggregation for Facebook, Twitter, LinkedIn and Flickr.
HTC Hub - Online hub to download additional content for your phone, including new wallpapers, widgets, apps, ringtones and more.
HTC Likes - A selection of HTC-approved apps from the Android Market.
Transfer my stuff - Allows you to transfer personal data like contacts and messages from a range of other devices.
HTCSense.com - Back up your messages to the cloud, and remotely track, lock or wipe your phone if it's lost or stolen.

Battery Life
The Wildfire S ships with a 1230 mAh battery, which we found was sufficient to keep it ticking along for a normal day of use. Like other recent HTC devices we've tested, the Wildfire S uses next to no power at all in standby mode, so with less intensive use you may even creep over the 24 hour mark.
The usual warnings about streaming video and camera use draining the battery still apply, but if you're using the Wildfire S for the basic smartphone tasks for which it was built, you certainly shouldn't have any battery life issues.
Camera
The phone's camera is a 5-megapixel sensor which also shoots video up to 480p resolution. This is a basic sensor on a budget device, so you won't be taking any masterpieces with it. However, it's good enough to produce decent looking (if slightly washed-out) stills that scale well to web resolutions. Unfortunately, though, we found that the LED flash was rather weak, and even indoors it did little to illuminate darker scenes.
Video functionality is equally basic, as should be expected from a low-end device. You'll get 480p recordings at around 22-23 frames per second. Picture quality is roughly equivalent to the HTC ChaCha -- what we'd describe as "Facebook quality" video.
Wildfire S on Vodafone UK
We're still in something of a dead zone as far as Vodafone coverage goes, but in areas with decent HSDPA reception, we enjoyed respectable download speeds of between 2 and 3mbps on the Wildfire S. Upload speeds are limited to 384kbps due to the lack of HSUPA support, but this is a hardware limitation of the Wildfire S, rather than a network issue.
As for standard voice calls, we didn't run into any issues on the Wildfire S on Vodafone. Calls were clear, even in areas with no data coverage.
Hackability
Wildfire S retail units ship with S-ON and encrypted bootloaders, which is enough to put an end to any immediate hopes of having the phone cracked open and running custom firmware. As an entry-level device with limited appeal compared to more expensive smartphones, it's unlikely that we'll see much interest from community developers until such time that HTC officially unlocks the Wildfire S. And so far there's been no guarantee that they will.
So it's Sense 2.1 and Android 2.3.3 for the foreseeable future, we're afraid. However, the software experience provided out of the box is among the best you're likely to find on any entry-level smartphone.
Wrap-up
At £180 on Pay As You Go, or free on contract, the HTC Wildfire S provides excellent value for your hard-earned sterling. Its build quality is in line with more expensive HTC phones, and while the specs don't quite dazzle, the fact that you can get an Android smartphone as fully-featured as the Wildfire S for under £200 is impressive in itself.
You can always part with an additional £100 and bag a Desire S, or an extra £200(ish) and walk away with a Sensation. And if you can, we'd recommend you do. But not everyone has the means or the inclination to blow this kind of cash on a cellphone. And for those people, the Wildfire S delivers all of the benefits of a smartphone at an almost ludicrously reasonable price point.
Get the Android Central Newsletter
Instant access to breaking news, the hottest reviews, great deals and helpful tips.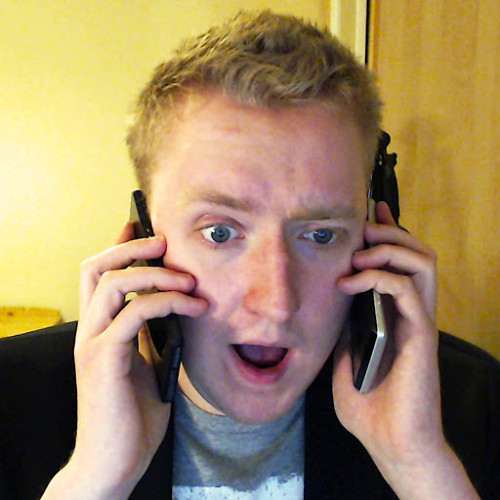 Alex was with Android Central for over a decade, producing written and video content for the site, and served as global Executive Editor from 2016 to 2022.