The HTC Desire S is the successor to one of HTC's most popular European phones. The original Desire featured top specs for the time, along with a prettier, more accessible Android thanks to the HTC Sense UI. Launching just as Android's market share was starting to explode, the phone saw massive sales throughout 2010, and gave many in Europe and Asia their first introduction to the platform.
With the Desire S, the Taiwanese manufacturer is returning to the 3.7-inch form factor with a refined and redesigned handset that offers a host of subtle improvements in several areas.
But is it a worthy successor to the HTC Desire? And can it compete with the glut of high-quality Android phones now available from other manufacturers? Read on to find out.
Read our first impressions of the Desire S
Hardware
The Desire S shows the clear strides made in HTC's build quality over the past year or so. Its unibody aluminum chassis makes it pleasing to the eye, while ensuring it's able to survive any accidental encounters with the sidewalk. And the lack of physical buttons gives the phone a sleek and uncluttered appearance.
According to HTC's official specs, the Desire S is slightly shorter and narrower than the original Desire, as well as being 5 grams lighter. The difference isn't really noticeable in day-to-day use, though, and the original wasn't exactly weighty or bulky to begin with. The Desire S also has a slight "chin" at the bottom of it, to help protect the screen when it's laying down flat. Fortunately this is very subtle design feature and it doesn't interfere with the phone's pocketability.
The Desire S's battery, SIM card and micro-SD card slots are located behind a removable rubberized section at the bottom of the phone. There's a lever to keep the battery secure, and everything locks in place very nicely. Our only minor gripes were with the inability to swap SD cards without pulling the battery, though this won't be a major concern for most users.
HTC is sticking with Super LCD display technology for the time being, and the Desire S ships with a 3.7-inch SLCD panel with a resolution of 480x800. This isn't the same type of LCD display found in older phones like the Desire HD and latter-day OG Desires, though. Brightness, contrast and viewing angles are all vastly superior in the Desire S's display, and we noticed no ghosting whatsoever. And unlike the original Desire's AMOLED screen, the Desire S's SLCD is easily usable in bright sunlight.
On the inside, the Desire S is pretty much identical to its big brothers, the Desire HD and Incredible S. There's a 1 GHz second-generation Snapdragon processor, 768 MB of RAM and 1.1 GB of internal storage for apps. So, solid specifications and more than fast enough for most users' needs. This thing isn't a dual-core performance monster, but it's not pretending to be. And for the moment, at least, the smartphone version of Android isn't capable of fully leveraging multi-core hardware anyway.
In many ways, the Desire S's internals are its least interesting feature -- we're into the second quarter of 2011, and a 1 GHz processor isn't going to turn any heads. The Desire S's strengths lie much more in its build quality and software experience, rather than simply having a faster chip than the other guy.
There's one more thing to add, though, before we get on to talking about software, and unfortunately it's a minor but noteworthy hardware issue. The Desire S's Wifi antenna suffers from a "death grip" problem, which we noticed a couple of times during our fortnight of testing. Gripping the top of the phone near the speaker and front-facing camera will result in a dramatic drop in Wifi signal strength, sometimes causing the phone to lose Wifi reception altogether. Most of the time, during normal use, this isn't noticeable. And it's far from a deal-breaker -- most phones will drop a few bars of reception if you find their antenna location and cover it or apply pressure. Hey there, iPhone 4.
Nevertheless, this issue is worth taking into consideration if you intend on using the Desire S somewhere with weak Wifi coverage. Thankfully, we noticed no such issues with the cellular antenna, which is housed in the battery case.
Software
The Desire S runs Android 2.3.3 Gingerbread, and on top of that sits HTC Sense 2.1 -- the latest version of HTC's custom UI, at least until the Sensation comes along.
Sense 2.1 is a relatively minor update. It brings with it a new "quick settings" tab in the notification area, along with a redesigned app drawer and an automatic error reporting service that activates if you manage to crash the phone. That's pretty much it. If you've used a Desire HD or any other Sense 2.0 device, everything else will be familiar. Sense offers seven homescreens, a gazillion different widgets with which to customize them, and a range of optional skins for the entire UI, with more downloadable for free through the HTC Hub app.
All the standard HTC apps for weather, calendar, music and social networking are present and correct, as is Sense's unified contacts system, with draws on information from social networks. Navigation is also provided through HTC's "Locations" app, which is available alongside Google's free Navigation app. HTC's Locations data is downloaded to your SD card when you first run the app, meaning you won't be stuck if your data signal is lost in the middle of a journey.
Thankfully, the days of Sense hobbling the performance of phones are long gone. The Desire S is a fast and responsive device, and we noticed no real slowdown whatsoever. So unless you decide to install a bunch of background apps from the Market, you won't see any performance issues.
Getting personal data loaded onto your new phone is something that HTC has made a lot easier in the latest versions of Sense. If you're migrating to the Desire S from an earlier Sense 2.0 device, the HTCSense.com service will take care of this for you, even restoring SMS and MMS messages from the cloud. For other devices, HTC's "Transfer my stuff" app has you covered, and will walk you through the process of enabling Bluetooth on your old phone to transfer your stuff across.
On the subject of personal data, HTCSense.com also has several tricks up its sleeve to help protect the valuable information on your phone if it's lost or stolen. By signing into your Sense account via the web, you can track your phone's location, forward calls, make it ring at maximum volume, or force a remote wipe if the worst comes to the worst. Many Market apps offer similar functionality, but it's great to see HTC including this service as standard on all their new phones.
The Desire S is a DLNA-compliant device, and it includes a "Connected Media" app to facilitate streaming to supporting devices like TV's, though you'll definitely want a fast wireless network to make the most of this feature. Media streaming works for any music, video or photo content that's natively playable on the phone.
Speaking of which, the Desire S purports to be able to play Xvid videos in hardware, as well as the standard MPEG, WMV and AVI content, however our experience with this was less than stellar. All of the Xvid content we tested played back at a low framerate, with video and audio out of sync. You'll probably want to install a third-party app like RockPlayer to best experience DivX or Xvid content on the Desire S.
HTC's included a small sprinkling of third-party apps on the Desire S. Normally we're wary of this sort of thing, but the apps included all bring to the table useful functionality not already offered by Android or Sense. There's Adobe Reader and QuickOffice for viewing documents, as well as a trial version of SoundHound. Music store functionality is provided through Amazon MP3, which is also integrated into HTC's music app. More HTC-approved apps can be had through the "HTC Likes" app, which cherry-picks a selection of top Android Market apps for your perusal.
The only real disappointment on the software front comes from the lack of a video calling app. Sure, the Desire S's front facing camera will work just fine with a third-part offering like Tango, but the fact that the phone isn't launching with its own video calling software is a bizarre oversight, especially since this functionality was demoed at MWC. Hopefully this will be added in a future update.
Battery life
The Desire S includes a 1450 mAh battery which, combined with the more efficient second-generation Snapdragon chip and SLCD display, results in pretty impressive battery life with normal usage patterns.
Of course, the usual caveats apply -- certain apps can be massive battery drains, notably streaming media or anything that uses the GPS for long periods of time. Still, unless you're going completely hog-wild with heavy data and video use with the screen set to maximum brightness, you'll easily get a full day out of the Desire S on a single charge.
One final thing that's worth mentioning is that the design of the battery slot in the Desire S eliminates any possibility of extended batteries ever being available for the device. The battery slots inside the phone and is held in place with a plastic lever -- there's just no way you're fitting anything other than the stock battery in there.
Hackability
At the time of writing the Desire S has not been rooted. The fact that it runs Android 2.3.3 out of the box, as well as the presence of a signed bootloader, means that it's going to be an uphill struggle to get the phone cracked open and running anything other than HTC-approved software. Nevertheless, community developers on XDA are hard at work right now attempting to do just that.
In the meantime, the bottom line is this -- don't buy a Desire S and expect to be merrily flashing ROMs right away, buy one because you're happy with the stock experience. To be fair to HTC, its stock experience is one of the best available on Android.
Camera
Like its predecessor, the Desire S has a 5 megapixel camera with LED flash, which can shoot video at up to 720p. And just like the original Desire, video quality is a little underwhelming. You'll be stuck at frame rates in the early twenties if you record at 720p, and there's a lot of graininess in low-light conditions. Given the improvements across the board in the Desire S, we're disappointed that HTC stuck with the same 5 megapixel camera, rather than bumping it up to the more beefy 8 megapixel sensor found in phones like the Desire HD.
Still shots are a little more reasonable. In well-lit environments you'll get good-looking pictures that scale well to web-friendly resolutions. The single LED flash is a little anaemic, though, and you'll probably struggle to get it to light up much of anything indoors, let alone outdoors.
HTC should be commended for its work on the camera app itself, though. The tap-to-focus function works well, and there's virtually no delay in taking still shots. A number of post-processing effects like distortion and posterize are also available within in the camera app, which is a nice touch.
The Desire S's front-facing camera can be used to take photos too, but given that it's a fixed-focus VGA affair that's mainly designed for video chat, you can expect a a fair amount distortion and graininess in all but the best conditions.
Wrap-up
With the Desire S, HTC has built on one of its most popular phones with small, incremental improvements in a lot of different areas. The result is a phone that looks and feels like a premium device. Sense 2.1 and Android 2.3.3 make for a solid foundation, and HTC's piled a ton of functionality on top of it.
What it's lacking, though, is a single "killer app," or essential feature to set it apart from the crowd. With Android competition fiercer than ever, the Desire S isn't as clearly outstanding as its predecessor was last year. And while we're nitpicking, a better camera also would've been nice.
But regardless, the Desire S is a highly capable smartphone that offers an excellent user experience. Given HTC's track record with OS updates, it's likely to be supported long into the future, too. It might not be as powerful or flashy as something like the Sensation, or as developer-friendly as the Nexus S, but the Desire S a solid all-rounder that's a real joy to use.
Get the Android Central Newsletter
Instant access to breaking news, the hottest reviews, great deals and helpful tips.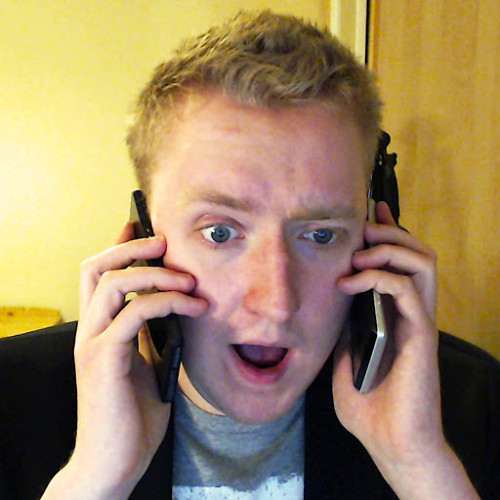 Alex was with Android Central for over a decade, producing written and video content for the site, and served as global Executive Editor from 2016 to 2022.