Orée Pebble 2 is a beautiful natural material Qi charger looking for Kickstarter backers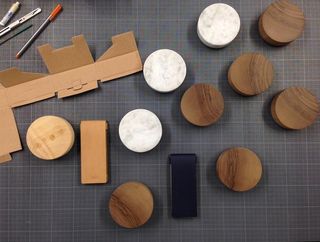 For those who want to add a little bit of luxury to their smartphone, Orée has created a wireless charging block that's fashioned out of a single block of wood or marble and integrates a speaker and microphone for speakerphone calls. For a Kickstarter pledge starting at $200, the Orée Pebble 2 is an elegantly designed cylinder that sits on your desk and bedside stand so you can merely set a smartphone with Qi wireless charging technology on top of the Pebble 2 and it will begin charging without requiring any wires.
The Orée Pebble 2 will work with a number of Nokia Lumia smartphones, Google's Nexus 5 and 7, and any smartphone with a Qi-compatible wireless charging case, cover, or shell including Samsung's Galaxy S4, Galaxy S5 and Galaxy Note 3 and even an iPhone. From Orée:
For sound output, there is an embedded 5W speaker inside the marble or wood Pebble 2 as well as an omnidirectional microphone for speakerphone calls that also has noise cancellation.
The $200 starting pledge on Kickstarter will net you an audio-only version of the Pebble 2, meaning you won't get a version with wireless charging. For a starting pledge of $225, you'll get a Pebble 2 with both the speaker and the wireless charging built into the base. For the iPhone, if you don't already have a Qi-compatible wireless charging case, a $315 pledge will get you a Pebble 2 along with Orée's iPhone charging sleeve fashioned out of leather. At each level you can add $50 to jump up to a marble version of the charger.
As with all Kickstarter campaigns, this is a pledge and not a purchase where a product is guaranteed to be delivered; unsuccessful campaigns may not result in shipping products. But if you think they've got what it takes to bring this to market, now's the time to get in on the campaign — you can check it out at the source link below.
Source: Kickstarter; Thanks, Alicia!
Hm I think this is a tad pricey for the device. 275 for the early bird in marble? Nah i think this is to frivolous

That's damn expensive.. Posted via Android Central App

While it does look nice I could make my own out of quality hardwood (walnut,cherry,purple heart etc.) With a top of the line qi coil for less than half of the cost.
Posted via Android Central App

Half the cost? You can do a lot better than that. Posted via Android Central App

Wow 275 of your American dollars for marble, 225 for wood? Um... No. I think I'll stick with my lg wcp-300! Plus I'm still using an N4, so I may as well just throw it at the ground! There's no way it'd stay on there! Posted via Android Central App

That is mentally expensive! Good luck to them, they'll need it.

$225 seems a little steep just to get wood. Posted via Android Central App

damn, I just got my US$ 9 QI Charger from China today. Well, I guess I'm cheap.

I just got mines today too one for my note 3 ,n one for my s4 but it doesn't seem to work for my s4 but my note 3 works perfectly
What phone is urs used for?

I'm using mine for a nexus 4, seems to work fine so far Posted via Android Central App

This seems like the kind of thing John Hodgman's insane billionaire character would have.

No thank you, I'm good with my 12 euro plastic one. Posted via Android Central App

Why is everyone complaining about the price? It is a luxury item for people with enough money to make this an insufficient purchase. Remember there are those who spend hundreds of thousands on cars and millions on homes. We already have plenty of inexpensive Qi options.

I wouldn't be as concerned about the price if it weren't unsettled technology. If it was something I knew I'd be able to use for five or ten years, I'd be okay with it. But whose to say that my next phone on a two-year contract will even support Qi?
Android Central Newsletter
Get the best of Android Central in in your inbox, every day!
Thank you for signing up to Android Central. You will receive a verification email shortly.
There was a problem. Please refresh the page and try again.