Oppo R7s gets a near-stock Android experience with Project Spectrum beta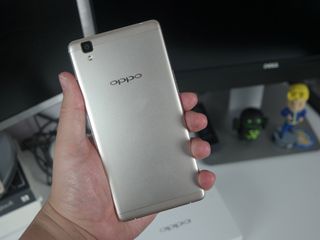 Oppo announced the company has made available a new Marshmallow-based ROM for the R7s. Called Project Spectrum, this beta test is ready for download and will be available for the R7 Plus on May 13. Project Spectrum is an alternative option for those with supported OPPO hardware who do not wish to use ColorOS. What makes this particular option worth considering is the near-stock Android experience.
The team at OPPO have fused together some of the best features of Android 6.0 Marshmallow and ColorOS. Not only will you see Doze Mode and more from Google, but also OPPO customizations like screen gestures like double-tap to wake, VOOC Flash Charge support and more. You can head to the OPPO website for more details and download links.
Press Release
Shenzhen, May 3, 2016 – Continuing efforts to bring greater choice to a wide range of users, OPPO has released a Marshmallow-based Project Spectrum beta for the R7s, with an R7 Plus release planned for May 13.
Project Spectrum is an official alternative to OPPO's ColorOS, offering a near-stock Android experience while preserving some of the best-loved features of ColorOS.
Project Spectrum for the R7s combines all the advantages of Android 6.0.1 Marshmallow, including the battery-saving Doze Mode and Google Now on Tap, with some of ColorOS' signature enhancements: customizable screen-off gestures (double tap to toggle wake/sleep modes, draw a circle to start the camera app, etc.), support for VOOC Flash Charge, OPPO's phenomenal camera app, and more.
Previous devices to receive the Project Spectrum treatment include the Find 7, R5 and the R7g (available in Taiwan, Australia and Singapore). Meanwhile, a Marshmallow-based beta for the R7 Plus is set to be released on Friday, May 13.
To install the new Project Spectrum release, R7s users need only visit the OPPO Community website to find the download and instructions.
Warranties for devices sold over oppostyle.com or Amazon in Europe, which mostly serve Western customers, will not be affected if users choose to switch to Project Spectrum. Customers who bought their phones anywhere else, such as offline stores in Asia, Africa or Latin America, should consult their local resellers for detailed information about warranty policies.
The OPPO R7s is the latest device to receive Project Spectrum.
For users who prefer a superb, hassle-free experience straight out of the box, ColorOS will continue to be supported as the default system for all OPPO phones.
Absolutely love my OPPO R7s! Only thing I don't like is that the apps close down when I lock the screen or switch between apps and that Text Messages don't get received in 3rd party apps (textra). If Project Spectrum can fix these issues, that would be great. Posted via the Android Central App

Lol "I love it but it doesn't work properly" Posted from my Nexus 6/Nexus 7 2013/Surface Pro 3

Basically Yeah, lol. I love the phone, but those two issues I don't like lol Posted via the Android Central App

Isn't there a way to keep those apps running when locked? Huawei's EMUI has something similar but we do have an option for "Protected Apps" which are allowed to run when the screen is locked.

Alternative to OnePlus. Oh wait. They are from the same parent company. Posted via the Android Central App from Samsung Galaxy S7 Edge

TBH, I kinda like the approach taken by Oppo when it comes to software in this case. Basically giving you a choice of ColorOS or something that's closer to stock Android if ColorOS isn't your thing. I don't think all Android phones need to run stock Android as that just ruins the whole "Be together. Not the same" ethos. However, the choice to run either a heavily-skinned version of Android or something that's closer to stock Android while retaining much of the featureset that is supported by the OEM and on the same device bodes well with me, since Android has also been about choice. That said, many skins have become pretty nice in recent times (especially TouchWiz and HTC Sense. Sense has been perfect to me ever since Sense 5, and TouchWiz has gotten much better in recent times), so having stock Android isn't really a must for me (especially since Samsung's Good Lock has gotten some updates that make it feel a little bit more like stock).

As i recall, there was an unboxing by richard devine back in december. Where is the review for r7s? Posted via the Android Central App
Android Central Newsletter
Get the best of Android Central in in your inbox, every day!
Thank you for signing up to Android Central. You will receive a verification email shortly.
There was a problem. Please refresh the page and try again.