OnePlus 8 Pro pre-orders come with free 30W wireless charger and Bullets Wireless Z [Updated]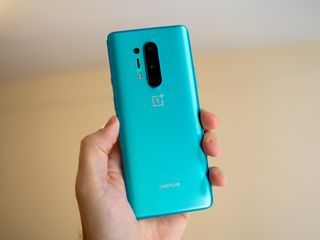 (Image credit: Android Central)
Updated 12:25 PM ET: That's it, folks. Less than half an hour after pre-orders opened, OnePlus is sold out of all models of the OnePlus 8 and 8 Pro. If you missed out, you'll have to wait until April 29 for regular sales to begin.
What you need to know
Early pre-orders for the OnePlus 8 & 8 Pro open at 12:00 PM ET on April 15.
OnePlus is offering a Launch Day Bundle that's worth $120.
It includes the Warp Charge 30 Wireless Charger and Bullets Wireless Z earbuds.
Official sales for the OnePlus 8 and 8 Pro don't begin until April 29, but for one day only on April 15, OnePlus is offering a "Community Appreciation Day" where you can pre-order the phones and be among the first to own them. To help commemorate the occasion, you'll find a couple of pre-order bonuses to help you get even more bang-for-your-buck.
If you're eyeing the OnePlus 8 Pro (which is the phone we'd recommend out of the two), you can take advantage of OnePlus's Launch Day Bundle. This includes the new Warp Charge 30 Wireless Charger (opens in new tab) and Bullets Wireless Z (opens in new tab) earbuds, each of which normally carry price tags of $70 and $50, respectively.
That's a total value of $120 right out of the gate, helping to lessen the sting of the OnePlus 8 Pro's $899 starting price.
The regular OnePlus 8 also has a Launch Day Bundle of its own, but it only comes with the Bullets Z Wireless earbuds. That's not as interesting of a promotion, but it also makes sense seeing as how the phone doesn't support wireless charging like its more expensive sibling does.
If you want to get your hands on these free accessories, you'll need to act fast. They're only available today during pre-orders, which begin at 12:00 PM ET. After today, the bundles will be gone for good. Also remember that pre-orders in general will stop once April 16 rolls around. You either pre-order the phone today and get those accessories, or wait until April 29 and miss out on them. The choice is yours.
All the power
(opens in new tab)
More features, more expensive
The OnePlus 8 Pro is the most expensive phone OnePlus has ever released, and by a long shot. That said, the phone justifies its extra cost thanks to a 120Hz AMOLED display, quad cameras on the back, a huge battery, and 30W wireless charging. If you pre-order the 8 Pro from OnePlus's website, you can offset its cost with $120 worth of free accessories.
Android Central Newsletter
Get instant access to breaking news, the hottest reviews, great deals and helpful tips
Joe Maring was a Senior Editor for Android Central between 2017 and 2021. You can reach him on Twitter at @JoeMaring1.
Stop supporting Chinese companies!

I'm going to buy something from them just because of your comment, well done convincing me.

Device you used to post wasn't manufactured in Amerikkka.

Most things you buy are no longer manufactured in the United States we'll have to get past that or Bobby our politicians to get companies to manufacture in the US now probably not going to happen so be comfortable now buying things that are made in China. To let you know that one plus is a independent company not owned At All by Chinese government just to let you know.

Nothing you own electronic wise is truly manufactured in the US. You buying any electronic is supporting Chinese companies.

It's a troll post, and we all fell for it.

You say "fell for it" as if some of us don't purposefully bait them because we find watching them dance entertaining lol.

Yeah I guess it can be fun...

Why? What evidence do you have to convince me to stop buying Chinese made items? How many none Chinese manufacturers have products built in China? Next up don't buy 5G Come on look at the bigger picture. Now down to this phone it looks nice but I'm still not feeling the excitement for phones at the moment. Have a note 8 and due an upgrade in a few months but nothing is shouting out buy me. Surface duo may change that. If not its a mix between the p40 Pro and Xperia 1 two.

I'm very tempted to pre-order for this bonus. Any idea why Verizon has its own model? Do the unlocked ones work on Verizon?

Yes but not Verizon's 5G. Talk, text, and 4G LTE data on Verizon will all work fine.

Nothing free in the UK edition. And only available in two colours... With black being the cheapest.... Poor show after all the teasing

What smartphones are made in the US then?

I wish the blue one was $899 but sadly it's $999 because its the 256gb variant. Smh

The price is high no doubt but so are the specs. Since OP doesn't have a desktop mode (I love me some DeX) and I couldn't care less about 30w charging with or without a cable I will likely pass on this and stick with Samsung. However, the step up(s) that OP has made are impressive.

Want the glacial green color, but it's only available in the 8/128 size. That's a bummer. Blue it is

Just ordered mine. But damn it's extensive

So I had one in my cart at 1203 and it suddenly said it was sold out. I call b.s in that

Crazy. My order went thru at 12:02. Must've just made it

Exact same for me. Not happy. How much stock could there have been that sells out in 3 minutes? Samsung lets you order for delivery in a few days and still able to keep the goodies.

I'd love to preorder it, but they sold out all 3 phones they had available within 30 seconds of it going on sale.

They made no mention of this preorder deal in the announcement and now both the 8 and the 8 pro sold out in seconds? come on now Oneplus. something smells fishy here

Oh boy. You can fry your battery 30% faster.

I had everything in my cart and signed up to be notified when the pre-order went live. Did I get an email saying the pre-order was live? Nope.

The Qualcomm 5g modem is two hundred tacked on, then wireless & ip68. Higher prices of course. The last 3yrs I've read many consumer reviews why no wireless why no ip68. Well now they got it. Why the higher prices? There's three good reasons. Plus the kicker if you purchase through Verizon they tacked on an extra hundred for the base model, 799.00. Then just two colors, black or grey? Then the real kicker, BLOATWARE CITY, Yikes!

Unless you were in the US. I added one to my cart at 12:00 on the button. Got to the payment screen and was booted back to the product screen with a big Sold Out on the page. What did they have, like, three available?! Very poor show.

All deceptive marketing, they sold like 10 phones today and made everyone go crazy trying to buy them. Not supporting Chinese anymore I'll stick with my South Korean Samsung phone.

Cool story. Creating your own "fake news" about 10 phones being sold might make you feel better about yourself. Good luck living a normal life without using something that WASN'T made in China. I agree that the United States should be more self sufficient after current events. But to completely cut yourself off from a company because it's located in a country you don't care for is crazy. To push this point even further, Galaxy devices are MADE in China as well. Do yourself a favor and research things before you blindly cut a company off.. simply search for "where are Galaxy devices made"

This is all going to change. We will see more of this coming back to the States. If anything this pandemic has done is show us having all our eggs in one basket is not a good idea.
Android Central Newsletter
Get instant access to breaking news, the hottest reviews, great deals and helpful tips
Thank you for signing up to Android Central. You will receive a verification email shortly.
There was a problem. Please refresh the page and try again.