The OnePlus 8 briefly went on sale in the UK just hours before its official unveiling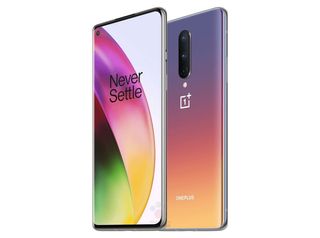 (Image credit: WinFuture)
What you need to know
The OnePlus 8 and 8 Pro are set to be announced today at a streamed event.
The phone has already gone on sale in some parts of the world, confirming specs and pricing.
In the UK, the OnePlus 8 family will run you from £599 all the way to £899 for the highest specced Pro.
The OnePlus 8 and 8 Pro are to be announced today in just a short number of hours, but they're already on sale on some parts of the word. The UK retailer John Lewis listed the OnePlus 8 (opens in new tab) and 8 Pro (opens in new tab) as available for sale on now pulled pages. It'll be selling them in two configurations each, an Onyx Black base version with 8GB of RAM and 128GB of storage, and a Glacier Green variant with 12GB of RAM and 256GB of storage. All will ship with 5G built-in.
The OnePlus 8 will start at £599 for the base version, with increments of £100 for each tier up. In other words, you'll pay £699 for the OnePlus 8 with 12GB of RAM, £799 for the base OnePlus 8 Pro, and £899 for the OnePlus 8 Pro with 12GB of RAM.
Other than that, both devices are broadly similar. The Pro has a larger and better 6.78-inch 120Hz display, while the regular 8 has a smaller but still smooth 6.55-inch 90Hz display. Their RAM and processors are more or less the same, and OnePlus has equipped both with large cameras (albeit with a quad-camera system for the pro and a triple for the regular.)
Spec sheets don't always tell the full story. It's likely still worth watching the event to see how OnePlus positions these devices.
OnePlus 8: News, Leaks, Release Date, Specs, and Rumors!
With OnePlus generally specs do tell the entire story isn't it? I understand the benefits of Oxygen OS and the nifty silence button but otherwise there really isn't much.
899 £ wow!

Flagship Killer no more? But are consumers willing to pay the higher prices? Maybe maybe not!

Direct currency conversion is usually ballpark at best, but a prospective price range in the vicinity of $750-$1100 USD is really pushing it out of the 'budget' flagship range

Nah, OnePlus have been forking the UK without lube for the last few years, and you also have to take VAT into account. I'd look at $600-$850 for the US.

For the OnePlus 8 at least, it's the US that's been screwed over this time as the base version of the OnePlus 8 is £599 while the US version is $699 while the 8 Pro is the same in pricing as the US.
Android Central Newsletter
Thank you for signing up to Android Central. You will receive a verification email shortly.
There was a problem. Please refresh the page and try again.