NVIDIA partners with Nyko to launch game controllers for Android tablets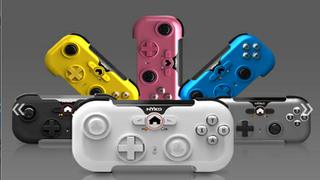 Peripheral makers Nyko have announced a partnership with NVIDIA and have unveiled a line of game controllers for use with Android tablets. The controllers, the Playpad and the Playpad Pro, are optimized for use with Tegra devices and should work flawlessly with the Tegra 3 chipset. Devices are also required to be running Android 3.0 and above with Bluetooth capabilities.
The controllers will be useable right from the outset, no rooting, hacking or tweaking is required. Through a free application too known as Playground, support for legacy apps that aren't optimized for Tegra devices will be possible as well providing they meet the necessary criteria.
The Playpad will be the smaller of the two devices, and will come with dual analog sliders, a carry case and a collapsible tablet stand. The Playpad Pro by contrast is a full sized gaming controller, with dual analog sticks, a D-pad, shoulder buttons and face buttons.
Source: Nyko via Pocket Gamer
Android Central Newsletter
Get instant access to breaking news, the hottest reviews, great deals and helpful tips
I'll stick with my sixaxis app and ps3 controller. Most high end games automatically recognize it anyway. Shadowgun and GTA3, to name a few, work flawlessly.

Interesting. Might have to try that.

does sixaxis work with an xbox controller?

does sixaxis work with an xbox controller?

I think its a different wireless technology. But i know ps3 controllers are Bluetooth. And yeah its pretty cool.

About time, I have been asking about this type of device for a while. I hope that it will be compatible with non tegra devices

Phonejoy and other companies have been making similar BT 2.0 game pads for a while now, they work fine with emulator games and the scant few market games that support alternate input methods. Phonejoy's pad in particular works with phones too (even on Gingerbread) thru the use of an app.

Phonejoy makes some nice products, but they are pretty much PS3 controllers, I wanted something a little more portable. And the Zeemote is too wonky. Although Gametel had a good idea, but they crapped out and it was mostly for phones. It is nice that this could be for my phone or my future tablet.

The shells are PS controllers, yah, they announced they were making a portable one in a recent newsletter but I dunno where they're at with that. I agree this looks nice as a more compact option, depending on size. I've got a USB Genius pad that folds down the middle and it's downright tiny, it's like the radius of a golf ball once folded (but flat on each side obviously). It's actually a really clever idea imo, dunno why it hasn't been copied more.

sadly it is bluetooth 3.0 and above

I like this. I am currently using an iControlpad and only really play emulators but depending on how thick this is I may try it out. I like the dpad. Hard to find one like that on anything but a Nintendo branded controller...

I love this controller. I've been looking for a small controller with more buttons than the Wii-Mote. I was considering giving up on the wait and getting the Gamestop controller, but now I may have to wait on this. I wonder why it's taking so long before its release.

"optimized for use with Tegra devices"
Can't understand what Tegra has to do with it.
Theyz just Bluetooth 3.0 buttons y'all.
Does Tegra have some non-standard game controller crap built-in?
Android Central Newsletter
Get instant access to breaking news, the hottest reviews, great deals and helpful tips
Thank you for signing up to Android Central. You will receive a verification email shortly.
There was a problem. Please refresh the page and try again.