NVIDIA announces the Tegra K1 SoC with 192 GPU cores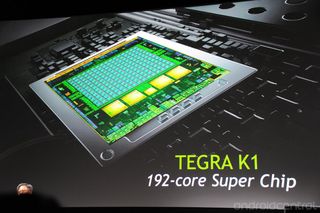 192 cores all in one processor
NVIDIA has taken stage in Las Vegas at CES to announce some great new things, and among them is the Tegra K1, their latest processor. Making a huge jump from the Tegra 4 the all new Tegra K1 brings 192 cores to the table. This chip, which NVIDIA calls a super chip, will be fully programmable by applications, and will allow all of the cores to be used in parallel.
This year NVIDIA has some large plans with bringing products into consoles and cars, and the Tegra K1 helps bridge that gap. Based on the Keplar technology they will be able to bridge the gap between many of their products all while giving the best experience to every user.
NVIDIA Unveils Tegra K1, A 192-Core Super Chip That Brings DNA Of World's Fastest GPU To Mobile
Kepler GPU Architecture in GeForce GTX 780 Ti Morphs Into Mobile Graphics Powerhouse; Available in 32- and 64-Bit Versions
LAS VEGAS, NV - CES -- NVIDIA today unveiled the revolutionary Tegra® K1 mobile processor, a 192-core super chip featuring the same NVIDIA® Kepler™ architecture that powers the fastest GPU on the planet, the NVIDIA GeForce® GTX™ 780 Ti. For the first time, next-generation PC gaming will now be available on mobile platforms.
The Tegra K1 processor sets new mobile standards by supporting the latest PC-class gaming technologies, enabling it to run sophisticated gaming engines like Epic Games' Unreal Engine 4. It delivers advanced computation capabilities to speed the development of applications for computer vision and speech recognition. And its extraordinary efficiency delivers higher performance than any other mobile GPU at the same power level.
"Over the past two decades, NVIDIA invented the GPU and has developed more graphics technologies than any other company," said Jen-Hsun Huang, co-founder and CEO, NVIDIA. "With Tegra K1, we're bringing that heritage to mobile. It bridges the gap for developers, who can now build next-gen games and apps that will run on any device."
Tegra K1 is offered in two pin-to-pin compatible versions. The first version uses a 32-bit quad-core, 4-Plus-1™ ARM Cortex A15 CPU. The second version uses a custom, NVIDIA-designed 64-bit dual Super Core CPU. This CPU (codenamed "Denver") delivers very high single-thread and multi-thread performance. It is based on the ARMv8 architecture, which brings the energy-efficient heritage of ARM processor technology to 64-bit computing.
Both versions of Tegra K1 deliver stunning graphics and visual computing capabilities powered by the 192-core NVIDIA Kepler GPU. The 32-bit version is expected in devices in the first half of 2014, while the 64-bit version is expected in devices in the second half of the year.
Simply Unreal:Setting Stunning New Gaming Standards
Tegra K1 provides full support for the latest PC-class gaming technologies -- including DirectX 11, OpenGL 4.4 and tessellation. These capabilities will enable PC and console game developers to finally bring their stunning, visually rich titles to mobile devices.
Such features enable Tegra K1 to run the world's most advanced game engine, Unreal Engine 4. Unreal Engine is the most successful commercially licensed game engine, powering hundreds of games on high-end PCs and consoles.
Tegra K1 is also the first mobile processor to deliver the same graphics features as the next generation of consoles (Xbox One, PlayStation 4) and faster performance than current generation consoles (Xbox 360, PlayStation 3), all in the palm of your hand.
"With the introduction of this revolutionary processor, we can take applications that run on PC or console and run it on Tegra," said Tim Sweeney, founder of Epic Games and developer of Unreal Engine. "From here onward, I think we're going to see the performance and feature gap between mobile and PC high-end gaming continue to narrow to the point where the difference between the platforms really blurs."
Computationally Advanced:Delivering New Creative Capabilities
Tegra K1 is the first processor to bring advanced computational capabilities to mobile -- leveraging its advanced GPU to deliver new mobile experiences.
It is also the first mobile processor to support NVIDIA CUDA® -- the world's most pervasive parallel computing platform. Developers have downloaded CUDA more than 2 million times to create cutting-edge GPU-accelerated applications for computer vision, advanced imaging, speech recognition, video editing and more.
Stunningly Efficient: Establishing New Benchmarks
In addition to its graphics and compute capabilities, Tegra K1 delivers breakthrough efficiency. The Kepler GPU at the heart of Tegra K1 is 1.5 times more efficient than other mobile GPUs. This results in faster performance in the same power envelope and a better experience for gaming and GPU-accelerated applications.(1)
Kepler -- first introduced in desktop and notebook systems, and later brought to workstations and supercomputers -- is the world's fastest and most energy-efficient GPU architecture. Tens of millions of Kepler-based graphics cards and systems have been shipped, including the GeForce GTX 780 Ti.
"Kepler powers all 10 of the world's most energy-efficient supercomputers," said Linley Gwennap of the Linley Group. "By scaling this technology down, NVIDIA has set the new standard for what's possible in mobile devices."
More details about the Tegra K1 are available at www.nvidia.com/object/tegra-k1-processor.html.
Jared started off writing about mobile phones back when BlackBerry ruled the market, and Windows Mobile was kinda cool. Now, with a family, mortgage and other responsibilities he has no choice but to look for the best deals, and he's here to share them with you.
YouTube in one second... Posted via Android Central App

Real question is what will be the first device to pack this inside Andi would love to see the HTC One Max 2 with this 64-bit cpu inside via A.C. App

Sounds good, but will it save battery drain or be a bigger drain?

Marketing. It is the same 4+1 cores as the Tegra 4 and Tegra 3. But now it has 192 graphics cores instead of the 72 in the Tegra 4 or the 12 in the Tegra 3. Those GPU (not CPU) cores contribute only to graphics speed.

yeah, that was very misleading. but it still is 2.5x more powerful than the most powerful graphics chips that are currently out. now I wonder about denver's performance...

In a really parallel application the GPU cores should be used for computation (used like CUDA or OpenCL on a PC). It's hard to imagine a scenario where that be useful in mobile, though. I don't do a lot of bulk data decryption or video encoding on my phone.

Yes, but isn't Android's project butter designed to used the GPU to speed up the mobile device? If this is the case then this chip will make Android devices very smooth and faster than they abreast are.

The revultion of nvidia finally ! Posted via Android Central App

I want to touch all the cores... Yup, I wanna touch them... Posted via Android Central App

Okay. Posted from my Nexus 7(2013).

Are you gonna let him touch them? Or not? Posted from my "Gift from God" Nexus 5, my "God-Given" iPad Mini 2, or my "Risen" Samsung Chromebook.

Depends. Is he a known processor rapist? Posted from my Nexus 7(2013).

And is it legitimate rape or not? -----------------------------------------
sent from my DROID Eris, made by Nokia, powered by iOS 7 via BBM

Yup. So many factors, lol. Posted from my Nexus 7(2013).

I see what you did there.... Posted via my kitkat-powered machete with a Tegra 4.

The future is here. Sent from my out-of-this-world Galaxy S3

When they say "cores", they almost certainly mean "ALUs", which is nothing like what people usually mean by cores. I assume what they really mean is that it contains a single SMX unit (which in Kepler GPUs have 192 ALUs), what people would usually consider to be a single GPU core. That's presumably combined with four ARM cores (the four large yellow squares in the picture) and a single companion core (the smaller yellow square between them) for low power. Don't pay too much attention to headlines like this. It's just marketing.

Thanks! I always wondered if Nvidia was referring to actual cores or not. Posted from my "Gift from God" Nexus 5, my "God-Given" iPad Mini 2, or my "Risen" Samsung Chromebook.

I don't see this, even with it being awesome coming to many tabs or phones. Nvidia can't compete with Qualcomm. Posted from my Nexus 7(2013).

MOAR COARS !!!! had to be done -----------------------------------------
sent from my DROID Eris, made by Nokia, powered by iOS 7 via BBM

Moor Coors? Can't say it's my fav, but it's still beer.

I wonder if ASUS will have yet another Transformer for us, with this thing.

That would be utterly awesome!! Posted via my kitkat-powered machete with a Tegra 4

I can't wait until Ubuntu is completely ready for ARM processors. Procedures like these can really make mobile substitutes for PCs in some cases Posted via my kitkat-powered machete with a Tegra 4

Jeezus... Comes with a warning on the device instructing do not handle this device while playing graphically intense games. 3rd degree burns may result... LOL

Damn should I throw away my gaming rig lol Sent from my Nexus 7 2013 or Moto G

I want GTA V port on my phone >:[ Posted via Android Central App
Android Central Newsletter
Get the best of Android Central in in your inbox, every day!
Thank you for signing up to Android Central. You will receive a verification email shortly.
There was a problem. Please refresh the page and try again.