Nova Launcher 5.0 brings Pixel-y goodness to all, new gesture options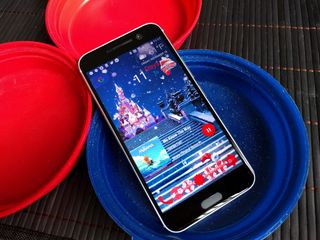 Nova Launcher, one of the best third-party launchers and possibly the best thing to ever happen to Android, turned 5 years old this week. Huzzah! As with most anniversaries this one comes with gifts, in the form a big 5.0 update that rolls out many beta features to the rest of us and bring a few useful tools for those us who are just discovering (or rediscovering) this awesome launcher.
Nova's Pixel-y features are out in full force now, from the pill search bar to the tinted dock and swipe to open the app drawer. Nova Launcher has also implemented the Android 7.1 launcher shortcuts, meaning when you long-press a supported app, you'll get more options than simply Edit or Remove. Keep in mind that apps have to enable these shortcuts before Nova can show you them, so it'll take time for this to move beyond Google apps.
Gestures have also expanded — again! We now have double-tap swipe gestures to implement, and we have a new shortcut that I fell quite in love with during its beta: a new Screen Lock method that turns the screen black and sets the screen timeout to five seconds, allowing your device to remain unlocked if connected to a Trusted device or location, but still turn the screen off quickly without wearing out the power button.
We also have a new feature hiding in the oft-overlook Backup & import settings menu. Called "Quick Start", it allows you to quickly change some Nova features like the Dark theme, app drawer style and dock style. It's not quite the instant Pixel application tool Action Launcher has, but it's wonderful to see a way to quickly change multiple settings without digging into individual menus.
If you haven't checked out Nova Launcher (opens in new tab) yet, now is the perfect time to dive in! If you need any advice, we're here for you with tips and tricks and settings help.
Get the Android Central Newsletter
Instant access to breaking news, the hottest reviews, great deals and helpful tips.
Ara Wagoner was a staff writer at Android Central. She themes phones and pokes YouTube Music with a stick. When she's not writing about cases, Chromebooks, or customization, she's wandering around Walt Disney World. If you see her without headphones, RUN. You can follow her on Twitter at @arawagco.
I updated last night and changed some of my settings. Only to change them back because I'm too set in my ways.

What settings? I've not updated yet but would be good to know

The pixel ones where you can swipe up to get to your app drawer. There are others. I just couldn't do it. 5.0 Dec 13
Swipe to open drawer (a la Pixel Launcher)
New Pixel style searchbar
New search view, with tabs for Frequent, Recent and New/Updated apps
New "Timeout" screen lock method
New double-tap-swipe gestures
Android 7.1 launcher shortcuts
Dock backgrounds to draw under navbar
Quick start to easily change major settings (Nova Settings > Backup > Quick start)

It's Dec 17, and the version in play is still 4.6. Are they doing a gradual rollout?

1st android phone. I am still trying to understand this nova launcher thing. Any good videos?

I'm on my second android phone as well. Are you trying to understand what it is and what it does before you install it?

YouTube has some good vids. I switched to Android about 6 months ago. Used Nova cuz it gets rave reviews and it is great if you really want no end to customizations options. But I went back to stock Google launcher on my 5x. Grew tired of tinkering with Nova and stock launcher is great for a clean look plus 5x started lagging a bit on Nova. But Nova is excellent.

I don't know about videos, but Ara wrote a pretty good article about some of the basic features and customization options a few weeks ago. It focuses on the previous version, but it'll be useful for someone who's new to third party launchers. http://www.androidcentral.com/first-five-settings-know-when-switching-no...

And it's not like any of those settings vanished in the new version. Best advice for easing into launchers is to start with one that lets you import your current setup from your current launcher. Like Nova.

With my Moto you can hide apps in the app draw (rather you want to just clean up your app draw or you don't want you miss etc.. to see or have access to an app). When you want that app you have to swipe down while in the app draw and search for it. With the new swipe up for app (instead of button) the search function does not work. Swiping down while app draw is open only classes the app draw. Just an FYI Posted via Android Central App

I used the new pixel stuff for a week or so then turned it all off. The new gestures are great though!

Too much to learn. Too old to care. :(

I wish they had a feature to give the dev more money.

Ara you are a true Nova gangster just like me lol I love the introduction part. I had no clue they been around so long. Just wish I had discovered them earlier. Looking forward to the update the long press on a given app sounds pretty cool to me.

"Nova gangster"? So you steal icon packs from other people and mercilessly gun down anyone who uses a different launcher and their children? I think you've taken it too far...

I prefer to call myself a Nova adventurer. I hunt for good themes and have lots of hidden tips and tricks in my layout for added coolness and charm.

I tried that Pixel style pill search button, but I didn't like it. Maybe it works differently on the actual Pixel, but it just made my homepage look weird.

Might give this another go now that it has been updated.

It removed the "app info" option on some of the apps (Google apps?) when long pressing which sucks because it was there before the update. Smh..

You have to tap icon options now to get to app info on things with long press shortcuts, it seems to be there for everything for me.

I have a Blackberry Priv, will I loose Picture Password and or the Hub?

I don't know about Picture Password (if it's a lock screen thing, then I think it should be independent of and not affected by the launcher), but according to folks at CrackBerry, BB Hub works fine with Nova.

But you can't import the settings from the default launcher. At least I cannot choose from anything when I want to import settings.

Ara is the undisputed queen of launchers! Nova is great, it's on all my phones, couldn't be bothered to change....

Oh, stop.... (whispers) Keep going....

I can't stop using Arrow launcher

Still my launcher of choice.

My favourite launcher, but still waiting on a deal for the prime version. I hope it'll be on sale, soon.

I got it for a quarter years ago. I want a donate button so I can give the dev more money.

It would be great if it counted as a write-off on income taxes :D

Yeah, don't need it that cheap, 1$ to test the prime features would be good for me :D

When Ara says get it, Get it.!

What happened to the swip up on an icon to launch a 2nd app? Damn, that was my favorite feature.

The best launcher just got better. Changed to use the new features and enjoying it. My Nexus 6 feels refreshed with Nova launcher and Nougat

Since this update whenever i clear apps from recent apps, it always takes me to last used app after clearing... Can any1 tell me solution!!.......