The Note 20 Ultra is the first Samsung phone I've liked in years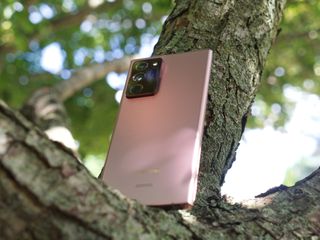 (Image credit: Joe Maring / Android Central)
Samsung phones and I usually go together as well as oil and water. Galaxy S and Note devices stand out as some of the biggest Android releases of the year, not to mention Samsung is one of the largest tech brands on the planet. It's no secret that a lot of people like the company's gadgets, but try as I might, I just haven't been able to get excited about Samsung's Android phones over the last few years.
Whether it be Samsung's heavy-handed software customization, tired designs, or good but not amazing camera systems, I always find myself drifting to another Android (lately my Pixel 4 XL) even when I have a Galaxy at my disposal. This happened for the Galaxy S10 and the Note 10 back-to-back, so when given the opportunity to review the Note 20 Ultra, I wasn't immediately optimistic.
I've now had the Note 20 Ultra as my daily driver for a little over a week, and during that time, I've come to a conclusion that I didn't anticipate. Not all of my qualms with Samsung are addressed with this phone, but it's easily one of my favorite devices of the year — and it has me excited for Galaxy releases once again.
It all starts with that display, which is (obviously) one of the best you'll find on any smartphone. You get the usual Samsung goodies of a vibrant AMOLED panel and slim bezels, and just like the Galaxy S20 before it, the Note 20 Ultra boasts a buttery smooth 120Hz refresh rate. I tried playing around with the Note 10+ before my Note 20 Ultra arrived, and as much as I like certain things about that phone, Samsung's software with a 60Hz panel just feels bad to me. I can use an iPhone 11 Pro with a 60Hz screen just fine, but something about the way One UI moves/feels on that lower refresh rate is Not It.
Now that I have a Galaxy phone that doesn't feel like it's constantly lagging, I'm able to just use and appreciate it for what it is. I'm still not the biggest fan of everything Samsung does with One UI, but with Lawnchair as my default launcher and that 120Hz making everything run like butter, my Note 20 Ultra performs a lot like a Pixel that Google could only ever dream of making.
Speaking of Pixels, I've been seriously impressed with the Note 20 Ultra's cameras. I never got a chance to mess around with the S20, but I've heard enough horror stories from colleagues about focusing issues from the S20 Ultra that I never felt like I was missing out on much. In my time with the Note, it's performed every bit as good as I could have hoped for. It has zero issues focusing on subjects, the periscope sensor allows for incredibly fun zoom shots, and night mode is far better than I was anticipating. It falls into the camp of one of those phones you can whip out, take a picture, and know you'll get a great shot. When you pair that reliability with the additional lenses and Samsung's endless settings/features, the end result is a camera package that I'm regularly excited to play around with.
Then there's the design. Say what you will about the large camera bump or the pink-ish Mystic Bronze color, this is the best-looking phone Samsung has ever made. The matte glass looks and feels outstanding, fingerprints are kept to a minimum, and the overall attention-to-detail is unmatched.
Yes, the camera housing is big, but it's also one of the nicest-looking ones I've ever seen. The darker bronze color contrasts beautifully with the rest of the phone's body, and even something as small as the colored accents around each lens makes it feel like a thoughtful design decision rather than a slapped-on afterthought. Combine that with the flat edges and wonderfully clicky buttons, and it's easy to see that a lot of thought and detail went into designing the Note 20 Ultra.
With that praise out of the way, I fully recognize and understand the criticism surrounding the Note. $1,300 is a lot of money to spend on a smartphone during any time period, but especially so given the financial constraints so many people are feeling right now. If the Note 20 Ultra is out of your budget, that's absolutely fine. If you want a barebones Android phone that does everything really well for considerably less money, just buy the Pixel 4a and call it a day.
If you are financially able to get a high-end Android, however, it's honestly hard for me to think of anything better than the Note 20 Ultra. And again, I'm saying that as someone who typically ignores these phones year after year. Samsung does so much right with its devices, and now that I have a smooth-as-can-be display, fully reliable cameras, and a design I'm actually excited about, I can finally appreciate all of those high points now that most of my biggest issues have been addressed.
I'd still love to see One UI scaled back a bit and Samsung sunset its duplicate apps, but for the first time in a long time, I can't wait to rock a Galaxy as my daily driver.
Ultra Note
(opens in new tab)
Samsung Galaxy Note 20 Ultra
One of the most premium and capable phones of 2020
It's been a lot time since I've had a Samsung phone that I legitimately liked using, but the Galaxy Note 20 Ultra changed that. Just about everything the phone does is handled exceptionally well, whether it be the gorgeous design, 120Hz display, or outstanding cameras. Whether or not it's worth $1,300 is up for you to decide, but regardless, it stands out as my favorite Galaxy handset in a long time.
Android Central Newsletter
Get instant access to breaking news, the hottest reviews, great deals and helpful tips
Joe Maring was a Senior Editor for Android Central between 2017 and 2021. You can reach him on Twitter at @JoeMaring1.
Completely agree! I had the s10+ and while I liked it, it just didn't feel fast enough. The 120hz really makes the Samsung software perform.

120hz will make any software fly.

Software experience has been same for most of One UI versions so surprising to see that you like it now. There hasn't been lag at least from Note 10 and onwards.

How does the 120hz screen affect battery life?

Battery life is less on 120hz but I have to say it's a non issue with the super fast charge on these phones. I am on S20 Ultra

One YouTube comparison I saw showed less than an hour difference. But it's just a single data point.

Reviewers have reported about 5 hours of screen-on time. For such a big battery (smaller than last year, BTW) and only 1080p (120hz), this is not worth it to me. For such a huge expensive phone, I want at least 6 hrs.

S20 Fan Edition vs. Pixel 5. Hmmmm.....

No, they shouldn't sunset Samsung's own apps. I prefer a few of them to Google's. Allow folks to uninstall them, fine.

I bought mine and I am using it for 4 days. It is marvellous. The best phone I had in my life. I am very satisfied. I didn't find it too big in my hands. It is just the same size as the Oneplus phone, just a little higher. I bought a case that fits perfectly and hides the bid camera bump. I will keep this phone for 4 years. I don't know how they can improve from this model now. I think I don't need anything more than what I have now.

1) People who complain about Samsung skins never acknowledge that nearly everything from TouchWiz/One UI winds up in Google Android down the line, and that the only reason why TouchWiz/OneUI exists in the first place is because Google doesn't know how to do UI/UX on commercial products. Android was originally a Blackberry clone, was then shifted into being an iPhone clone, and it was only by virtue of absorbing the UI customizations from the likes of Samsung and HTC over the years that it became a viable product. By contrast, Android Wear/Wear OS, Android TV and ChromeOS - products that the manufacturers HAVE NOT been allowed by Google to turn into things that consumers actually want to buy and use have fallen flat on their face. (ChromeOS succeeded only because Google flat out abandoned the original purpose for the OS - cloud computing - to where it is know a swiss army knife platform that runs Android, Linux, PWA and soon Windows apps ... and because their very cheap versions can be bought in bulk for public schools.) 2. People who complain about "duplicate apps and services" on Android phones just don't care about the NEED for Android OEMs to make money. The vast majority of Android devices sold cost less than $250, which is just about the amount of money that it takes to R&D, manufacture, box and ship the devices. The manufacturers get very little margin from hardware sales, so they attempt to make it up on accessories and services. That is Amazon's entire business model: they sell their hardware at cost - and at less than cost during Prime Day, Black Friday and other sales - in order to make money on selling books and renting movies. It is amazing ... this site has been bashing flagship Samsung phones for the past 6 months - while its next similar article bashing Apple phones that cost just as much will be the first - while denigrating the very software and services that allows companies to make a profit selling quality hardware at cost in the first place. Google is able to sell the Pixel 4A for $349 because Google makes billions on Google Play and on the ads that they are able to sell with the data that they get from Chrome, Gmail, YouTube, Messenger, Duo, Docs, Drive etc. Samsung and the rest don't get that revenue, they certainly don't sell 50 million devices that cost $700 or more a year, so they need to get that money another way. Several companies have either significantly cut back their Android device manufacturing - Sony and LG come to mind - or have completely stopped making them altogether (Dell, HP, Philips, HTC, Kyocera etc.) If you want that to continue then by all means PLEASE keep whining about the only viable way these companies can eke out a profit.

You are absolutely right, I was a die hard blackberry fan all years, I never imagined I will use a Samsung phone one-day, in fact, I switched to Samsung from the blackberry Priv to the s9, I had then the S10, and now the s20, and man, I LOVE Samsung, one UI is great, I have no idea what the so called 'bloatware' these reviewers are talking all day along from is.

Yes to everything. Long post, but well written.

Well I am now convinced that this web site is completely biased towards Samsung or any company willing to pay up for a good write up! What a joke AC has become. Every new phone from Samsmug is the greatest thing since sliced bread...except it will cost you about 1300 loaves to get one! LOL
Curved screen = FAIL
Punch hole selfie = FAIL
Hideous carbuncle on the back = FAIL
$1300.00 = MASSIVE FAIL!!!!!
ROFLMAO

Sounds like you just dislike Samsung phones man. For me they remain the best. Curved screen = Plus, not a reason to berate a review
Punch hole selfie = Plus, How could this be improved with current technology?
Rear camera = Personally I like it
$1400 = It's an Ultra model. What are you expecting really? Hope you don't hurt yourself with all that laughing there

Somebody didn't get their nap today.
😭 @Stanley
What other new phones are better than Samsung? Which OEM's would you like to see here?

Actually, AC is a hard core Pixel pusher. This article is the first nice thing AC may have ever written about One UI....meanwhile the rest of us realize most of what One UI is today ends up as stock Android tomorrow.

You seem pleasant. You should buy one and actually use it before making such ridiculous claims.

Youre crazy samsung S10 was the best phone ever made

This review just says "I dislike Samsung phones, but now they're faster". Never found my S4 (TouchWiz sucked), S7 Edge or S10 slow personally. OneUI remains the best mobile experience across Android and IOS. Although I do use Microsoft Launcher which improves it a little.

The only time my old devices seemed slow was when I compared them to TODAY'S tech. They are just as fast now as they were back then.

I've had my Note 20 Ultra a couple of days. I wanted to wait longer with my Note 8, but music matters, and YouTube music lagged. My goodness, don't let anyone tell you 12GB of RAM is too much on a phone... You can have so many things open and it doesn't slow down. The camera was also a pleasant surprise. The Note 20 Ultra is easily the best Samsung phone ever... And it's about time 3yrs of updates are baked in... Should match five from Apple, but this is good. We may have now reached peak phone... I suppose camera's will continue to improve. You don't notice the camera bump if you have the (perfect) Otterbox Defender case.

Still looking for slow in my S10.

Has to be one of the ugliest phones I've seen 😜

It's literally the best Samsung phone I have ever used.

The Note has always been a great phone. There's no question there, but, is it $1000 (one THOUSAND) better than the pixel 4a. the answer is NO.

🤔Will the $1000 difference between the Note 20 Ultra and Pixel 4a be greater one year from now? The answer is yes. Try the Note 20 Ultra for a week, or ten minutes in a store... I agree it's expensive... But it's so, so good. Will I trade it in or buy it out from my carrier a year from now? Tough call... The Note 21 Ultra would have to be very special... I'm not that interested in paying for a phone forever... Three to five years is just ok.
Android Central Newsletter
Get instant access to breaking news, the hottest reviews, great deals and helpful tips
Thank you for signing up to Android Central. You will receive a verification email shortly.
There was a problem. Please refresh the page and try again.