Nokia is back with three new Android phones, launching globally!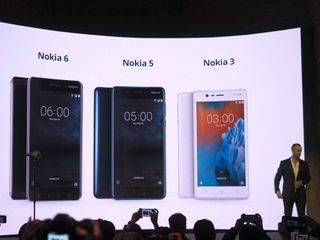 Nokia already tipped its hand earlier in the year with the launch of the Nokia 6 in China, and now the handset is getting a global release, joined by two more affordable offerings, the Nokia 3 and Nokia 5, announced in Barcelona at its MWC 2017 press conference today.
The Nokia 6 is the same handset we've seen for the Chinese market, only with software geared towards the West. That means "pure" Android Nougat with Google Assistant, and a commitment to frequent automatic updates. Like its Chinese counterpart, the Nokia 6 includes a 5.5-inch Full HD display with 2.5D curved glass, a Snapdragon 430 SoC, 4GB of RAM, 64GB storage, microSD slot, dual-SIM connectivity, 16MP rear camera with PDAF (phase-detection autofocus), Dolby Atmos sound with stereo speakers, Bluetooth 4.1, LTE, 3000mAh battery, and a fingerprint sensor.
In Europe, it'll sell for €229, while the special black glass model will run €299 when it's available in the second quarter of 2017.
The Nokia 5 steps down to a 5.2-inch display and 2GB of RAM with 16GB of storage, with a 6000-series aluminum body and antenna lines top and bottom, as part of a curved metallic design for €189. And at the entry level, the polycarbonate-backed Nokia 3 runs quad-core MediaTek chip and packs a 5-inch display, with RAM and storage configurations identical to the 5, priced at €139.
Nokia is clearly going after the entry-to-mid-range segment with its new handsets, with a handful of standout design features, and slick software that may tempt more tech-savvy users. What's more, the brand recognition of this veteran manufacturer shouldn't be underestimated.
We'll have more on all of Nokia's new Android phones from MWC 2017 landing shortly, so stay tuned!
Android Central Newsletter
Get instant access to breaking news, the hottest reviews, great deals and helpful tips
Alex was with Android Central for over a decade, producing written and video content for the site, and served as global Executive Editor from 2016 to 2022.
Interestingly Nokia 5 is more appealing than Nokia 6 for me. Waiting to buy it when available in india.

Very cool awesome to see Nokia jump onboard with Android hopefully it works out better for them than windows moblie did.

Yeah! And Nokia also adopted pixel launcher.

Motorola did the same thing. I guess that's the stock rebranded (Now) Google Launcher

I guess that confirms rumors of Pixel launcher going everywhere and replacing Google Now Launcher.

You didn't hear that Google Now Launcher was discontinued and would be disappearing from Google Play?

We all know that. What we do not know yet is if the Pixel will be the replacement for all non-Google phones.

Very exciting and good price point. Why no details on the 3?

You can check all the details at nokia.com/phones This article was rushed as hell.

I'm getting the Nokia 5. That's not up for discussion....It will be mine.

Hopefully this works on US carriers. I'm definitely in for one..

Same. I really want the 6

Imagine where Nokia would be right now if they had passed on Windows mobile and went with android at that time. They could be where Samsung is in the market.

Nokia would been the same with Windows phone or Android an company don't get saved by just use another is they always used symbian and nobody got their high end phones

To me looks like the clone of Lenovo phones but with mediatek chip also wouldn't purchase their phones I had an very horrible experience with an tablet with mediatek very slow so no, when Nokia get ones with Qualcomm processors there would get my attention

Nokia 5 and 6 have Qualcomm 430 chips

I'd love a 600-series Snapdragon on Nokia 6

Same. If it had the 625 I'd be very intrigued

I guess based on the initial reaction and sales figures, Nokia might launch a true high end series 7/8/9 with an SD6/8xx series processor. This clearly doesn't look the best effort from Nokia so I'm sure there's more to come eventually.

Same strategy used for Windows Phone. Mostly low to mid range hardware. Good strategy for some market share, but not profit

Will definitely buy Nokia 6 when launched in India... As 2nd phone.. Waiting for Nokia 8...

Buying Nokia 6 makes better sense, for a marginally higher price we get 1GB of extra RAM and double (32GB) internal memory. Welcome back Nokia!

And that beautiful black finish. I'm definitely getting the Arte Black Nokia 6 just because I love shinny things.

Where's all the bezel hate?

Good idea to leave the software alone and its great that they very much into doing security updates. I would get the Nokia 5 as a second handset

These are Nokia in name only (i.e Licensed). they are really Foxconn phones and design.

No, they are not. As I've explained a million times: - Nokia's design team remained at Nokia when they sold the D&S services to Microsoft (as confirmed by Nokia's CEO at the Analyst meeting on Sunday);
- Nokia has a sit at HMD's Board of Directors and actively oversees and controls what HMD does (as also confirmed by Nokia's CEO at the meeting)
- HMD is made entirely of ex-Nokians, Designers included;
- Nokia Technologies and HMD work closely with each other; Foxconn has as much input in these devices as they have on the iPhone. Are the iPhones "really Foxconn phones and design"?

These are the galaxy killers that folks where waiting for ...hum interesting .... Pass

They compare very well with Galaxy J series, which is what they are competing with at these prices Richard.

My thoughts exactly. Same strategy different OS. Not convinced low end will get Nokia truly back in the game

I was excited for Nokia's comeback at MWC but no flagship announced.

You can thank Samsung and their shady deals with Qualcomm for that

Yeah blame everything om Samsung cuz its cool. lol

There is nothing shady in making a deal. Manufacturing for exclusivity is called a "Business Deal". It would be BAD business to do otherwise. Samsung's chip manufacturing division is not a non-profit entity and both parties agreed to this deal in good faith. No other company has a "right" to a chip made by Qualcomm and produced by Samsung. To think otherwise is naive.

'Pure Android' always gets my interest, but they'll also have to be Project Fi ready. 5.0", 5.2" and 5.5" - seems like they should have spread the sizes out a little wider. Like 4.5", 5.0" and 5.5". Or 4.0", 4.75" and 5.5".

Was expecting to hear more about a high end device. Also, I hope these offerings preserve the legendary Nokia durability.

Wow. Finally a company understands simple device selection. Keep it up Nokia

Nice to see Nokia again. I'm interested in the flagship, but it sounds like the Nokia 8 will be too large for my liking.

what I don't understand with all the comments is everyone has Nokia figured out already its just 4 phones and we are still only in the 2nd month of the year. Cant we just wait and see before we write them off

Oh, only aiming at the bottom-end sector. Too bad, I was curious to see what kind of competition they could bring to Android.
Android Central Newsletter
Get instant access to breaking news, the hottest reviews, great deals and helpful tips
Thank you for signing up to Android Central. You will receive a verification email shortly.
There was a problem. Please refresh the page and try again.