Nokia 9 PureView hands-on: Would you like a phone with that camera?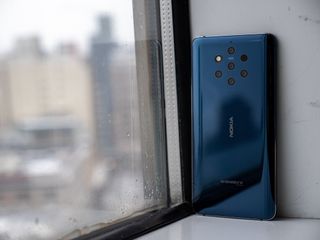 (Image credit: Android Central)
You have to credit HMD Global for its success rate since it brought Nokia's smartphone brand back from the brink of death in late 2016. By the time its first Android phone, the Nokia 6, emerged in January of 2017, it was clear the company was onto something.
By the end of 2018, with over a dozen handsets under its young belt, the reputation had been earned: Nokia was back.
At MWC 2019, the Nokia brand is on four new Android phones, including an ambitious and confounding flagship that, if it works, stands to be one of the best camera phones ever made.
Nokia 9 PureView
Nokia doesn't throw the PureView name around lightly, and that's because it's associated with Lumia phones that even today maintain a legacy not just over great photo quality but of attention to software detail that professionals appreciate.
Nokia 9 PureView is not just the first of HMD's Android phones to use the label but it stands, at least for now, as the company's flagship product. The call to action here is its five-camera setup on the back, an ambitious collaboration between HMD itself, lens maker Zeiss Optics, American multi-lens camera startup Light, and Qualcomm.
Qualcomm comes in because HMD worked with the chipmaker to optimize last year's Snapdragon 845 to work with five rear cameras — the platform technically only supports three — and to utilize them in interesting and useful ways.
For starters, all five sensors are nearly identical: 12MP with f/1.8 lenses. There are two for capturing color and three for black-and-white, optimizing for light pickup because monochrome sensors can capture up to three times the light as RGB ones.
Technically, this allows photos with up to 60 megapixels of actual data, but the fun starts after the shot is taken: unlike most phones that can capture between three and seven focal planes, which means that there's very limited data available in post-processing for adjusting depth information. The Nokia 9 can capture an insane 1200 focal planes, which allows for a much more granular set of adjustments. That there's presumably more light captured in dim indoor environments anyway, thanks to the five sensors, makes potential portrait or bokeh shots even more enticing.
The phone itself isn't too shabby, either: aside from the still-very-capable Snapdragon 845 platform, there's 6GB of RAM and 128GB of storage standard, and the phone is made with Nokia's standard well-machined aluminum body. The back slopes slightly to meet the slim bezels, and while there's no dedicated camera button on this photography-forward phone, the 6-inch 2K OLED display is plenty sharp and delightfully colorful, and color-accurate, with HDR10 support.
Aside from the older chip, you'll find many 2019 amenities on board here, including an optical in-display fingerprint sensor, a 3320mAh battery, Qi wireless charging and fast wired charging support, and an Android One version of Pie.
You'll be able to pick up the Nokia 9 PureView later this year for a very reasonable $699.
See at Nokia (opens in new tab)
The rest of the pack: Nokia 1 Plus, 3.2, and 4.2
Alongside the Nokia 9, the company's mid-range lineup is receiving a bit of an overhaul, too.
At the higher end, there's the Nokia 4.2, which features a 5.7-inch 720p 19:9 display, a Snapdragon 439 processor, between 2 and 3GB of RAM, 16 or 32GB of storage, and dual 13MP rear cameras.
Nokia's also working with Google to integrate a dedicated Google Assistant button on the side of the phone, allowing owners to quickly check their Google Feed or activate Assistant's walkie-talkie mode by holding the button down.
Similarly, the bigger, cheaper Nokia 3.2 has the Assistant button, too, but trades the dual cameras for a larger 6.26-inch 720p display, the glass back for plastic, and drops the processor to a Snapdragon 429. There's also a 4000mAh battery inside, too, for markets where phones are people's primary computer.
Finally, the Nokia 1 Plus run Android 9 Pie Go Edition, and aims straight at the sub-$100 budget market with a removable 2500mAh battery, a MediaTek processor, and just 1GB of RAM.
See at Nokia (opens in new tab)
Daniel Bader was a former Android Central Editor-in-Chief and Executive Editor for iMore and Windows Central.
Oh Nokia. This looks great. I just wish it had this year's processor.

That's likely why the price is relatively reasonable, but I do wish it had the 855. It would be a very enticing phone then.

I have a lg v30 with 835 and it's super snappy and I've had no issues with performance. Well camera sometimes is iffy but I think that's lg's software.

5 cameras and no dedicated telephoto or wide angle camera...

Wow! Nokia keeps it rolling.

Looks like there's no headphone jack and it's only available in the 1 color. Am I right about that? What about microsd? I want to want to get this phone but not crazy about either of those things if true.

Last years table scraps, the 1yr old 845processer, yikes. No thank you!

Guess what the Pixel 3 uses? Relax please.

But the pixel has been out for 4 months. The Nokia isn't even out yet. That's what happens when there are delays. Outdated hardware.

And a specialized SD845 will do just fine for years to come. That's my point.

My biggest concern is battery life. I recently picked up a OnePlus 6T and I love it. I can honestly say that after using the 6T I'm not sure I would really notice a faster processor (depending on if they have a dedicated co-processor for that crazy camera) but I would likely enjoy the upgraded screen (almost looking forward to a chin on the display as my palm is constantly activating stuff) and camera. That being said the Pureview has a smaller battery with a larger, brighter, higher resolution HDR10 capable display, not to mention that camera. Sadly unless proven otherwise I can only imagine battery life on this device to be unimpressive. Here's to waiting for round 2 🤷‍♂️

This year's SOC would have been nice, but this thing required some development time.
The design makes me wonder if they sourced the front and back panels from HTC. The body is pretty much identical to the U12 Plus aside from the cameras and button style, and is even the exact HTC color. That's not a bad thing, as the U12 feels wonderful in the hand and makes my iPhone feel cheap. I'm a fan of the slim bezels too, as you don't want a hole in your screen while trying to compose a photograph.
Now, the science behind the 5 cameras is something that will have to prove itself. Yes, 1200 focal planes, but the variation between the planes is not significant, so I'm not sure how well the results will (ahem) pan out.
The proof will be in the photos.

So much to like with just a few negatives. Always On Display doesn't always stay on (times out) and only shows native notifications, no stereo speakers and the battery could be bigger. The SoC, software and bezels are just fine

I've read that later on during the year they are going to release almost the same phone with the 855 possibly in August we will see

Hmm, I went back and checked out the camera performance of the Nokia 8 with Zeiss optics, and it was not very good. Hope this one delivers.

Have you not watched the hands on videos on YouTube? Even with pre-release software the images are some of the best I've ever seen on a smartphone. At least from a true depth perspective but overall they look impressive as well.

All the haters will say SD845 oh no yet the supposed best smartphone camera uses the same chip for only a few months. Go figure. Anyway, Nokia stole MWC in my opinion. We can truly say we've never seen anything like this on a phone before and from the many hands on videos already the imagery is drop dead gorgeous and astonishing.

This phone would be a great alternative to the Pixel if not for 2 things, only 2 years of software updates as apposed to 3 on the Pixels, and having to wait until the end of the year to get the latest version of Android but former bothers me more than the latter as Nokia are second to Google when it comes to updates.

Source please? Nokia offers software/security updates for three years and two OS updates.

I already said mentioned to Nokia only gives out software updates for 2 years which is what I meant and it's the reason I will stick with a Pixel along with my preference for the Google camera.

Oh man I sure wish they would release a Verizon compatible version of this, I'm drooling over this phone now
Android Central Newsletter
Get the best of Android Central in in your inbox, every day!
Thank you for signing up to Android Central. You will receive a verification email shortly.
There was a problem. Please refresh the page and try again.