Nokia 2 hands-on: It's all about the battery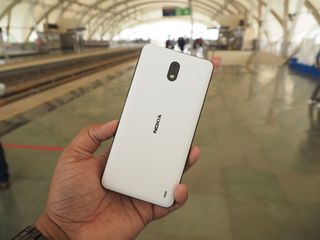 HMD Global launched three budget devices this year — the Nokia 3, 5, and 6 — and its latest handset is its most affordable yet. The Nokia 2 will retail for €99, and is aimed at first-time buyers looking to make the switch from feature phones.
At the outset, the Nokia 2 has a lot going for it. The phone shares a similar design aesthetic as other Nokia-branded phones, including a metal frame milled out of series 6000 aluminum. The design and build quality make the Nokia 2 stand tall in this category, and it's great to see HMD lavish such attention to detail on a budget phone.
Image 1 of 5
Image 2 of 5
Image 3 of 5
Image 4 of 5
Image 5 of 5
While the frame of the phone is metal, the back itself is made out of polycarbonate, and the matte finish improves the grip. The 5-inch form factor makes the device ideal for one-handed usage. The 720p panel is also one of the better screens in the budget segment, and it's protected by Gorilla Glass 3.
That said, it's been a while since I've seen a device with 1GB of RAM and 8GB of storage. I didn't notice any slowdowns in the few minutes I used the phone, but the demo units weren't loaded down with apps. HMD says it optimized the phone to work on the hardware, and that it will intelligently monitor background apps to ensure sufficient memory is available at all times.
Internal storage is going to be an area where the Nokia 2 is on the backfoot. Accounting for the OS, you're left with a paltry 4.67GB of free space for your content. While you can extend storage with the microSD slot, the lack of adequate internal memory is an issue.
The Snapdragon 212 is a chipset Nokia has used in the past, albeit during its Windows Phone days in the Lumia 650. You're not going to get the same amount of performance as the Snapdragon 430/435, but HMD isn't targeting that audience. The Finnish manufacturer has been in this field for some time now, and it knows what its customers want. As the Nokia 2 is targeted at users who are primarily mobile-first, battery life takes center stage.
With a 4100mAh battery under the hood, you'll easily get two days' worth of battery life, accounting for around five hours of screen-on-time a day on average. The Snapdragon 212 chipset doesn't offer Quick Charge, so you'll be looking at anywhere between two to two-and-a-half hours when charging the battery on the Nokia 2.
On the bright side, you won't have to charge the phone as much. Elsewhere, you get a microUSB charging port, 3.5mm headphone jack at the top, Bluetooth 4.0, and WiFi 802.11 b/g/n.
The Nokia 2 has an 8MP camera at the back, and the few images I took came out looking decent.
[gallery]
If the Redmi 4 and 4A have shown anything, it's that there's a huge market for entry-level devices. Both phones are two of the best-selling devices in India this year, and were integral to Xiaomi's meteoric rise.
HMD Global is now looking to emulate that success with the Nokia 2. The phone doesn't have the same hardware prowess as Xiaomi's devices, but the fact that it isn't running a heavily themed user interface will make things easier.
The Nokia 2 will be going up for sale in mid-November for €99. There are better alternatives available at that price, but HMD is betting on the promise of timely updates and class-leading battery life as the differentiator.
Harish Jonnalagadda is a Senior Editor covering Asia at Android Central. He leads the site's coverage of Chinese phone manufacturers, and writes about the semiconductor industry, storage servers, and audio products. Contact him on Twitter at @chunkynerd.
they can put a 4100mah battery in a 100$ phone but the flagships offer 3200 generally at best?! They're laughing at us!

Want to know why because your brand new chip set is more efficient and u will see the same battery life as last year and the year before that and the year before that and the year before that and the year before that smh lol

That's a BS reason, Mike. We as consumers are to blame for not holding out and demanding phones with battery battery life. There is zero reason why we need to charge during the day, zero. My wife and I are rocking Elite X3 phones, the battery life is amazing and we are HEAVY users. Get through the whole day and then some. They seem to think we want thinner. I think the VAST majority would trade thinness for larger batteries regardless of optimization. 4000mah should be the standard for flagships at least, topped with optimization.

Are you talking about the Windows phone?

Lol u miss read how I was saying it im in that boat where I want a bigger battery in my phone and not here that since I have a new chipset I should get the same battery life because it's more efficient. So yea trust me in with u they need to put bigger batteries in .. but I saw a comment the other day that made me think . Like alot of ppl say it's our fault because we keep buying there products when they do stuff like that that's why they keep doing but as consumers are they really listening to what we have to say . Or are they listening to these phone reviewers ?

Does it have adoptable storage? If not then that paltry internal memory is going to cripple the device, considering many apps still refuse to be transferred to the SD card.

Please read the article. Yes, it has a microSD card slot, and about 4.7GB of available storage out of the box.

Please read the comment, they wanted to know if the phone would treat the sd card as part of the internal storage or if it would treat it like external storage. The first allows you to expand the internal storage and not have to worry about developers properly supporting micro sd. The 2nd option kinda works but itsn't compatible with all apps and doesn't work perfectly and can lead to quickly filling up the internal storage despite having a micro sd card.

@Mouettus (I can't reply directly to the post, the site just spits out seemingly meaningless code...) They can offer that much battery in a cheap phone because the rest of the phone is pathetically out of date. It's not midrange, it's not even low range. It's supposed to be entry level, but with the specs it has, I can't imagine anyone beyond people who *only* text/call will get any use out of it. The 4100MAH battery is great, but the people who need a large battery tend to be the people who also need more RAM/a better SOC than....that. You won't be doing much heavy-hitting tasks to be worried about battery level with 1GB RAM or a SD212.

If that's the case and they can offer that because the phone is out if date . How is it that the mate 9 and 10 can offer those size battery's. I understand what your saying but I also understand the point he trying to make as fast is these are suppose to be flagship devices . We are getting less battery but paying more for a chipset number that slot of ppl really see not difference in day to day . Why can't oems put more battery's in phones and stop trying to make all this so called premium sleek devices that get smaller every year that feel good in the hand ?

As an aside, about that code, I noticed it too. I found that if you have an ad-blocker installed on the browser (Chrome in my case), it reloads the article when I upvote/downvote, and spits out code without posting my response when I do post. I'm posting this on Firefox, which doesn't have an ad-blocker.

This would've been interesting 6 months ago... but my Moto E4 with a Snapdragon 425 and 2GB RAM already lasts me nearly 2 full days. Why pay $15 less for way worse hardware?

The photos taken on the phone seem dark. I wouldn't expect that from the Nokia team. Even their budget Windows phones took really good photos in low light conditions.

That's because it's not the Nokia team doing the cameras, it's HMD. They have yet to implement a single imaging patent from Nokia on their devices, and that includes the Nokia 8. Which is why the cameras on their phones take crap shots even though the hardware isn't bad.

Why do manufacturers still make 8GB of nand memory and 1GB of ram. Stuff should have been discontinued years ago

You can get much better phones with even bigger 5000mAh batteries for just a bit more money, Zenfone 4 Max and Moto E4 Plus. This Nokia 2 is garbage.

1 GB of RAM? Is that a joke? In an android phone from this year?
I mean even at a cheaper price point, I think we have at least moved to 2 GB/16 GB standard.
Android Central Newsletter
Get the best of Android Central in in your inbox, every day!
Thank you for signing up to Android Central. You will receive a verification email shortly.
There was a problem. Please refresh the page and try again.