Nikon said to have an Android-based camera in the works, too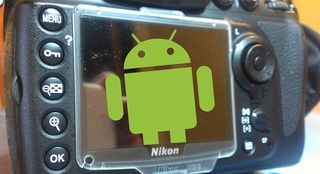 Well, how about that. Nikon apparently has an Android-based camera in the works, according to some Indonesian Communication Agency docs uncovered by Nikon Rumors. The pointer-and-shooter in question, which is said to possibly go by the Coolpix S800 name, apparently has a a 25-250mm lens and a 3.5-inch OLED display (nice!). It'll be running Android 2.3 (which might seem lame, but it really shouldn't be a big deal) and have access to the Google Play store. Wifi and GPS are on board, which makes sense.
If you stop and think about it, here's one Android fork we should all get behind. It's exactly what Android is made for. Suddenly, cameras become extensible. Never mind games -- it's the sharing features that really open up an entirely new world for casual shooters. No more of that ridiculous Kodak EasyShare software. (Which should be on its way out anyway, we suppose.) Just shoot and upload. Done.
Oh, contrary to popular belief, this is not the first Android-based camera we've seen. We took at look at the Polaroid SC1630 back at CES in January.
Source: Nikon Rumors
Android Central Newsletter
Get instant access to breaking news, the hottest reviews, great deals and helpful tips
No, bad Nikon, bad. Just make the camera and throw in Instagram filters and Pixlr-o-Matic and WiFi sharing.

I don't want a camera with a kicka$$ OS, I want a phone with a kicka$$ camera.

Is that actually possible past a certain extent? Doesn't a "proper" camera need a larger lens than there's really room for in a phone, as well as optical zoom? I bought a Sony camera just a few months before I bought my first smartphone (Galaxy S2). I'm not even a hobby photographer, so nine times out of ten the phone gets the job done for me, but in low light conditions (anything that's not bright daylight really) the picture quality of the Sony camera wins hands down. And then there's the optical zoom of course, which can certainly come in handy at times, while the digital zoom on my phone is completely worthless as it just crops the picture and blows the pixels up to hideous size.

My wife got one of the new Samsung wifi cameras and it's pretty cool. Don't think it's android based but it loads right to your social networks and all that stuff.

Whattttt! Whhhyyyy! I agree with area223...

Yeah in agreement with mike984. Nikon should partner with phone makers and make kick@ss cameras for phones!

This wouldn't actually be a fork though (like the Kindle Fire), right? You have to get Google's "blessing" to have their apps (which include the Play Store), so this is just a camera with Android, and presumably a custom skin/interface.

Bring it on hopefully this will increase the versatility of the camera and let Nikon make a very nice interface plugin fire the camera interface without wasting time on developing all the extra functions we have come to expect in our electronic devices. Good luck Nikon I hope this leads bigger and better things. Oh, when will I get Jelly Bean... LOL

YES! As a long time Nikon SLR/DSLR user, I would be the first person in line to buy one(as long as it isn't too expensive). Think of the possibilities this could have: *QUALITY, high resolution images being shared/emailed quickly(Twitter, emailed to friends/clients/etc). Don't get me wrong, cell phone cameras have advanced over the past few years but I still see bad images in broad daylight due to motion blur or not in focus. *Software updates that are easier (and maybe adding features in updates like better TTL control with newer flashes, etc.) *Photo adjustments in camera that are decent(able to control how much contrast, highlights, etc.) *Root: Yes, I said it. You're camera is a year and a half old and the manufacturer gives up on updating it but someone finds an easy way to add a new feature from a new camera to yours. Why not take advantage of it if it's stable? I say bring it on!!
Android Central Newsletter
Get instant access to breaking news, the hottest reviews, great deals and helpful tips
Thank you for signing up to Android Central. You will receive a verification email shortly.
There was a problem. Please refresh the page and try again.