The NIFTY Mobile Charger is the smartest battery pack you'll ever buy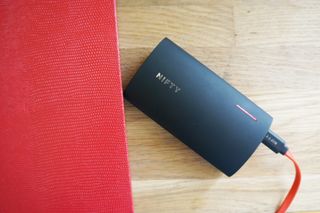 Battery packs are essential phone accessories these days. We rely on our phones to do so much, and heavy phone users often can't rely on their phone's internal battery to get them through a full day without a recharge along the way.
Furthermore, few battery packs offer the same functionality and features, making it sometimes confusing as to which will best support your devices. Enter the 6800mAh NIFTY mobile charger, a stylish battery pack that aims to solve the charging needs of all your mobile devices
The folks behind the NIFTY battery pack sent me a unit to review this summer, and my first reaction was that this battery pack sure lives up to its name. Fans of well-designed products are sure to swoon over this battery pack. It's compact, sleek with no buttons to fuss with, and just two ports on the top, both of which can be used to charge devices simultaneously with 24W of dual output being intelligently split to give priority to the device that needs more juice. The USB-C port doubles as the one used for recharging the battery pack itself, which only takes a few hours.
NIFTY claims to have includes the most powerful chipset in a mobile charger, with support for Qualcomm Quick Charge 3.0, 3A Type-C output, as well as safe fast charging capabilities for iPhones, iPads, and even the latest MacBooks, too. There're no screens or buttons to fiddle around with — simply plug in and the NIFTY automatically detects and delivers the fastest charging speeds for your device.
A row of 5 LEDs give you an indication of how much charge is left, and all you do is give the NIFTY a tap and they come to life to show you the remaining charge. A tap also illuminates another LED ring located around the USB-A port on top, which is a fantastic feature for those times when you're fumbling around in the trying to plug in a USB cable in the dark.
I've kept it on me through most of my weekend travels this summer when I've often been away from a wall outlet. At 6800mAh, it's far from the beefiest battery pack you can buy and will reliably recharge a phone from battery warning to full no problem, but that's about it. On a weekend trip, I was able to get about a full charge and a half for my Google Pixel before the NIFTY needed to be recharged itself. The pack does get quite warm both when charging a device and while being recharged, so you're likely losing some energy in the heat transfer.
I accidentally left the NIFTY outside overnight during a rainstorm and was pleasantly surprised to find it still functioning perfectly the day after. NIFTY makes no claims of water resistance but it was nice to see it survive a wet night.
The only drawback is the price — at $80, it's asking a lot for a battery pack with a battery capacity under 10,000mAh. You can buy an Anker PowerCore charger with three times the charging capacity for $20 cheaper than the NIFTY. For those who value capacity and bang-for-your-buck over anything else, that's bound to be a deal breaker.
But there's still something to be said about great design, and the curvy design of the NIFTY's casing feels great in your hand. Tapping to reveal the power levels is an ingenious feature and I love how you can plug any phone in and NIFTY delivers the fastest charge without hesitation. Whether the NIFTY is worth the money is ultimately a matter of personal preferences. The NIFTY serves my need for a compact and portable charger that gives my phone an extra boost when I need it most.
The NIFTY Mobile Charger is available in your choice of color —Signature Stone Red, Stone Grey or Suede Black — and comes with both a USB-C and Micro-USB charging cable.
Android Central Newsletter
Get instant access to breaking news, the hottest reviews, great deals and helpful tips
Marc Lagace was an Apps and Games Editor at Android Central between 2016 and 2020. You can reach out to him on Twitter [@spacelagace.
$80.....will be on Slickdeals in a month being sold by gearbest or newegg

The Ankle Power Cove link takes you to the 2TB cloud storage deal you have going on.

Yeah.... Idunno about $80 for under 10,000 mAh. I'm a career designer and in this case, I can't see paying that price for form over function.
Not really interested in impressing people with the design of my portable charger :/

Our price point aligns with our competitors and the NIFTY is definitely not meant to be designed as a bargain/bang-for-the-buck charger. We kept the capacity at 6800mAh to make sure we keep the portability part of the charger in place. Many options out there are too heavy and bulky to carry on a daily basis. At 6800mAh it still provides 2-3 full charges to most smartphones. As far as the design, we also have to keep in mind functionally. This is definitely not a form over function example. This is a form + function concept. We adapted USB-C 3A input in the smallest form factor currently available, allowing you to recharge the NIFTY to 100% in just over 2 hours (vs 5-8 hours for our competitors), it also provides QuickCharge 3.0, USB-C output 3A, and Fast-charging of 2.4A to iPhones which we are the only battery pack ever to design a circuitry capable of delivering QC 3.0 + Apple Fast-Charging in one chipset. Add in the pass-through functionality, 24W dual output and other neat features and function is definitely an essential part of the equation. Also keep in mind it includes premium tangle-free kevlar 6000+ bend test cables as opposed to entry level cables which adds a bit to the pricing as well (about $20 for both). As volume increase we`ll make sure to adapt our pricing accordingly.

I did notice that the web site says "Type-C 3 Amp" output but never says specifically "Power Delivery" - is that support the same for my Pixel?

The Google Pixel comes with Power Delivery that supports 10 watts (5 volts @ 2 amps), 15 watts (5 volts @ 3 amps) and 18 watts (9 volts @ 2 amps). The NIFTY will provide 10W and 15W power profiles via the USB-C port. We`ll test with a USB-A to USB-C cable to see if we are able to provide 18W via our USB-A port.

Thanks for the reply. I would only go USB-C to USB-C but perhaps that information would be helpful to others. A device that supports PD, QC-3.0 and Apple fast charge is an impressive device.

"But there's still something to be said about great design, and the curvy design of the NIFTY's casing feels great in your hand." This kind of thinking has given us the Cult of Apple.
Android Central Newsletter
Get instant access to breaking news, the hottest reviews, great deals and helpful tips
Thank you for signing up to Android Central. You will receive a verification email shortly.
There was a problem. Please refresh the page and try again.