Niantic kicks off global Ingress event, #13Magnus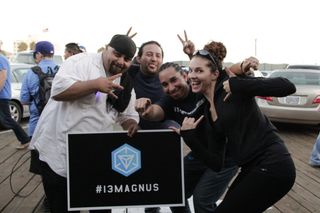 Last weekend Niantic started off a major series of events in their location-based game, Ingress. The mostly-autonomous branch of Google working on this (and who also brought us the Field Trip app) started a little something called Operation #13Magnus in L.A., San Jose, and Bangkok, and plans to have more events across the world all the way up to December 14.
These events pit Enlightened against Resistance in limited-time scenarios. The outcome of these battles will shape the game's unfolding story over the next couple of months. Beyond that, Niantic folks will be on hand to dish out swag, talk shop, and have a friendly get-together at a nearby restaurant afterwards.
If you haven't tried it yet, Ingress has players take one of two sides in an attempt to claim real-world landmarks for their side using an Android app, and connect them with other landmarks in order to claim large swathes of territory. Players gain resources over time, so long as they can hold onto these landmarks against the attacks of the other side. The premise is that there's a whole other world invisible to the human eye, full of an alien resource called XM. The Enlightened are trying to use the resource as a means of reaching the alien race and entering a golden age of technology through them, while the Resistance is a little less optimistic about the situation, and is trying to defend the resource. I like to think of Ingress as competitive geocaching with a sci-fi twist. Recently, Ingress was updated with a new Agent profile system which keeps tabs on all your stats and achievements.
It's been awhile since I've put serious time into Ingress, but as you can tell from the video below, this game's got some hardcore fans, and though the rewards from #13Magnus seem purely story-based (rather than, say, exclusive unlockable achievements or items), it looks like it would be enough to keep these folks running.
Any Ingress players around think they can make it to any of the below locations or dates? Are you Enlightened or Resistance?
October 26
Primary
Seattle, Washington, USA
Kiev, Ukraine
Secondary
Warsaw, Poland
Bucharest, Romania
Budapest, Hungary
Prague, Czech Republic
November 2
Primary
Atlanta, Georgia, USA
Madrid, Spain
Mumbai, India
Secondary
Charlotte, North Carolina, USA
Raleigh-Durham, North Carolina, USA
Barcelona, Spain
Lisbon, Portugal
November 16
Primary
Dallas, Texas, USA
Vienna, Austria
Secondary
Austin, Texas, USA
Houston, Texas, USA
San Antonio, Texas, USA
Bratislava, Slovakia
Graz, Austria
December 7
Primary
Phoenix, Arizona, USA
Rome, Italy
Secondary
Nashville, Tennessee, USA
Tucson, Arizona, USA
Athens, Greece
Istanbul, Turkey
December 14
Primary
San Francisco, California, USA
Buenos Aires, Argentina
Secondary
San Diego, California, USA
Santiago, Chile
Sao Paulo, Brazil
Rio de Janeiro, Brazil
Get the Android Central Newsletter
Instant access to breaking news, the hottest reviews, great deals and helpful tips.
Simon has been covering mobile since before the first iPhone came out. After producing news articles, podcasts, review videos, and everything in between, he's now helping industry partners get the word about their latest products. Get in touch with him at simon@futurenet.com.