Nexus cases are 25% off from Google Play for a limited time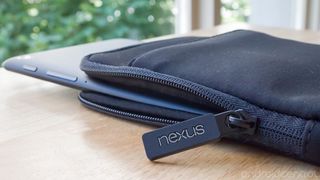 Grab some protection for your tablet or phone at a discount
Google Play is running a promotion to offer 25 percent off select Nexus 5 and 7 accessories for a limited time. While you won't see the full range of accessories like chargers and headphones, you can get your hands on the three latest Nexus 7 cases — Sleeve, Folio and Case — as well as the Nexus 5 Bumper Case and QuickCover case for a reduced price.
The promotion is automatically applied and is reflected in the price shown on the product pages. You can grab the promotion from the link below, and if you need help making up your mind on any of these accessories, be sure to check out our reviews:
Nexus 7 Sleeve review
Nexus 7 Folio review
Nexus 5 Bumper Case review
LG QuickCover for Nexus 5 review
25% Off the Right Accessories for Your Device on Google Play
Andrew was an Executive Editor, U.S. at Android Central between 2012 and 2020.
pulled the trigger on the N5 bumper. the $35 price was a bit much, but I was willing to stomach it. What I didn't like was the $12 shipping to Canada on top of that. the discount means that the case shipped is about $37, which is still more than it probably should be but I can stomach that a bit better.

Dang just ordered my Nexus 7 sleeve yesterday going to try and cancel and re order. Posted via Android Central App

That still puts them 100% over what I'm willing to pay for any of them. I mean, seriously, people actually think those cases look good? They're thick and cheap as hell (I've tried them out and returned them for both my N5 and N7). Not to mention the obnoxious orange colors that screams attention and are painful to stare at for too long.

If I was keeping the N7 I would grab one. Whatever the best 9-10in tab that comes out next month gets my money...

25% off of ridiculously expensive is still expensive...

ridiculously expensive? The prices are not bad for OEM stuff. Yeah it isnt cheap Hong Kong knockoff counterfeits but you get what you pay for

Poetic has great cases. -----------------------------------------------------------------------------------
Posted via my thumbs and Google Keyboard.

Just because it's "OEM stuff" doesn't make it not cheap. We don't know if that's even real leather on the flip case. All of the accessories for Google's stuff is over priced.

It's not bad, $25 or so, but by the time you add shipping to Canada it's just over $40. Too much for my liking. On that note though, does anyone know if you can still use wireless charging with either this bumper or that Ringke Slim case?

I still don't have any money for a Nexus. Hope Chinese New Year's gives me a couple bucks! Posted via Android Central App

10.99 shipping in the UK. Joke Posted via Android Central App

Is this discount available in India Play store? I checked it, but they are giving no discounts :(

No Discounts in India store.. any news?

The discounted price for the Quickcover I can just about stomach, but over £10 for standard UK delivery led me to close my browser pane. Really Google?? Things seem to be sinking in a little there as I presume the only reason they have discounted these is because people aren't buying them, but they need to do more. There is no reason for delivery to be any more than £3.99 Posted via Android Central App

Funny you say that but same reaction here. How much for P&P???!!!! I think your £3.99 is a bit generous too. Off to Amazon then.

I love Google but those cases are really nothing special and ridiculously overpriced. The 8 and 13 dollar cases on Amazon for my Nexus 5 and 7 do more than well and look better than the "official" ones. Also, free shipping. Posted via Android Central App

nexus5 bumber is cheap enough, but unfotunately no GPStore here.. Do they sell them somewhere else too? Sent from my N8000 using Android Central app
Android Central Newsletter
Get the best of Android Central in in your inbox, every day!
Thank you for signing up to Android Central. You will receive a verification email shortly.
There was a problem. Please refresh the page and try again.