Nexus 7 (2013) receiving tiny OTA update, no changelog in sight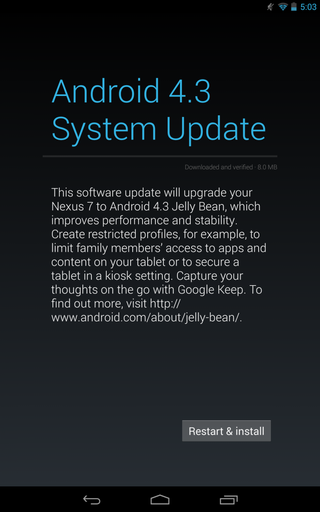 Many people that have their hands on a Nexus 7 (2013) are seeing a system update notification land on their tablets indicating an update to a newer build of Android 4.3. The update weighs in at just 8MB, and the only noticeable change to our eyes seems to be a build number jump to JSS15R — not to be confused with the previous update to JSS15Q a few weeks ago.
Those who have the update are still working to see what exactly has changed on the user-facing side, if anything. In the meantime most users have yet to see the update and are patiently tapping their fingers on the "check now" button of their Nexus 7. If you have received the update and notice a change, hop into the forums and let everyone know.
Thanks, Noel!
Andrew was an Executive Editor, U.S. at Android Central between 2012 and 2020.
1st! Posted from my "CrackDroid" Nexus 4 via the Android Central App

These 1st comments are really stupid. What's the big deal?

Everyone one of us was 1st in the sperm competition otherwise you wouldn't exist, for some it's the only achievement they have...

hooohooooo... you are 1st now go and show it to you mommy

Please tell me the exif data maker and model is fixed...

Of course the other obvious question, will this come to the previous Nexus 7?

you are spoiled by what an update means!!!!
this is a build update just fixing some bug on the new N7. if the same bug exist on old N7 then it will come.

Not spoiled...just curious.

Just got the update. Posted via Android Central App

Same here, and no noticeable differences. But, I wasn't experiencing any issues, either. So, I'm not sure what this is supposed to fix. My Nexus 7 has been working flawlessly, since day one.

Five bucks says it has to do with the touch screen issues. Posted via Android Central App

I'm fairly certain a five-dollar bill can't talk...

Mine do. They say "turn me into more phones" Posted via Android Central App

Haha. This. Editor in chief of Futureproff.com

No no. This would be the Verizon update that is set to automatically lock the bootloader the moment a Verizon sim card is detected. I'm just kidding......... sort of.

Lol not too far off. Sounds like something VZW would do. Editor in chief of Futureproff.com

No update showing up on my new nexus yet. Posted via Android Central App

Here's hoping I can reboot after this one. Last time it hung on the X. Posted from my Nexus 7 via Android Central App

Same here. Posted via Android Central App

This plus random data loss are why I returned my new n7. I'll be waiting a fee months hoping any hardware kinks get worked out if that was the issue. Posted via Android Central App

Weird cause my nexus isn't running on either one of those builds Posted via Android Central App

Got it earlier today. I was wondering what it fixed. Guess I'll still have to wait to find out. Posted via Android Central App

Got the update a couple hours ago... I dunno what's changed! Posted via Android Central App

Yeah I just downloaded, lost root. Arg. Posted via Android Central App

This is why you never OTA with root. I also restore stock rom then flash stock Recovery then update. Then flash TWRP recovery back and then backup the newly updated stock rom and then restore my custom rom. Posted via Android Central App

Yeah I can go back but it's not a big deal, I knew it. Oh well.. Dont see too much difference said it added some more options I don't use so whatever. N5 and tegra4 hurry up!! Posted via Android Central App

The new nexus phone won't have a teagra Posted via Android Central App

Right but the tegra 4 tablet will Posted via Android Central App

SWEET I got a shout out from my favorite website! lol

Got it...same thing...nothing noticeable Posted via Android Central App

I seem to have more touch issues now than before the update. Doesn't immediately recognize my swipe to unlock. Doesn't like me hitting the back button. Rebooted twice now. Posted via Android Central App with my Nexus 7 2013.

Has anybody checked to see if its fixed the clipboard bug? Posted via Android Central App

It is obvious what they changed: they changed the Q to an R ... hehehehe. Probably from "questionable" version to "release" ... *thighslap*

just got the update last night, but I only installed it this morning. The first noticeable difference, at least in my case is the touch screen responsiveness when the device is hold perfectly flat on a surface. Before I had to push several times on a "button" but now it actually seems to take the first input gesture detected.
Really curious to see if this is what the update was meant to fix.

No update for me Posted via Android Central App

Possibly a coincidence, but before the update, Google Play movies would hang after the first few seconds. After the update, they work fine. Posted via Android Central App

Manual Download OTA link: http://android.clients.google.com/packages/ota/google_razor/58a0583c9504...

Fixed "Nexus Media importer" app problems that myself and a few others were having.
Now no problem connecting OTG cable.

Was Google Play Games built into the OS before this update?

As far as I am aware the touch screen problem had already been addressed so my "guess" is that its to fix the random reboot problem.

This update makes my deivce force close like crazy im having touch screen issues when i didnt previously. Also my youtube widget is glitched as a clock widget. I have already factory reset it didnt fix anything. come on google
Android Central Newsletter
Get the best of Android Central in in your inbox, every day!
Thank you for signing up to Android Central. You will receive a verification email shortly.
There was a problem. Please refresh the page and try again.