Nexus 4 back in stock on T-Mobile USA site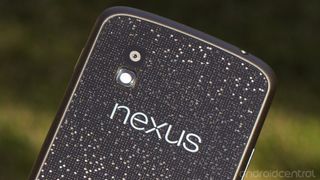 After swiftly selling out on the carrier's website just a few days ago, it seems T-Mobile USA is back with more stock of the desirable LG Nexus 4. As before, the phone is being sold for $199 on a two-year service plan with Tmo.
The LG-made Nexus phone has been quick to sell out via many online retailers, including Google's own Play Devices store. Previously, Google had directed would-be Play Store buyers to T-Mobile, however shortly after that notice went up Tmo's stock was also depleted.
T-Mobile is offering the 16GB version of the Nexus 4, which sold for $350 during the brief time it was available through Google Play.
In more good news for Nexus 4 customers, it seems the Google Play Store is also expecting more stock this week.
Source: T-Mobile (opens in new tab)
Alex was with Android Central for over a decade, producing written and video content for the site, and served as global Executive Editor from 2016 to 2022.
Glad to see this back up and running on tmobile.

T-Mobile needs to get in gear with accessories too. I don't know why they're not even advertising the phone. It's a Nexus. They should go all in or not bother.

I'm from UAE. Can i buy from T-mobile ?

I'm confused on there unlimited plan. It says 4g is unlimited but what about 3g 2g data?

It's unlimited no matter what speed it is. If you get the 2GB or 5GB plan, the amount up to the cap (2GB or 5GB) is at 4G speeds and after that it throttles down to 2/3G speed until the next billing cycle but there is no overage charges. On the unlimited 4G plans it's at 4G speeds all you want with no limit or cap, (but no official Wi-Fi tether/hotspot support with Unlimited 4G).

Hmm, just saw I can still access my former employer's T-Mo discount, and the N4 comes up as $149 with $200 ETF. Think I might have to do this.

This article is false - at least for me. The only way I can see the Nexus 4 on the Tmo USA site is to log out. That's right, I am already one of their customers. As soon as I "log in to see price" or log in period, the nexus 4 or any reference to it in the store simply disappears. Why is this phone so hard to sell? Such a fail on all sides.

I just went through the same process, hopefully at 12pst it'll be out for both tmobile and google play store

What about walking into the store and buying it

Try it, please. In other words - they don't have the phone in the stores (at least in 99% of the stores). The two I called didn't even know when they'd get them in.

Nexus 4 available from Google Play store at 12pm PST in US ONLY! Also, most back orders getting shipped today! Got email saying would ship, charge is now on CC!

This article should be updated with the fact that tmobile is only offering the nexus 4 to new customers. At this time it is not able to upgrade your existing line.

This is 100% Correct. I spent the morning bouncing around with customer care and others to try and get this resolved. I am filing a complaint with Customer relations: ATTN Customer Relations
P.O. Box 37380
Albuquerque, NM 87176 The annoying thing is, I upgraded my first line to the nexus 4 2 weeks ago without a problem. -Jason
Android Central Newsletter
Thank you for signing up to Android Central. You will receive a verification email shortly.
There was a problem. Please refresh the page and try again.