Nexus 4 back on sale at UK Google Play Store (Update: France too)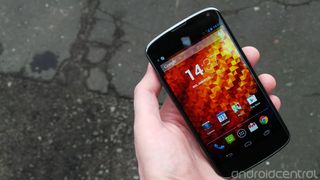 Update: The Nexus 4 is back on sale through Google Play in France too, with a 2-3 week shipping period.
Brits, here's your first chance of the year to get hold of a Nexus 4 at the crazy-low Google Play Store price. As before, prices are £239 for 8GB, or £279 for 16GB. Phones ordered today are scheduled to ship within 1-2 weeks.
And if you're in the U.S., the Nexus 4 still appears to be on sale stateside, and the links above are valid for you, too. If you're seeing the Nexus 4 for sale on any other regions' Google Play Stores, be sure to hit the comments and let us know!
Android Central Newsletter
Get instant access to breaking news, the hottest reviews, great deals and helpful tips
Alex was with Android Central for over a decade, producing written and video content for the site, and served as global Executive Editor from 2016 to 2022.
I don't know if anyone else is having this issue, but I ordered a Nexus 4 just now and when I go to 'check order status' on google play, the device is listed twice, as if I had ordered two of them. After having checked, both of these orders have the exact order number and my google wallet account only lists one device pending. I ordered a Nexus 4 for myself back in december (my girlfriend wanted one after seeing me play with mine) and didn't encounter this. Don't think it'll prove an issue, just that the same order is displayed twice. Though it did scare me for a minute making me think I accidentally ordered two, so figured I'd let you guys know in case someone else is about to cancel an order they don't believing they've double ordered, only to find themselves phone-less when the device once more is sold out!

This happened to me when I ordered mine in Nov/Dec. I rang Google and they said that all was fine - I hadn't ordered two and wouldn't be charged for two etc. Everything turned out fine in the end - once it was delivered the double appearance disappeared from my account. You should be fine!

Still available in Canada, but the bumpers sold out yesterday.

placed an order! FINALLY!!!!

hmm im going to assume the "two day shipping" price on my reciept is a lie :(

hmm im going to assume the "two day shipping" price on my reciept is a lie :(

Due to our screwed up corporate network, I can tell you it's 1-2 weeks in Germany too (which is where the play store thinks I am). Update - actually - I'm not sure. The text is in German but the Add to Cart box is in English but with the price in Euros. If I go to the bumper page I'm suddenly in English again! Sorry.

In Spain is out of stock again. I ordered mine at 4 o clock.
And at 4.15 the out of stock message appeared. Shame for Google

Would it be possible to tell me where I could get the wallpaper shown on the Nexus pictured in this article? thx,

Agree'd,
share it with us. :D

Their shopping cart is hands down the worst I have had the displeasure to use!
I've been trying to buy a Nexus 4 and a bumper for a few hours. Adding a Nexus 4 and bumper to my cart was initially okay. To finalise my order I had to select a shipping address. The only option was to add a new address. After I had added a shipping address, the only option was to add a new address. I added the address more than twenty times.
Some time during this charade, the bumper went out of stock, causing a generic "we couldn't process your order" message, until I worked out to refresh the page, where the bumper disappeared from my cart, letting me proceed without the bumper. After some time I discovered that every time I had entered the shipping address, it was also added to my Google Wallet account. It was not long after this I also discovered that the only way to have the checkout at Google Play let you actually select a shipping address was to add a method of payment in Google Wallet separately and before attempting to order! If I try to submit an order to an address different from my billing address, I do not get the final order confirmation page, I'm taken back to the shopping cart with the Nexus 4 in it, but in Google Wallet there is a transaction but "Google Commerce Ltd" has not "received your order". Under My Orders in Google Play, the status is listed as "pre-ordered" with no shipping date. If I submit an order with the same shipping and billing address, everything works. I get taken to the order confirmation screen, in Google Wallet there is a transaction and "Google Commerce Ltd received your order". Under My Orders in Google Play, the status has a shipping estimate date! However the billing address is incorrectly the same as my shipping address, so when the payment is taken, it will be declined. All in all, it's been a dreadful experience, and I am exhausted.

It's on the Aussie store too, which hasn't happened since day 1 of the initial farce... I mean launch. Of course it's hit and miss as to whether you can actually order one but some have managed to.

I definitely agree that the Google Play cart experience could be better. I ordered a Nexus 4 16GB after reading this post, on Wednesday night about 22:30. I wasn't shown my billing address during the checkout, so checked out with my old billing address. The order appears to have gone through successfully. It is being shipped to an address in London. The next morning at about 08:30 (Thursday), I ordered another 16GB Nexus 4 with the same card, but this time corrected the billing address prior to ordering, and am having it shipped to Edinburgh. I got an email last night (Friday) to say that the order going to Edinburgh, has been shipped! It was placed about 10 hours after my first order, which has still not been shipped. It looks like they have stock now, and are shipping some orders, albeit selectively and not in the order they received them. Very strange.

ordered mine 30th january, arrived today. very please with it.bye bye apple :)

Where did you get this wallpaper from? Share with us!

So, having ordered a 16Gb Nexus 4 within an hour of them becoming available again, estimated shipping time 1-2 weeks. Here I am over 2 weeks later and it still hasn't shipped. Called the "help"line and was advised to wait a few more days - thanks Google that's very helpful! It seems plenty of others got theirs in reasonable time. Isn't this what happened the first time? Haven't they learned from the first fiasco!! Frustrated ++
Android Central Newsletter
Get instant access to breaking news, the hottest reviews, great deals and helpful tips
Thank you for signing up to Android Central. You will receive a verification email shortly.
There was a problem. Please refresh the page and try again.