Netflix $11.99 plan will allow simultaneous streaming on 4 devices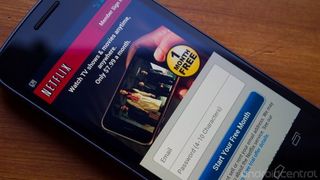 Netflix subscribers who are liberal about sharing their login information with family and friends may have run into the 2-stream cap before. As of now, Netflix accounts can stream content on 2 devices at the same time; any more, and you'll get denied until someone else stops their online viewing.
Netflix has recognized that some customers need more than the current 2-stream maximum, and are planning to roll out $11.99 plans that will allow for 4 streams at once. Although Netflix thinks the need is there, they expect less than 1% of members to take them up on this new offer. While the numbers don't quite speak to the current need of the new plan, continuation of the company's recent growth could make this a more widely used option in the future.
There is no official date just yet, but if your family falls in the 1% that wants the ability to watch Netflix shows on your Google TV, computer, tablet, and phone all at the same time, these plans should be available very soon.
Source: Netflix, via: The Verge
Title is missing the T in Netflix. =o)

No, this is a new service. Netflix is again spinning something off. They're spinning off their Nexus access. Hence Nexflix. So if you want access on a Nexus and your other devices, you'll need to buy two services again.* *Curious how many people will read this and think I'm serious.

oops I have like 7 different devices on Netflix.

It only matters if you are playing videos on more than 2 of them at the same time.

Man, you best get a Nexus 4.

What about a Galaxy Nexus? ;-)

Hey Netflix, how about you increase the streaming cap to 4 without raising the price.

This is awesome... Now I can cancel my second account. 5 kids and a wife had fought over the 2 device restrictions that we broke down and added a 2nd subscription.

Unfortunately, I too am in this boat. Will probably jump on this. Can someone tell Spotify that 1 simultaneous device is not enough??? I would bump a similar $3-4 for an increase to 4 devices on a "family plan" or something.

I went on to Netflix and tried to change my streaming plan but I don't see the option for this yet. I guess they haven't rolled it out yet?

"...there is no official date yet..."

Crap. You mean I have to pay more if I want each member of my family to be able to mindless stare at moving pictures on a portable screen simultaneously? What do you expect us to do instead, interact? I think a class-action lawsuit is in order.

They started it today!!!!! SOOOOOO...........!!!! Mad.
Android Central Newsletter
Thank you for signing up to Android Central. You will receive a verification email shortly.
There was a problem. Please refresh the page and try again.