Nest Protect 2.0 update brings improved pathlight, steam check, and CO levels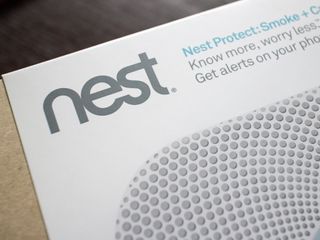 The Nest Protect is going 2.0 and getting some cool new features, which will be rolling out this week. Within the update, the Protect gets a bit smarter and will help keep you at ease in the process. New in the update are steam check, Protect history, learn and prepare, improved pathlight, and CO level notification.
Steam Check: Protect's humidity sensor, which can help it differentiate between fire and a steamy shower. This will allow Protect to eliminate up to 50% of false alarms due to steam while still keeping your family safe.
Protect History: Just like the Nest Learning Thermostat, which shows your temperature history, now you can monitor your Nest Protect's history. Within the mobile app, view your last smoke or CO incident, see how long it lasted and which room it occurred in.
Learn and Prepare: The worst time to figure out what to do in an emergency is during an emergency. With Nest's Learn and Prepare feature, Protect will help you create an emergency plan for your family and provides you with tips for how to keep your family safe.
Pathlight Gets Better: Pathlight—the white light that glows when you walk underneath Protect at night—is one of the most popular features. Nest has enhanced Pathlight so you can adjust the light's brightness and choose to leave Pathlight on at night to serve as a nightlight.
CO Level Notification: In the event of a carbon monoxide leak, it's important for emergency responders to know both the amount and length of time that your home has been exposed to CO. Now, Protect will show you, via the mobile app, the length and severity of a CO incident.
The 2.0 software is available today and will be rolling out to Protect users over the new few weeks. Users just need to ensure their Protect is connected to Wi-Fi in order to receive the update.
Get the Android Central Newsletter
Instant access to breaking news, the hottest reviews, great deals and helpful tips.
Editorial Director - High Yield
Getting his start writing about BlackBerry in 2008, Adam is the Editorial Director of High-Yield content at Future. Leading an outstanding team, he oversees many of the articles the publisher produces about subscriptions and services – VPN, TV streaming, and antivirus software. From buying guides and how to watch content, to deal news and in-depth reviews. Adam's work can be seen on numerous Future brands including TechRadar, Tom's Guide, T3, TTR, Android Central, iMore, and Real Homes.
"Protect History: Just like the Nest Learning Thermostat, which shows your temperature history, now you can monitor your Nest Protect's history. Within the mobile app, view your last smoke or CO incident, see how long it lasted and which room it occurred in." I'm 55 years old. In all my days (get off my lawn!), I've never had a real "incident" involving a smoke/CO detector. I think I've had one or two false alarms from cooking smoke. I can't see much of a use for a "Protect History" unless these Nests are prone to false alarms or someone has a pyromaniac in the house.

David - do you have children who stayed home by themselves in their teen years?
Ever have a CO alarm in the middle of the night, empty the house, open windows, call Fire Department and they show up with nothing to see? The nest was correct, Windows were shut, 25 minutes later it went off again as the furnace was not working. I am glad you never had an alarm in 55 years. Other people have.

How does this effect pricing? Is the 1.0 gonna be cheaper now? I hope the hardwire version has a battery backup.

Its just a software update nothing more. And yes the hardwire version has a battery backup required by law. Posted via Android Central App

this is a software update buddy

My opinion on these and many other connected devices. .... waste, pure and simple. People like the idea of being connected to their property at all times and being warned of impending hazardous conditions, great I get that but at what cost. You are giving away your privacy for no reason. Devices like these allow others to track what you are doing and when you are doing it. If you think these items are secure you are sadly mistaken. There is no security when you allow others to store your data or monitor you. Just look at the picture breach from this last week. With enough work nothing connected to the Internet is safe. Eventually they will take the data you are giving away to further enhance the online profile of you and your family. Trusting others with your data is a big mistake and will eventually come back to bite you. I can see before too long a map run by criminals with little dots showing all the homes where no one is home in a given area just from a simple thermostat. Now add in a camera and not only can they see when you are home they can see what you own. If you are going to use something like these products you need to use something that is connected only to you so you can control security and your data.

My nest thermostat paid for itself in a single winter. The energy usage reports I receive are very insightful, and I thoroughly enjoy the access from anywhere. I got robbed once, you know why....because I put boxes out with the trash for a new TV I bought. I've had my cc info hacked....you know why, because I shopped at a retail store. I didn't buy something on a shady web site....or store my info carelessly. I didn't put up FB posts about being out of town, or post pictures while I was away on vacation. Perhaps I'm cynical because I don't have much that a would be robber could possibly want, but your comments seem ignorant to me. My Nest isn't a waste....it's useful, it saves me money, and most of all, I enjoy having it. You think you, your property, or your information is safe because you don't allow that stuff in your own home, think again. Just a few years ago, the state of South Carolina was hacked.....they got all kinds of SS#s and information. They might have got mine, and I never even owned a computer when I lived there. I filed taxes there last in 2001, but that was recent enough to be at risk. Moral of the story....protect yourself the best you can by being smart and careful.......but not by being paranoid and shortsighted.