Nearly 4,000 show up for Pokémon Go launch event in Toronto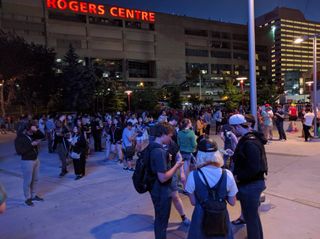 Close to 4,000 people attended an event in Toronto on Monday to celebrate the Canadian launch of Pokémon Go, formalizing a practice that had been going on unofficially, and on a much smaller scale, since the game launched in the U.S. on July 6.
In the intervening two weeks, it's believed that nearly 6% of Canadian Android owners downloaded the game, though that number has certainly spiked since its official launch on Sunday.
Monday's launch event was organized over Facebook by eSports events company Legacy Gamers. Held at the CN Tower, a well-known Toronto landmark, players rushed to the venue after 8pm in search of friends, enemies, and rare Pokémon.
Image 1 of 5
As we've told you in our many guides, Pokémon Go is at its most exciting and dynamic the more people congregate in a single area. That dynamism is heightened by the presence of Gyms and PokéStops, the reason for the CN Tower's selection, since there are several of both nearby.
There was even a real Pikachu in the crowd.
Some companies were taking advantage of the hoards of people to promote their wares, like this gaming store offering free ice cream to those on Team Valor (go red!).
Despite the crowds there were no security-related issues (the area was cordoned off and protected by police) and everyone seemed to have a good time — the result we want to see after a fortnight of robberies, accidents and negative press.
Thanks to friend of the site @gilbertp23 for the on-site photos.
Android Central Newsletter
Get instant access to breaking news, the hottest reviews, great deals and helpful tips
Daniel Bader was a former Android Central Editor-in-Chief and Executive Editor for iMore and Windows Central.
I wish there was an event in Saskatoon, unless I missed one. Posted via the Android Central App

No... It was there... Both people showed up. :)

My kid can't download Pokemon go on his Galaxy S4. "This version is not compatible with your device" His little heart is crushed. S7 edge/S2 Classic 4g/One +3

I really wonder if this might help budget phones or older phone sales. As long as it supports android 4.4 I beileve. I've seen Moto E (2015) ATT unlocked at best buy for around $60 ($30 on sale). Is the craze strong enough for people to buy a cheap dispensable android phone just to play? I don't know but at least that's somewhat of an option before. It does seem like the developer is trying to make it compatible with every phone (supporting Intel). Sorry it doesn't work on your kid's phone Posted via the Android Central App

Well the app needs gps and data. I cant see people swapping their sim card into another phone just to play. I dont see them adding a phone to a share plan to pay unless they use the hotspot feature that drains the heck out of the battery. Posted via the Android Central App

Violence? Only in the US of A.

Lol wat Posted via the Pokémon Central App

No violence in Europe. Ever been to a football game. Screw it soccer. Posted from Nexus 6

How did they come up with the 4,000 number? Is that just based off the fb event or is there more datamining happening and being published?

Just goes to show, Canadians aren't perfect. No matter how nice they seem to be. Posted via the Android Central App

Anyone have a YouTube link? Posted via the Android Central App

4,000 people lining up to catch squirrels and moose?

If only real world events did numbers like this.....people just oblivious, and brainwashed....sad times. Posted via the Android Central App

Hope they dont mind the constant server offline problems, or losing out on captures because of data connection issues, or the whole mess of other problems that plague the game. I tried it for awhile, and was impressed at the large groups of people that were huddling around areas in my village. Now when I drive by, that number cut down by at least 1/2. I say within 2 weeks or so, only a small handful will be left. Its already losing its luster for ALOT of people, and I might be off the mark here, but the constant issues are playing a big part in that. The company is chasing the almighty dollar, which is pretty clear to see as they are releasing in more and more countries, yet cant even have a stable game in the countries its already out in lol
Android Central Newsletter
Get instant access to breaking news, the hottest reviews, great deals and helpful tips
Thank you for signing up to Android Central. You will receive a verification email shortly.
There was a problem. Please refresh the page and try again.