My Logitech Harmony remote is one of the best purchases I've ever made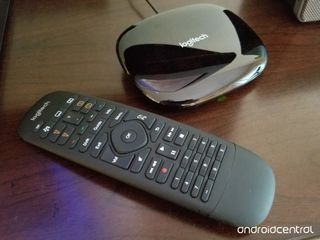 I have what I like to refer to as a piecemeal smart home. I'm fairly certain I'm not alone here and have different bits and pieces from various companies like Philips, Samsung, Nest, Ring, Leviton and more attached to my Wi-Fi and do my best to find ways to get them all working together. I'd love to have a custom wired automated house of the future where everything went through a central control panel (ideally, nestled into the arm of a well-oiled leather recliner) and if I win Powerball maybe one day I will. But for now, I'm living within my gadget budget.
I'm also a fan of universal remotes that can control the stereo and television in the living room as well as the ones in my office and bedroom so I can stow the seven remotes it replaces. I've used plenty of them, some bad some good, but while they were all able to individually control each piece I wanted a more "efficient" way to do something like turn the receiver on, switch it to a specific input, turn the TV on and set the audio to use the surround speakers with a single button press. That's why I eventually splurged and picked up a Logitech Harmony remote. It was one of the older (and cheaper) silver models, I think the 650. I loved it.
I loved it so much I spoiled myself last year and picked up a Logitech Harmony Companion kit (opens in new tab). It's basically a hub that connects to your Wi-Fi network that has an IR receiver, so you can use a fancy remote to do things. All sorts of things. And not just TV and stereo things. Which is why I think it's one of the single best purchases I've ever made.
First off, yes I understand that this all is unnecessary and possibly even a gimmick. But we all should have unnecessary gimmicks in our lives that we love to play with and most of us here probably do. We're certainly not all using dumb flip phones and SMS for messaging, right? But being able to not only turn on the telly and receiver like I used to, but automatically dimming lights and lowering the blinds while it's turning on is just plain cool. It's possible because of the way Logitech's smarts can talk to things like my Philips Hue hub (opens in new tab) and Lutron Serena shades (opens in new tab) and how all these smart gadgets can communicate.
The Harmony Hub is really just a piece in a bigger puzzle. Using services like IFTTT and Smartthings (opens in new tab) you can get gadget A to tell gadget B to do it's thing. When you add a Harmony hub to the mix you can have them do their respective things when you press a button. Think of all the things you can have an Amazon Echo (opens in new tab) or Google Assistant do when you mix in these services, and you can program your remote to do them, too. That means anyone can do them without needing Alexa or Assistant recognizing their voice or knowing just what to say. That's a big deal when other people in your house might be visitors or just not into smart gadgetry at the same level you are.
I want to be able to say it's easy setting it all up, but I can't. I still have a home filled with mix-and-match smart devices and each has their own system and method to control them that services like IFTTT and Smartthings is able to tap into. There are still things I know are possible but still haven't figured out how to daisy chain together — there are just so many combinations when you have 10 different things trying to talk with each other through a third party service. But I'll be honest, it's kind of fun messing around and trying to get things working, and when they do you feel like some old-timey science guy. Maybe that's just me, though.
I still want a perfect all-in-one system when I hit that Powerball. But my Harmony remote gets the important part right — the end result. It's polished and just works when you hit the button on the remote to watch TV or listen to music and it feels like that custom system of my dreams.
See at Amazon (opens in new tab)
Get the Android Central Newsletter
Instant access to breaking news, the hottest reviews, great deals and helpful tips.
Senior Editor — Google Ecosystem
Jerry is an amateur woodworker and struggling shade tree mechanic. There's nothing he can't take apart, but many things he can't reassemble. You'll find him writing and speaking his loud opinion on Android Central and occasionally on Twitter.
The first time I got a universal
remote control, I
thought to myself "This
changes everything." Sorry sorry could not resist......

I've had some sort of Harmony remote for the last 10 years and can't go back. I had a 880 for the longest time, which was awesome being rechargeable. I eventually wore it out and upgraded to the Harmony Home system, and now I have two of them. At first, it was just a great remote for the multitude of A/V devices, but when I got Smartthings, it became a gamechanger. It's so nice to turn lights and switches on and off with the remote, I haven't advanced to blinds or fans yet.

I set my parents up with a Harmony Hub and the same smart TV as me. Now I can fix their problems from across the country.

I can't see ditching my 650. Having a screen to be able to pull up the exact menu I want on my receiver is priceless.

I fully agree. I'm amazed as to how much the 650 can do. It actually has more functionality than the original remotes for my devices. The ability to set up and customize it (on my PC) is incredibly easy. This was especially important when I became a cord-cutter. The 650 perfectly handles my Roku Express, TV, AV Receiver, and Blue-Ray. For $40, it's a no-brainer. Note: The 650 can only control IR devices. For RF devices (like the Roku Streaming Stick) you will need the Harmony Hub.

Yup, I concur. Never again will there be a half dozen remotes sitting on the coffee table, plus it plays nice with Google Home and my Philips Hue lights. That along with a Shield TV have been two very smart purchases for me, and the fact both companies keep supporting most older gear with updates is no coincidence.

I just recently picked up an absurdly-cheap Sceptre 49" 4K TV, and as you'd imagine, the built-in speakers are horrendous. I pondered picking up a soundbar, but what I ended up doing instead was pulling out this old mid-90s Philips 3-piece stereo mini system I had stashed in a closet, and rigging up my TV to its aux port. Now things sounded much better, but as it turns out, the TV's volume controls only affect its built-in speakers, not the digital or analog outputs. On top of that, the stereo's remote was lost and forgotten to time. I was dreading having to get up every time I wanted to change the volume, but then I remembered Harmony. Just for ***** and giggles, I went to their site to check if the stereo was in their code database, and to my amazement it was, as was my air conditioner! So I ran down to Walmart and picked up a Harmony 650 for $40, and now my life is complete.

As tempting as it is, I don't want yet another "hub". I already have a Wink and an Arlo hub...they'll have to start developing a super-hub just to organize all the freakin' hubs!

Eventually Apple will figure all this out and make all things just work with one hub. Then other companies will copy it, make it even better and cut the price by 85% and we can buy them :)

There is... It's called openhab2 and runs quite happily on a raspberry pi...

This hub will send commands to the TV via a remote. My other hubs only control home automation items. This one will do both. I have one, but I don't use it because it wouldn't pair (bluetooth) with my Nvidia Shield. I might set it up again to use the Wifi/ IR features, but I don't have the remote that has the Home automation buttons. Oh well, sometimes multiple remotes are just 'simpler'.

I've used Harmony remotes for about 10 yrs. The recent Hub thing is great, no more aiming with the old IR style Harmony remotes.
We have the remote in this article and it works great. Until it's dark, i.e. movie time with only the backlight on behind the screen. Fumbling around for the right button is a PITA and using the phone app (no buttons) is almost equally painful. The $200+ Harmony 950 should solve this problem, but it's $200 :).

That's where Alexa comes in! When my room is dark I ask Alexa to pause, fast-forward, whatever.

Is the Elite worth double the cost over the Companion?

Maybe. I actually tried the elite first but ended up returning it. Not because it wasn't great but because the touch screen shows the same thing the app does on my phone. I figured I'd save the $150 because my phone is always in my pocket.

Awesome and good to know! Thanks!

The Elite is backlit and has a charging base. I use the Elite in the living room and the companion remote in the bedroom. They're both wonderful products. I wish the companion remote was backlit every time I pick it up though.

I have a Harmony Hub as well. It works really well, except the remote doesn't work correctly when trying to use the Smart TV functions on my Samsung TV, really wish it did

Same problem I have with this setup. Can't really control my LG TV WebOS apps well with harmony hub. I have a routine to open Netflix but I can't really navigate through the menus well. Most times I end up just using the remote that came with the TV.

I would get it if it had Google Assistant integration for Nvidia shield.

Can someone explain to me on how to get everything to integrate? I have a smart TV (Roku), 2 XBox One (S and X), a Yamaha YAS-107 soundbar and an Intel NUC with Kodi to view my movies on it. I bought a Logitech Harmony Hub-- the one that is usually at Amazon for $70, and I can't figure out the first thimg about. So, it sits unused in my media cabinet.

There should be an instruction manual with the product or online.

I find it terribly confusing.

Yes, it can be very confusing. I would suggest tackling one piece at a time; search google for using Harmony remotes with your XBox, for example. Once you've verified that everything you have will work with it, you can build routines through the harmony software (which is just a front end to the website) while your remote is plugged in to a computer or install the app (Android or iOS, both work pretty well) and build them through the app. if your equipment doesn't work as-is with Harmony, see if IFTTT supports it. You can use a harmony hub to trigger an IFTTT recipe and tutorials for different products can be found with a Google search.

The workflow is to firstly add all your devices, THEN set up activities like 'Watch TV', 'Play XBox' etc.. The logic is impeccable. Then you can go in and map extra eatrures to particular buttons on the remote and tweak as you use it. You never really need to go into 'devices' like we used to in the old days, everything is done through the activities.

I used Harmony products for a couple of years but I was never happy with them. A friend of mine recently told me about that start up company called neeo who's also creating a remote.
As soon as I saw that neeo in his house, I immediately trashed the Harmony and bought one for myself. It is unbelievably well built, very easy to setup, fully controls my Sonos, all my AV devices and even my blinds!
Give neeo (www.neeo.com) a try, I bet you won't miss your Harmony after that, its a beautiful alternative and does so much more.

Clever spam, but still spam

I bought the harmony hub which comes with a remote as well and it's cool so far. A couple of issues I've noticed is that I shut the power off to my home theater stuff while i'm gone and the hub forgets what input the tv was on when the power gets shut off so it always thinks it's on the first input and doesn't start my tv watching correctly. Figured out a work around with a new activity to change the tv input before I shut everything down, but it's a little of the hassle. I also couldn't teach it a command from my cable remote it didn't have automatically. Still trying to decide if it's worth it for the little convenience improvements.

I have a hub and an ultimate. Fantastic. Controls everything including my xbox1x. Costco had them for like 150 bucks. Bought another one. Best deal ever. Programs easily via the software and wifi. No brainier to get the hub.

I am a fan of the Harmony remote as well. Not dirt simple to setup, but for anyone with just a modicum of tech savvy, very doable.

My only complaint about the Hub is that, I have LED lights on my TV stand and no matter what color I have them set to, it changes them to green every time I change the channel. Other then that, the remote is great

I had this issue too, but mine turned purple. The solution is to get some normal wired IR emitters to plug in the back of the hub, not the ones it might have come with that blast the whole room but small ones you attach to the TV IR port. Once you plug them into the hub, set the hub to only send singals to the TV via the external emitters and not the hub.

ahh! I did that first thing (i needed more IR heads and bought a cable from Amazon) so that explains why I never have seen the issue. Good to know the included emitter cable is a wide angle type. I can use it the next time I make a NO-TV box.

Why not use Home Assistant?

I have almost the same remote / hub but mine doesn't have the light controls and absolutely love it. Much better than the 650 it replaced. Home Assistant running on a Pi pulls everything together and talks to a HomeSeer server (which will be turned off in the near future)

And the Alexa integration is awesome...People flip when I walk in and turn on the TV/Roku with my voice...