MrMobile's BlackBerry KEY2 LE Hands-On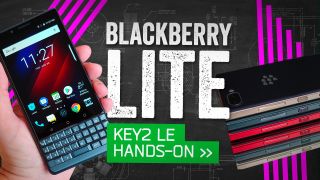 You probably don't need me to tell you that the BlackBerry KEY2 LE is just what it says on the tin: a "lite edition" of the BlackBerry KEY2 we know and (mostly) love. And to be honest, when I first picked up the LE, I was put off by its lighter-weight build, which only served to remind me of the compromises that have been made across the spec sheet to get it down to a manageable price. About the only thing that excited me about the LE was the new Atomic color option.
But then I chatted with some of the people who designed the KEY2 LE, and as you might expect, they had some good arguments for their new product. Of course a daily KEY2 user such as myself isn't going to be moved by a midrange version of the same phone, they said: the LE is for people who wanted the KEY2 experience but didn't want to pay $650 for the privilege. As that group is rather thoroughly represented in the comment section of all my KEY2 videos, that point resonated with me. As for my concerns about the lower-end specs leading to a repeat of the KEYone's sluggish performance? Only time will tell, of course, but the BlackBerry folks didn't seem too worried: along with everything else drag-and-dropped from the KEY2 to the KEY2 LE (yes, it's the exact same display panel), the company's software optimizations have made the jump as well. So it should stay fairly sporty even with the Snapdragon 636 stepping in for the KEY2's 660.
Of course none of those facts can bring back the capacitive function to the keyboard, or give the KEY2 LE quite the spiffiness I still love about my KEY 2 – but I came away from the conversation with more appreciation for the $399 mid-ranger. Click on through to my hands-on video above for more impressions, including a quick keyboard comparison … and subscribe to theMrMobile on YouTube if you want me to give this device the full review treatment when the time comes!
Stay social, my friends
Get the Android Central Newsletter
Instant access to breaking news, the hottest reviews, great deals and helpful tips.