Motorola's 'Try Then Buy' promotion runs out, 64 GB Moto X now available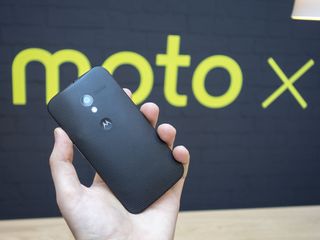 We hope you were able to snag a promo code for Motorola's Try Then Buy promotion that allows you to create a custom Moto X and try it out for two weeks before you buy for just one cent, as the manufacturer's website lists that all codes have been given out. If you're still interested in getting a Moto X however, we have good news, as Motorola has begun offering the 64 GB version of the handset in the U.S.
The 64 GB version will set you back $449, which is $100 more than what the 16 gig variant costs, and will be available on AT&T, T-Mobile, Sprint and Republic Wireless. Oddly enough, Verizon wasn't listed as one of the carriers that will be getting this model.
Other than the increase in storage, the device features identical hardware specs as the 16 GB variant of the Moto X. Would you be interested in picking up the 64 gig model?
Source: Motorola (opens in new tab)
Get the Android Central Newsletter
Instant access to breaking news, the hottest reviews, great deals and helpful tips.
Harish Jonnalagadda is a Senior Editor overseeing Asia at Android Central. He leads the site's coverage of Chinese phone brands, contributing to reviews, features, and buying guides. He also writes about storage servers, audio products, and the semiconductor industry. Contact him on Twitter at @chunkynerd.
Of course I would. But I tire of the astronomical prices for 48gb of extra storage. I get why they do it but I don't have to like it. Posted via Android Central App

What 64gb flagship do you know of for $449? Posted via Android Central App

One Plus One, $100 less. Posted via an AT&T Galaxy S III LTE

One Plus One = Garbage/gimmicks/vaproware

That's great to know. So how long have you had the phone? Posted via Nexus 5 Android Central App

That's the point, really no one does. Posted via Android Central App

ROFL +10000 Posted from my Nexus 7 2013 or Samsung galaxy S5

Lmao One Plus would only matter if it was massed sold. Posted via Android Central App

Interesting. Unfortunately I don't know how that is going to be a viable plan in the future. Selling it at cost means that they have to make their money somewhere and I don't see the company like that surviving if they don't have a viable means of income. Posted via Android Central App

That's because they needed to get rid of extra stock laying around collecting dust. Not surprising it didn't last long.

I guess people don't get tired of recycling that line over and over and over and over and over and over and over and over and over and over and over and over and over and over and over and over and over Kinda tired of hearing though Posted from the Avengers: Age of Droid Ultra

Can you come up with anything original?

I have had the 32 GB Moto X since Thanksgiving of 2013 & I just love how the phone evolved since it was brought out. I can say if I decide to replace it, that will be the 64 GB model unless they come out with a better one or Google's project phone comes out.

Anyone need a code for the penny trial? Posted via Android Central App

Me please! if you can pm me!

Hook it up!! jeanbiele@yahoo.com

If anyone has an unused code I could use one. Thanks, Joe K.

64gb would be an amazing option to have for the next moto. i hope they carry this over

+1, can't wait for the Black Friday sale! Posted via Android Central App

I could use a code also. Tks

Ha, already have two. Would have to buy a backup to the backup. Five phones total, man....whose counting. ;-)

I just want a 16GB Moto G LTE.. Posted via Android Central App on The Nexus 5

could someone hook me up with a code? jfreak623@aol.com

Thought it would sell out quick. I made a few designs on Saturday. Picked my favorite one yesterday and ordered right at 9 pm. Posted via Android Central App

That's what I did. I setup an account, made my phone. Waited for the code which took only a min. Went back into my cart, applied the code and checked out. Took me from the time of getting code to confirmation 3 mins.

Well i might get it or might not. Filled out and completed but no confirmation at checkout. But now my codes, yes they sent me multiples, are invalid. :( so if it shows up great if not...eh Posted via Android Central App

my code is saying "Not Applied"...

Thats what mine said right after i completed the checkout. I checked the other codes they sent me us the new one and they all said not applied after this. So does that mean my original code was applied? Idk Posted via Android Central App

I just ordered a replacement on Thursday, wish they had put the 64gb up earlier. Oh well, 32 has been good enough.

Does anyone still have any extra Promo codes with u guys ? Email me Please : jose1970us@hotmail.com

Anybody else's code saying "Not Applied" at checkout? This sucks!

This happened to me as well. What's the deal?

They sold out I was told. I'm in the same boat. Lots of people have valid codes they can't use. Can't say I'm not surprised. LG Optimus G Pro

How stupid is that? Why not just supply the correct amount of codes? Posted via Android Central App

That happened to me, and then a few hours later I could do it. Try again!

Would have loved a 64 GB at launch! Too many other new phones I would buy instead today. Sent from my Moto X!

I like the X for a lot of different reasons, and I suppose it is technically correct that it is still a flagship phone, but yeah, if I am buying a phone right now, this is close to the last place I would look right now. I would have to wait for the X+1 or choose from the other 10 that came out in the last 2-3 months. Still thought the X was a wonderful device that got ridiculed for not having MOAR SPECS!!

Just picked up a near-mint used Moto X with original packaging for $250 for the sole reason of tiding me over until the X+1 makes its debut. I've been getting really sick of Verizon's antics and my Galaxy S3 is on its last leg.

Not to nitpick but $449 is the Republic Wireless price only. Every other carrier the off contract version will set you back $499.

If anyone has an extra code feel free to PM me on the message board.

i'm sure some will come back after the 2 week period, so i'm curious to know what they'll do with them since, i believe, they can't resale them as "new" anymore.

I still have a code that I don't need. First person to email me gets it. anthonygaddis@yahoo.com Posted via Android Central App

Didnt know there was limited quantities....oh well Posted via Android Central App

All my codes are gone. So no more emailing me. Posted via Android Central App

I was up at 12:27 am last night and got my code!! Some Texans are building it for me right now. I'm super excited.

Not much interested in the 64GB model. The 16GB model I have has 8GB free and I have pretty much everything I need. I'll replace it in a years time anyway. I typically outgrow the hardware specs in a year as software apps get more demanding overtime.

1 code up for grabs. ARE YOU READY? WAIT FOR IT!!!

Here's your unique promo code: TESTDRIVE-FEKD-7ODB-MZS4-KQU5
Expiration: 11:59pm ET, June 10, 2014

I would have purchased the 64GB version had it been available when I bought my 32GB. I hate staggered releases like this. First we waited for Moto Maker on all carriers, then for wood backs, now they come out with 64GB.

if anyone has a code that they don't plan on using please forward it to me as I missed it
moneyforus@gmail.com
thanks in advance

FYI. I know two people who used someone else's codes early this morning and got calls from Motorola informing them that their orders have been voided.

I once thought so, but don't really need the extra storage. 16 Gig is enough for the apps I actually use. As for music, I stream Grooveshark. As for movies, I download, watch, and delete. Maybe endless videos of the new grand daughter will change my mind? Posted via Android Central App

I just used my code about an hour ago and it worked! The in-stock date said June 15, and the checkout said I would have until June 28 to pay, but then (without asking) I got an email from Motorola assuring me that the full amount won't be due until 14 days after I receive my phone. Strangely, I also received 2 codes from them, so I tried to create a 2nd one for my wife to try, and the code didn't work. I chatted with a customer support rep, gave her the code, and she's going to have her team review it and get back to me, so I might get 2 phones out of the deal. My takeaways from this are: (1) if you have a code and it's not working, try it again, then contact customer support to see what they can do, and (2) so far I'm impressed with the efficiency of Motorola support. We'll see how long it takes for them to get back to me. Good luck!

I did this and have one being made after failed attempts. I too have extra codes. However under motos faq they state one per household. Posted via Android Central App

Yep, that's what they told me, only one per household. At least they were prompt!