Motorola Triumph brings a new level of Android to Virgin Mobile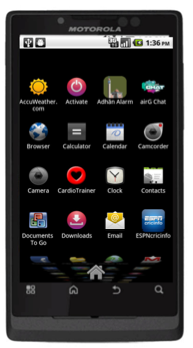 In addition to the Sprint Photon, Motorola today also announced the addition of the Triumph to Virgin Mobile.
It's got a 4.1-inch touchscreen, a 5MP rear camera (with HD recording) and VGA front camera and runs atop Android 2.2. And it does all that in a form factor that's just four-tenths of an inch thick.
Specs? We got 'em.
5MP back-facing camera and VGA front-facing camera
HD video capture and playback in 720p, both on device or over HDMI
Massive 4.1" display (800x480 WVGA) and ultra-thin at .0.4"
1400 mAh battery
512MB RAM with 2GB ROM and SD card slot for extended
Froyo (Android 2.2) with Flash support for enhanced browsing (download from Android Market)
Soft touch design for comfort in hand
SPECIFICATIONS:
Software Platform: Android - Froyo
Messaging/web/apps: MMS, SMS, email
Camera: 5MP AF with flash, VGA front facing
Video: 30 fps @ 720 p decode 30 fps @ 720 p 14 Mbps encode
Connectivity: microUSB, 3.5mm , HDMI port
Browser: Android Webkit Browser
Bluetooth: BT V2.1 + EDR
Memory: 512MB RAM/ 2GB ROM, uSD Slot
Location Services: aGPS
Form Factor: Tablet
Experience Category: Media Centric
Baseband: Qualcomm MSM8655
Weight: 143g
Dimensions: 4.8" x 2.5" x 0.4"Display: 4.1" 800 x 480 WVGA
Battery: 1400 mAh
Bands/Modes: CDMA 1900 MHz EVDO RevA, 802.11 b/g/n
Android Central Newsletter
Get instant access to breaking news, the hottest reviews, great deals and helpful tips
Wait..only $129? Can we get some confirmation on the price?

Wow! Best deal yet for Virgin it would seem

Please tell me the name in the title is a typo. I'd hate to think that Motorola gave a cool device a name with a lisp.

Yup, it's a typeo. lol. It's actually "Motorola Triumph." http://reviews.cnet.com/2300-6501_7-10008108.html&part=cbs-mobile

The Triumph's form factor and feel might be superior to the Photon, also announced today. This is one beautiful phone for Virgin Mobile. Their best device yet, IMO.

Thats pretty cheap for an off-contract smartphone with those specs!!!!

Where is it available now? It isn't listed on their website at all.

Yeah...129...that cant be right...i would buy 5 of those

That 129 CANNOT be right, since they jacked the LG Optimus V to 199.99. Even though alot of ppl complain about VM service, I for one NEVER had the problems they b*tch about. But I guess thats what ppl do, tend to complain online rather than praise. This phone being released kinda scares me, seeing alot of ppl dropping their giant 100.00/mo bills and taking up my bandwith... oy

Release to be in late July, price unannounced.

There wasnt a price listed on the sprint newsroom page either, i'm guessing around 300. http://newsroom.sprint.com/news/motorola-triumph-fact-sheet.htm

Aricle says available now

Triumph pics http://reviews.cnet.com/2300-6452_7-10008108.html

oooo its got a kickstand!-- never mind, i went on too far to the photon.

It will be mine! I wonder if it will get an update to Gingerbread at some point.

That's the gingerbread app drawer with the Froyo notification bar is it not?

Nah dude both Froyo and Gingerbread both had a 3D drawer. Remember the Nexus One and G2?

Hmmm I guess the change was between 2.1 and 2.2. My bad.

I'm interested in knowing what material the screen is covered in. Is it glass or plastic? I ended up returning an Optimus V due to the plastic screen, which smudged way too easily. I've looked at other sites and no one seems to know.

That's a very nice spec'd phone for a prepaid carrier. That could convince me to switch.

Virgin and Boost Mobile have the best prepaid phone and plan options in the US.

Does it have a 1 GHz processor?

The phone ships with a second generation Snapdragon processor (MSM8655).

I checked some other websites and it does feature a 1GHz processor in addition to the specs listed above. I currently have the VM Optimus and it is a damn good little phone, emphasis on little. I have actually been shopping around for an android with a larger screen but just can't bring myself to leave VM and my beloved $25 a month prepaid, no contract plan. So this is regarded by me as very good news and unless it sucks this will be my next phone. 4.1" screen, 1GHz processor, stock android, 5MB camera, check, check, check, check...

...And hopefully this phone will not have a "locked" boot loader like the Sprint Photon. Either way, this could easily be the best "Value" Android phone in North America-err-The World! If you think about it, Tethering alone is worth the incredible $25 monthly price... I am guessing the retail price will be in the $229-$299 range. My goodness.

no mention on the GPU.... Well the VM service really does suck eggs... I cant get over 15-25kBs data.. that is not even 1G.... if this phone was 50 bucks I still would not continue spending money on such a congested network as sprint.. this phone will surely bring my speeds even lower

Where does the information come from that it is $129??? Can anyone provide a link?

I know that people dont like MotoBlur but i love it is there anyway it can be imported to this phone from the Photon?

I'm hoping that there will be better support for this phone as I bought the Motorola i1 last year and there has been little to no support for the device since its launch...
Android Central Newsletter
Get instant access to breaking news, the hottest reviews, great deals and helpful tips
Thank you for signing up to Android Central. You will receive a verification email shortly.
There was a problem. Please refresh the page and try again.