Motorola puts college colors into Moto Maker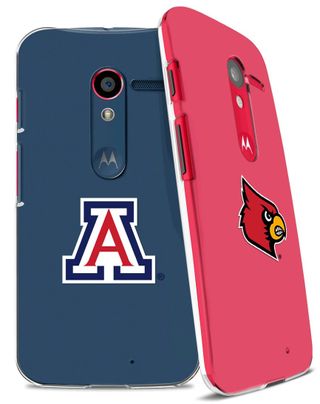 Show your college pride this season with new colors, accents and a range of cases for the Moto X
Motorola has announced a new selection of colors its dubbing the "College Collection" to Moto Maker to customize your new Moto X in the colors of your school. Taking a look at colors across the board, Motorola has added 9 new back colors, three new accents and a range of clear cases to create the college themed phone of your dreams.
Visit the College Collection design gallery on the Moto Maker site starting today to see the various pre-designed options for your College, and the range of clear cases complete with logos.
And, if you're a student at one of those schools, register with a valid .edu email address and take the off-contract price for a new, custom Moto X down to just $339. Find out more at the source link below.
Source: Motorola
Get the Android Central Newsletter
Instant access to breaking news, the hottest reviews, great deals and helpful tips.
Pretty limited schools... pretty cool tho if you are at one of the schools they offer!

Yeah.. No Ohio State. No thank you!

What? How could they leave STFU out of the color scheme? So disappointed -------------------------------------------
You really should see the crap I don't post. Sorry if honesty offends you

Yeah, this must be the first of multiple releases... They are missing several pretty big schools... smh...

Whoa cool. They should do all 4 major us sports! Posted via Android Central App

That would be cool, but the licensing would be a nightmare. I'm sure OEMs have at least tried to pull it off before. I'd totally buy a Mariners phone like the douchebag I am, though.

I like the Mariners. Nintendo owns them which makes it even more cool. Assuming you mean the Seattle Mariners. I have no clue if there is a college Mariners team somewhere.

I think this phone would sell even more with more schools and another major sport either football or baseball. Posted via Android Central App

Because cases and or graphics of anything you can imagine haven't been available that won't potentially devalue your phone?

The college graphics are on a case though, they just added new colors to the available selection. Posted via my GS3 with the Android Central App

I don't see the emphasis on any particular sport on the design. The only emphasis on basketball is from Motorola, not the phone itself.

I'm hoping that when the next Moto X is released, this exact same Moto Maker is used. That would make sense for the updates coming out MONTHS after the phone. And the carrier restriction delay wouldn't be possible! That would be awesome.

No Ohio State. That's a hell of an ommission...

Ain't nobody got time for the Big Ten

Really? Because Illinois, Michigan, Michigan State, Nebraska, Northwestern, Purdue, and Wisconsin are all there. That's over half of them.

That's cuz nobody cares about Ohio GO BLUE!!! Posted from my newly Kit Katted Droid Ultra

Ohio is who knocked you out of the NCAA Basketball tournament a couple years ago. Ohio State is the one who beats you in football every year.

Why don't you go get some tattoos and watch Stauskas and Co win a national title this year Posted from my newly Kit Katted Droid Ultra

We ARE PENN STATE How did that game work out at the end of February?

Dammit Motorola, you forgot to put U of Maryland.

They do have a section there that allows you to request your school. You certainly could request to add them.

I'm pretty sure no one was forgotten. Licensing from schools is a major pain in the arse. I'm surprised the money batons at Texas allowed licensing. Posted via Android Central App

Not every school has a ".edu" email address. That's disappointing :/

Really? That's weird. How come yours doesnt?

I go to University of Toronto. Maybe it's a US thing, I dunno.

Awesome, they have my school. This honestly gives me some phone envy, which I've never had owning a Nexus phone. Still sticking with the N5 though.

Whoop! UofA :) Posted via Android Central App

I am shocked and disappointed that they don't have an option for my rural, Division III alma mater.

Sadly, in a six-year time span, we were known as the Indians, the Bears, and the Crimson Hawks. After we changed from the Indians to the Bears (after the NCAA forced us to stop being racist assholes), we adopted a black bear dressed as a cliche Indian warrior as our mascot. We named him Cherokee. Pennsylvania is classy as all hell.

Go Gators Posted from the surface of the moon using my LG Optimus G Pro on T-Mobile with 0 Death Star bloat...

James Madison listed, but not Duke? Huh? Posted via Android Central App

Dook? Go Heels! Posted via Android Central App

Where? Near the bottom of the standings? Yes they are. Posted via Android Central App

At least I know email notifications work...

Umm....... ok. Posted via Android Central App

I can finally get a Miami phone?! Awesome!!!!!!

Where's UMass? Posted via Android Central App

i don't even watch college anything, but thats pretty cool.

No 'Murica edition? That's unpatriotic!

Looks like g2..lol Posted via Android Central App

You have Marshall but not WVU? Weakest shit i've seen.

Just another way to get you to buy a $35 clear case. Waste. Posted via Android Central App

Wha? No Minnesota Golden Gophers (spoken with full Norwegian accent. ;p)? Shocked! Wow... ;) At least they have Auburn. War Damn Eagle! :p

Potentially the national title match up in a few weeks. Posted via Android Central App

Very well could. All depends on bracketology

I don't know the colors but STFU seems to be well represented. Posted via Android Central App

Which ones? Posted via Android Central App

Better off customizing a Motomaker phone and buying the case. Their only 16gb pre configured. Posted via Android Central App

No South Harmon Institute of Technology. BS. Posted via Android Central App