Motorola introduces the ET1 Enterprise tablet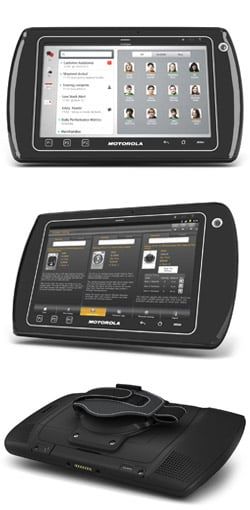 Motorola announced its ET1 tablet this morning, which its calling an Enterprise-class tablet "designed for a variety of vertical markets." The Gingerbread-powered ET1 is designed for durability and security with some pretty respectable guts under the hood:
Android 2.3.4 with enhanced Enterprise functionality
7 inch, 1024 x 600 display at 350 NIT, with Gorilla Glass
OMAP4 Dual-core processor at 1 GHz
1 GB RAM
4 GB Flash memory with pre-installed 4 GB microSD card
4620 mAH Smart Li-Ion battery
8 MP rear camera with 720p video, front camera
5.14 in. H x .98 in D x 8.82 in W
1.4 pounds
It might not be the tablet-of-choice for the everyday consumer, but for businesses looking for a sturdy, Enterprise-ready tablet, the ET1 is looking pretty attractive. It'll be available in January 2012 through Motorola partners only, though no word yet on price. Full specs and a product tour from Motorola are at the source link.
Source: Motorola (opens in new tab)
And the fourth device for the event on the 18th.

And another tablet that realizes Gingerbread works fine with smaller tablets. No need for HC 3.2

Umm..Gingerbread? On a tablet to be released in JANUARY? Am I the only one that sees something wrong with that? Nevermind even HC, I think at this point I am waiting for the ICS tablets.

Why would a tablet running dedicated Enterprise software need anything beyond Gingerbread? It doesn't.

I've come to realize that no matter what, someone will have to say something about performance/speed/storage or what not because it's not the latest/greatest. A sub $200 tablet designed for the elderly to remind them to take a pill that doesn't have a dual core AND Honeycomb! AND ONLY 4GB's of MEMORY AND NO EXPANSION SLOT?!?!?!?!? MADNESS!!!!!!!!!!!!!! OF course, I guess the common sense of "Don't like it? Don't buy it." doesn't matter anymore. On topic....This looks nice. Not for me, but perfect if I did alot of business related stuff.

"...for businesses looking for a sturdy, Enterprise-ready tablet..." ...that errors when connected to Exchange, that cannot L2 VPN, that offers no SMB file share support or USB connectivity options, but if you're not into all that, then... "...the ET1 is looking pretty attractive."

I agree we 've pretty much sent our tablets back all at the same time. Turn around will get better after the rush is over. Im sending mine in with the mindset of it coming back around the 20th to 24th
Android Central Newsletter
Get the best of Android Central in in your inbox, every day!
Thank you for signing up to Android Central. You will receive a verification email shortly.
There was a problem. Please refresh the page and try again.