Motorola Edge+ hands-on preview: Ready to take on Samsung and Apple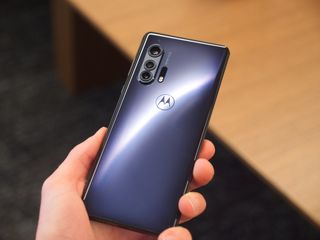 (Image credit: Joe Maring / Android Central)
It's been a long time since I was genuinely excited about a new Motorola phone. The company's Moto G and Motorola One handsets have done an excellent job of providing quality Android experiences at low price points, but as with any budget smartphone, they aren't designed to be overly interesting or jaw-dropping.
The last time I felt that sort of excitement was for the 2nd-gen Moto X. I think a lot of people would agree that it was the last real "flagship" from the company, with subsequent devices since then focusing on low price points or gimmicky modular attachments.
It's now 2020, though, and Motorola is ready to release another device that it thinks is worthy of its grand re-entrance into the Android flagship market. It's called the Motorola Edge+, and I had a chance to go hands-on with it back in February at Motorola's headquarters in Chicago.
The Edge+ is a phone unlike anything else we've seen from the company in recent years, and in a lot of ways, has me excited once again about a new release from Motorola. That said, there's a pretty big roadblock you'll need to overcome if you're interested in owning the Edge+ for yourself.
As hinted at by the name of the phone, one of the biggest draws to the Motorola Edge+ is its "Endless Edge" display. The left and right edges of the display are curved over the sides, making it look like the glass seamlessly flows off both ends. Not only is it very aesthetically pleasing, but Motorola is also adding some neat functionality to those drastic curves. You can tap on the side to bring up a quick shortcut of favorite apps, you'll get two extra virtual buttons for supported games, etc. Alternatively, if you don't like curved displays on your phone, Motorola gives you the option to disable the edges entirely and only use the front, non-curved part of the screen.
On the technical side of things, we're dealing with a 6.7-inch OLED panel with a Full HD+ resolution and 90Hz refresh rate. The screen looks very good and animations are buttery smooth, but I can't help but think a phone of this caliber would have been better suited with a Quad HD resolution and a 120Hz refresh rate.
Accompanying the display is a set of stereo speakers, with Motorola touting this as the "loudest, clearest, most powerful stereo sound" available on a smartphone. I didn't get much time to put the speakers through their paces, but early impressions are positive. Also, for those times when you'd rather keep your music/podcasts to yourself, there's Bluetooth 5.1 and a good old-fashioned 3.5mm headphone jack.
In addition to the curved display, another big marketing sell for the Edge+ is its camera setup.
Swipe to scroll horizontally
Category
Motorola Edge+
Operating System
Android 10
Display
6.7-inch OLED
Full HD+
90Hz refresh rate
Processor
Qualcomm Snapdragon 865
RAM
12GB LPDDR5
Storage
256GB UFS 3.0
Rear Camera 1
108MP primary camera
f/1.8
OIS
Rear Camera 2
16MP ultra-wide & Macro Vision camera
f/2.2
117-degree field-of-view
Rear Camera 3
8MP
f/2.4
3x optical zoom
OIS
Rear Camera 4
Time-of-flight sensor
Front Camera
25MP
f/2.0
Battery
5,000 mAh
Charging
18W wired charging
15W wireless charging
5W wireless power sharing
Dimensions
161.07 x 71.38 x 9.6mm
Weight
203g
The Motorola Edge+ is equipped with a total of three cameras and a time-of-flight sensor, including a 108MP primary camera, a 16MP sensor that doubles as an ultra-wide camera and Macro Vision camera, and an 8MP telephoto camera with 3x optical zoom.
You can take pictures at the full 108MP resolution if you wish, but as with any camera with a megapixel count that high, you'll likely have a hard time shooting in low-light scenarios. To account for this, the Edge+ defaults to 27MP shots with that primary camera using Quad Pixel Technology (aka pixel binning). If you're recording video, you also have the ability to take 20MP still shots without interrupting your video.
Speaking of which, the Edge+ supports 6K recording at 30fps, in addition to Full HD at 60fps and 120fps slow-motion in Full HD. It's true that the Snapdragon 865 processor powering the Edge+ supports recording up to 8K, but Motorola says it "didn't feel the need to go up to 8K."
Paired with that Snapdragon 865 is 12GB of LPDDR5 RAM for fast and smooth performance, along with 256GB of UFS 3.0 storage. Making sure you can take advantage of that horsepower without having to charge up all the time is a 5,000 mAh battery, which Motorola claims allows the Edge+ to work for up to two days on a single charge.
When it does come time to charge up, you'll be using 18W wired charging. That's not awful, but it is considerably slower than the 25W charging on the Galaxy S20 and 30W you get with the OnePlus 8 Pro. If you don't like messing with wires, the Motorola Edge+ also features 15W wireless charging and 5W wireless power-sharing (aka being able to place another Qi-compatible device on the back of the Edge+ and use it as a makeshift portable charger).
Rounding out the Motorola Edge+, we have its software. The phone ships with Android 10, and like other Moto devices, has a very clean and stock-like UI with minimal customizations from Motorola. Goodies like Moto Actions and Moto Display are still here, as is the new Moto Gametime feature that debuted on the Moto G Stylus and Moto G Power.
For the first time ever, Motorola's also offering a new software customization suite called "My UX." My UX is debuting on the Motorola Edge+, and it gives you out-of-the-box controls for changing things like the phone's app icons, accent colors, font, and more.
Motorola's software has always been some of the best out there, but that only really applies for your first year or so of ownership. Just like with its Moto G lineup of phones, Motorola only promises one major OS upgrade for the Edge+ with the chance that it'll get additional updates beyond that.
Motorola's update policy was already weak for phones that cost $300 - $250, but for a phone that's as costly as the Edge+ to only have Android 11 guaranteed (and anything beyond that left up in the air) is insane. It's true that not everyone cares about software updates, but when you're buying a flagship phone, you should be able to expect a premium tier of software update support.
Image 1 of 4
Outside of the software woes, there's also the matter of price and availability — and this is where that roadblock comes into play. The Motorola Edge+ is a Verizon Wireless exclusive in the United States with no option to buy the phone unlocked.
Carrier exclusivity deals are ridiculous to have in 2020, but there's one aspect of the Motorola Edge+ we haven't talked about that plays a big role in this decision — 5G. Motorola is hailing the Edge+ as the fastest 5G phone on the planet, capable of pulling 4Gbps download speeds on Verizon's mmWave 5G network.
Those are very impressive speeds, but as with any phone that utilizes mmWave networks, your chances of actually getting them in real-world use depends on you being in the exact right spot to a 5G node, not having anything blocking it, and a bit of luck. Especially now in a time where you should only leave your home if you absolutely need to, the allure to mmWave 5G is harder to justify than normal.
If you are a Verizon customer or don't mind switching to the carrier, you can buy a Motorola Edge+ for yourself starting May 14 for $999.99 or $41.67/month.
My thoughts on the Motorola Edge+ are very mixed right now. On one hand, Motorola has crafted a very powerful and good-looking smartphone that's leaps and bounds more interesting (at least to me) than any Moto G phone that's come out before it. Motorola had a goal to get back to making flagship Android phones, and it succeeded with the Edge+.
However, just because the Edge+ is a flagship phone doesn't mean it earns an instant recommendation. In fact, there's a lot working against the Edge+. Its Full HD 90Hz display isn't as technically impressive as other similarly-priced phones, Motorola's update policy leaves a lot to be desired, and there's the Verizon exclusivity deal paired with that price tag just a penny shy of $1,000.
The Motorola flagship has returned, but whether or not you should go out and buy one remains to be seen. Our full review is coming soon, so be sure to stay tuned!
Moto flagship
(opens in new tab)
Motorola is back in a big way
After years of focusing on the budget smartphone market, the Motorola Edge+ marks Motorola's grand return to the flagship space. There's a lot going for the Edge+, with some of the highlights being its curved OLED display with a 90Hz refresh rate, Snapdragon 865 processor, multiple rear cameras, and two-day battery life. If you want the phone for yourself, you'll need to hand over $1000 and be a Verizon Wireless customer.
Get the Android Central Newsletter
Instant access to breaking news, the hottest reviews, great deals and helpful tips.
Joe Maring was a Senior Editor for Android Central between 2017 and 2021. You can reach him on Twitter at @JoeMaring1.
Lack of IP67/IP68 rating in 2020 is just sad. This is a $1,000 smartphone and it should have at least IP67. The $399 iPhone SE has it, ffs.

Yeah, an IP rating may be a completely pointless vanity spec, but for 1Kilobuck they should get it rated for the people that have convinced themselves it actually means something.

For other phones it may not mean as much, but Motorola is particularly weak when it come to moisture. I'm pretty sure a Galaxy would not die from being in the bathroom when someone takes a shower, but Motos do. Some type of reassurance would be helpful.

When did this start? Dumped my moto droid maxx in my friend's pool...8ft down for at least 2min before it was retrieved. Fired up fine the next day. Also got my droid maxx 2 wet repeatedly at work. Wet enough for it to shut off. Always fired back up after left on my dash to dry

You certainly can kill a Galaxy phone that way. Even if you put stock in an IP rating they test for dust and liquid water resistance, not exposure to steam. For steam an IP rating isn't just worthless it's also meaningless.

I'm not big on IP rating but I remember that OnePlus used to say they didn't include it to keep the price low. Well....this is stil a $1000 phone .

I'm pretty sure moto was one of the first android oems to have all their internals coated with a water protection layer. Back in the moto RAZR days of earlier android times.

You know IPx7 may better thanIPx8.
7. Protection against full immersion for up to 30 minutes at depths between 15 cm and 1 metre (limited ingress permitted with no harmful effects).
8. Protection against extended immersion under higher pressure (i.e. greater depths). Precise parameters of this test will be set and advertised by the manufacturer and may include additional factors such as temperature fluctuations and flow rates, depending on equipment type.
Jerry pointed this out on the AC podcast. You need to see what the manufacturer actually tested to see what you are getting with 8 but you know what 7 means.

I got burned on Motorola's not giving a damn about updates on the Moto X4.... I learned my lesson.

I like the idea of being able to turn off the current part of the screen. I hate the look of that on any phone. But I'm really not to enthused by the glass being curved there and the way it feels to hold phones like that. But it's all moot since this carrier locked for now.

You can get an Iphone Se for $399 and the software support will be for a much longer time,so this will be a pass ,plus this phone costs way more.

Nobody wants a new phone that looks like the iPhone SE!!! Go out and ask 10 strangers walking down the street what chip is in their smartphone and who made it. I bet 2 at most could answer that question correctly.

The SE is not a competitor to this. The long support is nice, but the SE is mostly leftovers.

This phone gives things people want like a 3.5 headphone jack, huge battery, high refresh rate etc.. But it is not Samsung so people will still complain about it. I personaly don't like it because of the curved screen! Samsung folks are just as bad as Apple folks.

It's a bit strange really considering Motorola were the first to kill the headphone jack.

I like most of Samsung decisions, except for Edge screens, I really like the new S20s phones with really small Edges, Software & Hardware. That Moto looks really nice except for the Edges and exclusivity. (I could say price, but they are going to reduce it)

I'm not sure why anyone would spend this kind of money on a Motorola phone, but whatever provides buoyancy to your aquatic vessel...

Good luck with that, Moto.

I guess I'm not gonna knock this phone until I try it. But I do have a few questions? 18watt charging only with a 5ooomamp 🔋. Waterfall display, no 1440p display but has 90hz. Can the 📷 's compete with the likes of the pixels, 🍎 & Sammy? Their 📷 's were always an issue for me with past flagships. The price is steep but appears to be well equipped. It's only gonna get one software update, which is pretty crazy. Makes no sense? Will just have to take it for a ride? Probably best to wait for the reviews!

Hey Motorola... you want to get competitive in the so called flagship market? How about offering three years of OS updates plus two additional years of security updates! Price it at $799 and there you go, you might get a bunch of buyers. As it stands now, I will take a pass. Btw, my first flip phone, 1994, Motorola. Analog. Ran very well.

DOA! No cares about this phone.

Their questionable support - Motorola says the Edge+ will get at least one major operating system upgrade, which should mean the Edge+ will get Android 11 in the future. Beyond that, the future will be "under evaluation." - get a big NO THANK YOU!!!

Used Motorola phones before...liked them...cool software features...but NO SALE...curved screens are worthless, less than worthless...they are useless and stupid and fragile and I will never buy any phone with a curved screen again!

I have a bit of a soft spot for Motorola, Had many a star tac and razor over the years. Had the OG Moto X back in the day to. That's when it was fun to be with Moto. Regular software updates and clean software. That was then under Google. Then Lenovo came into the picture. It was down hill from there. Ever since they've been utter ***** when it comes their lack of software support. I'll pass until they get their act together, I'm not holding my breath.

Motorola are crazy if they think people are going to pay a grand for a phone that will only get 2 software update, has only a 90hz display, no IP rating and a paultry 17 watt Fast charger with that huge 5000 mAh battery, no thanks Moto, if I'm going to spend nearly a grand on a phone I'd rather buy 8 Pro, it's better than this phone in every way except in battery.

I meant 1 update along with having no IP rating, wireless charging and 120hz display and QHD display which are a MUST if an OEM expect users to pay $1000 for a phone, in which the Moto Edge only gets things right in the battery department and having the 865 SoC if I'm going to pay $1000 I expect long term software support along with the essential flagship features I've already mentioned, so only Apple can justify their $1000 price tag for their iPhone with the long term software support and ecosystem which no Android phone (except Samsung) let alone Motorola can compete with, with Moto having not been relevant for a long time thanks to, their parent company, Lenovo.

Try using a period at the end of EACH sentence, not just at the end of a long string of run-on sentences. Someone might actually acknowledge and respond to what you're saying, instead of just dismissing the wall of words and moving on. Food for thought...

Top comment and couldn't agree more lol, only Apple can justify their prices with their amazing software support and customer service.

Stumbles out of the gate. No one is going to care about this phone....

This actually has a lot going for it at first glance. Nice looking screen, even if I don't like curves and holes in it. Stereo speakers that sound good. Big battery with a reasonable screen refresh rate, and you can't get QHD+ with a high refresh rate on Samsungs anyways. Headphone jack is a surprise. Camera need to be seen, but the basics are there and I'm glad they didn't bother with the novelty of 8k video. Then we get to the bad stuff like no water resistance from a company who makes frail internals can't handle walks on a foggy morning. But the deal killer is Verizon or nothing. It's like dating a girl that you are beginning to like, and you smile and think "Yeah, this could work out". Then she tells you she's a vampire.

Pin hole = terrible design

It's not a Samsung phone. It's not an Apple. Normals won't care. It's not a Google phone. It's not a OnePlus phone. Enthusiasts won't care.

Damn Verizon exclusive devices. Why is this still a thing ? Verizon must buy a set number. Before they are made (bare minimum moto wants to push out for profit) and then Verizon must have great sales staff.

Verizon exclusive, Verizon BLOATWARE. No unlocked version? A 1,ooo pricetag. 90hz at 1080p, only 18watt charging with a huge 5ooomamp 🔋? Well, if you want to sell this phone why the hell would you make it an exclusive? Will the 📷's actually compete with the pixels, Sammy & 🍎?

My Moto g7 is the last Motorola phone I will purchase again. The hardware is good, battery life is very good. But the software support is not where it should be. But then again, I haven't needed any updates as everything just works.
I've been caught in the rain many times and never once had a problem with it getting wet.