Motorola Droid Turbo gets a waterproof case from Lifeproof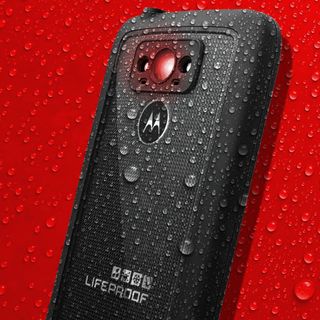 If you're itching for accessories for Motorola's newly minted Droid Turbo on Verizon's XLTE network in the U.S., you should have a gander at Lifeproof's waterproof case for the phone. The case will offer slightly more rugged protection to the Droid Turbo, shielding the device from dust, dirt, snow, and water. In the meantime, if October 30th cannot come soon enough, be sure to check out our hands-on with the Droid Turbo.
Here is the full protection that the Lifeproof case will offer for the Droid Turbo:
Waterproof and fully submersible to 6.6 ft. (2 meters)
Ingress protection rated to IP68
Shock proof to Military Standard 820F-516 to withstand drops from 6.6 ft. (2 meters)
In the meantime, be sure to check out Shop Android for your cases and accessories needs.
Does having a waterproof case sway you to get the Droid Turbo over another Android phone like the Nexus 6 or the Moto X, all of which will be available for Verizon? From our photos, do you like the red or the black model better of the Droid Turbo?
Source: PR Newswire
Wow, that was fast. Verizon must have paid them a bunch of money. It was like pulling teeth to get them to make a case for the S3 and S4. Maybe they'll start making some for more android phones. Posted via the Android Central App

They've neglected so many flagship phones and now pick this one up just like that? That's a little dissappointing. Posted via the Android Central App

Why is it disappointing that they're supporting this phone? Posted from the Avengers: Age of Droid Ultra

Not really disappointing, more like... Why? The never did the M7, M8, G2, G3, Moto X (2013-14) not one Nexus device. Just weird. Posted via the Android Central App

Maybe they realized the Turbo is a beast of a phone and pretty much the best thing going and wanted to get on board Posted from the Avengers: Age of Droid Ultra

I can't roll my eyes enough at this... Posted via the Android Central App

It's basically a note 4 without a stylus Posted via the Galaxy Note 4

Na this phone is pretty bad ass Posted via the Android Central App

That is a pretty silly thing to say.

Speculation on my part, nothing more, but other phones are available on other carriers and stuff is readily available no matter where you go to get it. But this is Verizon's exclusive. So, if they don't get stuff put out for it, you're not exactly going to be able to walk into AT&T, for example, and get what you need.

what gives you the idea it was "just like that". It was probably Verizon that initiated the deal. Seems they are putting a ton of stock in this device.

More than likely Verizon either put up some money to help production or provided some incentive for them to do it. Very unlike Lifeproof to support a device that's only on one carrier

Definitely my upgrade from the G2 on VZW. Worthy indeed. Don't care for the red, but the black looks quite nice.. Not sure if I like the metalized glass or the threaded back better tho.. I'll have to feel it first. Definitely nice phone all around, although I would rather it be a little larger with on-screen buttons.. Beats Nexus 6 just barely, but it's here first and cheaper (and it has better resolution, camera, size, and features.. I think all those Moto features will come in a lot of handy) anyway, that's just my two cents :) Posted via the Android Central App

Hopefully with all this promotion by Verizon. I would hope they update this phone just as fast as they promote it. Posted via Android Central App

Nice, they have no plans for doing the LG G3 on multiple carriers, but this one just for vzn. Posted via Android Central App

Hope there is an att equivalent AC@N5

I'm with you! Posted via the Android Central App

Or get a cheaper case since the phone is already water resistant.

Phone is water resistant, you get one free screen replacement and it's on the thick side. Those three factors all add up to me thinking I would positively not get a case for it. Posted via a Republic Wireless Moto X using the Android Central App

So... will it fit both models? Nylon one is thicker.

Case will make this thing even bigger. Posted via the Android Central App

That's so crazy a lot of Android fans would kill for a lifeproof. They need to expand a lot of money to be made Posted via Android Central App

This is pretty much everything I wanted. Posted via the Android Central App

Pretty happy with my X. Turbo may have better specs, which with exception to battery will probably not be noticeable. Plus the X build quality is better. Camera? Funny haven't seen any sample shots yet. Life Proof cases are not that great anyway. Why cover up that beautiful phone. You can splash water on it anyway. Posted via the Android Central App

I would do anything for a lifeproof case for my Moto X splash proof is one thing but i live right at the sea and i work on sailing boats, waterproof case is a must have most of the time and i'm stuck with some rubbish aquapac! LIfeproof need to make this!
Android Central Newsletter
Get the best of Android Central in in your inbox, every day!
Thank you for signing up to Android Central. You will receive a verification email shortly.
There was a problem. Please refresh the page and try again.